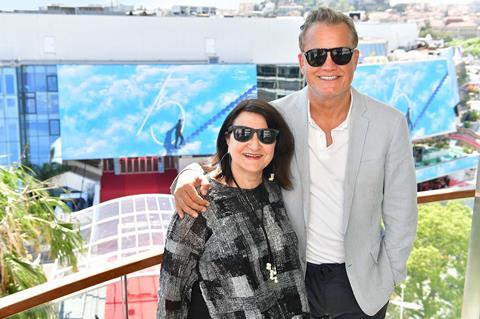 Beloved marketing and publicity executive Bonnie Voland celebrates her 40th "Canniversary" this year and the unpretentious, fun-loving workaholic head of worldwide marketing and publicity at AGC Studios is looking forward to many more.
"I still have the passion for it and the intensity," Voland told Screen this week, perched on a seat overlooking the Palais steps the day before the first fully in-person Cannes Film Festival since 2019 was due to start. "What you learn over 40 years is relax, it will get fixed and there's still enough nervous energy to make sure it will get done."
Voland has energy in abundance. The executive has worked with Roland Emmerich, Martin Scorsese, Nick Nolte and Ewan McGregor on big-ticket Croisette buyer presentations and festival premieres. For the last 16 years she has worked for Stuart Ford, the AGC founder with whom she started out at IM Global. They have attended 15 Cannes together. "We get each other," Voland says. "It's such a symbiotic relationship."
New York-born Voland (her mother's side of the family comes from Leeds, England; other relatives are in Cannes and Paris) started out acting on stage after graduating from High School of Performing Arts – where TV hit Fame was set. Then she graduated Hunter College as a French major before relocating to Paris where she acted in one film – La Balance – before throwing herself into entertainment journalist.
Voland had the good fortune to work closely with the head critic of Passion – The Magazine Of Paris who took her under his wing and coaxed her to attend Cannes in 1982 where he tutored her in the eye-opening majesty of cinema's unrivalled ability to connect people and cultures around the world. "I died and went to heaven," says Voland.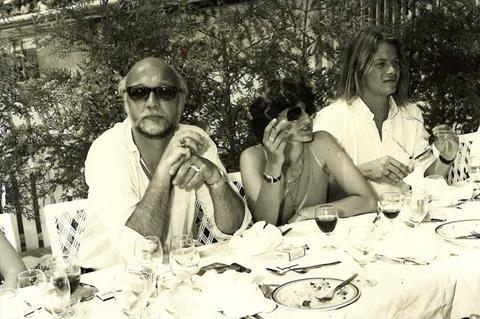 She recalls the power of imprisoned Kurdish filmmaker Yılmaz Güney's Yol, and, years later, sneaking into a packed screening of Zhang Yimou's Shanghai Triad and watching from under the seat of another reporter. In time her boundless enthusiasm got noticed and legendary publicist Renee Furst told her she should switch jobs.
Several years later Voland followed that advice and returned to New York to work in entertainment PR before a stint running Toronto International Film Festival press office in the mid-1980s. She moved to Los Angeles to work for Samuel Goldwyn, Buena Vista International and Chris Blackwell's Island Pictures, and finally on to IM Global and then AGC during her lengthy tenure with Ford.
Voland was back in Cannes with BVI in 1989 for the opening night film New York Stories and enjoyed the convivial company of Nick Nolte and the sage Jeffrey Katzenberg. She recalls closing down the Croisette with six MotoGP motorcycle racers led by Ewan McGregor for the documentary Faster and knocking down a wall in a Palais office suite to accommodate the largest monitor in Europe to screen footage from Religulous.
There are many more memories but as Voland says, "The best stories are the ones I can't share." She's right. "I was born to do this job," she says with a trademark twinkle of the eye. "I don't get jetlag. I get off the plane, do eight hours of work and then go to bed. You learn how to manage the stress. You try to take care of yourself."
Asked how she has thrived in the job Voland confides, "Be honest, whether you are pitching your film or telling someone they cannot get into the party. The other thing is to be kind and nice – don't yell back."
Somehow in between all the international festival trips and high-profile campaigns she found time to launch international PR agency and consultancy B. Voland International with a client list that has included Fine Line Pictures, Artisan and Bavaria Film Group and awards campaigns for the likes of Paolo Sorrentino's Il Divo and Luis Puenzo's Argentinian Oscar winner The Official Story.
The fluent French speaker does it all with a self-deprecating sense of humour and passion for reuniting with friends, often over dinner at La Pizza or Da Laura. "We are both big foodies, and like to check out interesting restaurants," says Jonathan Rutter, executive director of Premier PR's filmed entertainment division. "And the chat is not just work and films, but our families and our other shared passion – the theatre."
Jasna Vavra, head of theatrical entertainment at Germany's Leonine Studios, notes: "Full of life, full of energy, to work with Bonnie is always positive and fulfilling, events organised by her are unforgettable. She is simply the best." Andrea Occhipinti of Italy's Lucky Red offers, "Bonnie is a high skilled film professional you can always rely on, with a great heart. A rare gem!"
"Since my first Cannes in 1992," says Los Angeles-based president of MPRM Communications Mark Pogachefsky, "Bonnie has been my colleague and confidante. Her knowledge, work ethic and sheer joie de vivre are non pareil. 40 years is just the start!"
Never a truer world spoken. "Cannes has put me on the path with people I respected and was amused by," says Voland. "Forty years of experience started here. It's been quite a ride. I'm game for more."