Four Japanese anime films are in the running for a nomination in the Oscars' animation category, including Makoto Shinkai's Weathering With You.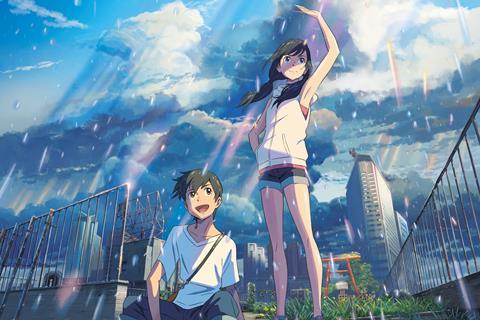 The market for Japanese animation has nearly doubled in the last decade. Revenue for the whole anime market — including film, TV and spinoff merchandise — topped $18.4bn in 2017, bolstered by international sales that now make up nearly half of all revenue for the Japan-based industry. Streaming services such as Netflix and AT&T's Crunchyroll have invested heavily in the medium, and anime franchises have served as the basis for big-budget live-action Hollywood productions such as Ghost In The Shell and Alita: Battle Angel.
Meanwhile, in Japan, animated features regularly out-gross their live-action counterparts. Of Japan's 10 highest-grossing local films of all time, seven are animated, and the country regularly produces well over 50 animated titles for theatrical release each year.
After the animated feature category was introduced for the 2002 Academy Awards, Japan quickly made an impression — with Hayao Miyazaki's Spirited Away winning the Oscar in its second year in 2003. So far, that film is the only one from Japan to nab the award, but several more features (largely originating from either Miyazaki himself or his famed Studio Ghibli) have been nominated over the years. Last year, Mamoru Hosoda's Mirai became the first anime film not associated with Ghibli to be nominated — a sign that a post-Miyazaki generation of filmmakers is coming into its own. This year's line-up of anime titles — four will compete for an animated feature Academy Award nomination this year — showcases how that generation is continuing to make its mark.
The animation that made the biggest splash in Japan this year was Weathering With You, arguably the country's most anticipated film of 2019, animated or otherwise. It was, after all, director Makoto Shinkai's follow-up to his hit Your Name, the story of a pair of time-travelling, body-swapping teens that smashed box-office records when it was released in 2016. That film is currently the second highest-grossing Japanese film of all time globally, having earned $361m.
"After having such a hit, how could I create a film that would be even more enjoyable?" ponders Shinkai. "I really grappled with that."
Whipping up a storm
The result of that grappling was Weathering With You, a story of teenage love set among visions of apocalypse. The backdrop is a Tokyo being pounded by torrential rains, where a runaway from the countryside encounters a young woman with the mysterious power to stop the rain. The film is distributed by Toho and produced by Genki Kawamura, who also produced Your Name. It was financed by the Weathering With You Production Committee, which includes Toho, Shinkai's CoMix Wave Films and publisher Kadokawa among others.
Shinkai's films are known for their striking animation, and Weathering With You might be his best-looking film yet. His rain-soaked Tokyo is rendered in incredible detail — location hunting reportedly took an entire two months — and each individual raindrop seems to move on its own.
"When it rains, my staff and I run to the window and shoot videos, then play them back frame by frame," says Shinkai.
The film's combination of visual appeal and its tale of star-crossed lovers who must ultimately decide the fate of Tokyo has proved a hit with Japanese viewers: released in July, it is still in cinemas and has become Japan's 12th highest-grossing film of all time, having racked up $128m (¥13.9bn). It is also finding fans in markets such as China and India, and is set for a US release in January via distributor GKids. In addition to competing for the animated feature Oscar, Weathering With You is also Japan's submission in the international feature film (formerly foreign-language film) category.
Fighting chance
Visions of apocalypse, albeit of a much different kind, can also be found in Promare, the new film from director Hiroyuki Imaishi and screenwriter Kazuki Nakashima, a dynamic duo known by anime fans for their pulse-pounding, frenetic action TV series (such as Kill La Kill) that both embrace and lovingly poke fun at genre tropes. Promare, their first full-length feature, pits futuristic, robot-equipped firefighters against a group of humans who can control flames in a battle that decides the future of humanity itself. It was animated by studios Trigger and XFlag and distributed by Toho.
In cinemas since May, Promare had steadily accrued $12.9m (¥1.4bn) at the Japanese box office by November — no mean feat for an anime film with no manga or TV series antecedent. The filmmakers attribute the film's long theatrical run to so-called audience participation screenings, in which members are encouraged to wave glowsticks and cheer at the screen.
"We didn't make the film with these events in mind," says Imaishi. "But we feel as though the audience participation has really deepened the work." Writer Nakashima likens the experience to the "chemical reaction" that occurs between an audience and performers during a live stage performance, adding: "I never thought such a thing could happen with our film."
US fans have already had a dose of the action via distributor GKids, which released Promare in a limited theatrical run earlier this year in concert with Fathom Events. GKids is bringing the film back to US screens on December 8 and 10.
If Promare is 2019's most high-octane anime film, Children Of The Sea may be its most intricate. The title, produced by Studio 4°C and distributed by Toho, is based on a celebrated manga by Daisuke Igarashi about three people with a special connection to the sea.
Studio 4°C, led by producer Eiko Tanaka, is known for its striking visuals, and Children Of The Sea may be its most impressively animated feature yet. The film, created over a period of five years, uses a combination of hand-drawn frames and CG to replicate the intricate art style of the original manga.
"Usually, when you adapt a manga to anime, you simplify the designs to make it easier to animate," says director Ayumu Watanabe. "But I thought if we did that to this wonderful manga, it would destroy the entire point. I wanted viewers to feel as if they were seeing the original manga in motion."
Children Of The Sea features a soundtrack by Joe Hisaishi, best known as the composer behind films such as Princess Mononoke and Spirited Away. But the soundtrack bears little resemblance to those of Miyazaki's films. "When I met with Mr Hisaishi, he suggested a minimalist style that wouldn't overwhelm the viewer," says Watanabe. "He took the words right out of my mouth."
Following the master
The 2019 film that may resemble the works of Miyazaki most closely is Okko's Inn — like many of Miyazaki's films, it centres around a young female protagonist and features supernatural elements and idyllic scenes of nature. It is about a young girl whose parents die in a car accident. She then moves to her grandmother's inn deep in the countryside, which is populated by ghosts only she can see.
Based on a series of novels by Hiroko Reijo, Okko's Inn was animated at studios DLE and Madhouse and directed by Kitaro Kosaka, who came up as an animator at Studio Ghibli.
"I remember Mr Miyazaki saying he wanted people that view his films to experience something they had never experienced before," says Kosaka. "That's what I aim for too."
Okko's Inn features several distinctly Japanese elements, including ghosts called 'yurei' and a 'kagura' dance, which is dedicated to the Shinto gods. Still, Kosaka believes the film's themes, such as perseverance in the face of grief, are universal — something borne out by reactions he has seen at international screenings.
In Japan, Okko's Inn is distributed by Gaga. Like the other anime titles competing this year for an Oscar nomination, Children Of The Sea and Okko's Inn received US theatrical screenings via GKids; the latter is now available on home video and digital from the same distributor.