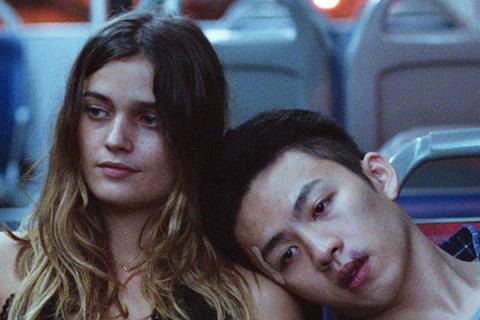 After winning the top prize in Toronto International Film Festival's Platform section last month, Ho Wi Ding's Cities Of Last Things is receiving its Asian premiere in Busan.
Describing the film as "deeply moving", the Platform jury, which included South Korean filmmaker Lee Chang-dong, said that Ho showed great skill to "weave together multiple genres with social and political critique, while telling a story that remains intimately human at its core".
Spanning decades, the film focuses on three significant moments of an ordinary man through a triptych in which his future, present and past are revealed in reverse chronology order.
The three stages of the same character are played by veteran Jack Kao, rising actor Lee Hong Chi (Thanatos, Drunk) and newcomer Hsieh Chang Ying. Liu Juei Chi, Ding Ning and French actress Louise Grinberg portray the women who shape the life of this character.
A Taiwan-China-US-France co-production, with Wild Bunch on board for international sales, the film is Ho's most international project to date. Taiwan release is scheduled for October 26 and the film has four nominations at the upcoming Golden Horse Awards, including best supporting actress (Ding Ning) and supporting actor (Lee Hong-chi).
Born in Malaysia, Ho has been living in Taiwan since 2001, and currently splits his time between Taiwan and Beijing. His feature debut Pinoy Sunday earned him best new director at the 2010 Golden Horse Awards. His short films Respire and Summer Afternoon were both selected for Cannes, with the former winning the Kodak discovery award and young critics award in 2005.
Why the decision to shoot the entire film on 35mm?
Why not? This is an artist's choice, just like a painter having the choice of either watercolour or oil painting.
I know the technique. I think I am good at it. I made my first two short films and first feature on 35mm. I like its aesthetics. My ideal cinematic image is chiaroscuro with softness, like watching magic through a veil of mystery – with enough distance for you to project yourself onto this movie magic.
Aesthetic aside, there are two reasons logistically and financially. First, we have a film processing lab called Modern Cinema Lab right at the centre of Taipei. We can turn in the finished footage daily and view dailies in a timely fashion. It's one of the few remaining functional 35mm labs in the region. Without this convenience, it would have been harder.
Second, we secured a load of expired Fuji film stock. Using the bleach bypass technique, we managed to unify the look of the expired film stock, despite their different manufactured dates. This could be my modus operandi, a solution for independent filmmaking.
Doesn't shooting on film cost more than digital?
The cost of shooting on film or digital will and should never be a key factor on deciding a film's finance, unlike the cast, the above-the-line crew or even production design budget. The consensus about shooting on film – that it is so expensive that you should avoid it – is for me, unfounded, exaggerated and misled.
The story is a triptych told in reverse chronological order. What led you to conceive this story structure?
I am always fascinated with the unique characteristics of literature and cinema that allows the creator to be freed from the constraints of linear storytelling. I am aware that reverse-chronology storytelling in movies and literature isn't new. But when you begin your "reversing chapter" in the future, your viewing perspective changes. I hope that after watching the film, people are more aware of who they are in the present and realise that whatever they do in the present will shape their future.
Did you film them in any particular order?
I shot the present and the past first, thinking that with these two stories, it could be easier for me to figure out how my characters are developing. Stylistically speaking, we weren't going to make this film as three films, but as one. Maintaining a consistent look over three eras is very important. Knowing how the present and past look helped shape my vision of the future.
We see a mix of genres with different elements. Why was it important for you to refer to these forms?
I don't think much about genres when I make film. It's whatever the story needs. I never set out to do a mix of genres. I was going for a drama closer to life, which come to think of it, is also a mixture of different genres. Sure, it's hard not to associate the future segment with sci-fi, a nocturnal setting and corrupt cops with noir and so on, but I simply wanted the experience of my protagonist to be imbued with the different kinds of emotional intensities we encounter in life.
Your previous feature films from Pinoy Sunday to Beautiful Accident have not been so dark. Why the sudden change?
It's more of a return than a sudden change. This "dark" style is in fact my usual style, beginning with my NYU thesis film, continuing with the Cannes prize-winning short Respire, and another Cannes short Summer Afternoon. The "sudden change" occurred when I took a creative detour – with Pinoy Sunday – to tell a likable, humorous story in an otherwise serious social drama exploring the lives of Filipino workers in Taipei. I never planned to make a comedy, but felt this story could be interesting, if told in a comical tone.
I guess part of me wants to expand my range as a filmmaker. Plus, in my opinion, there is only a thin line between drama and comedy; it's the same storytelling for me.
What drew you to your cast for their roles?
I chose actors who had the look of the characters in the world of my film. I was looking for characters with deep wounds. I don't go for big names just because I need to attract finance; I went for actors who understand that their contribution is for the good of the film over and above thinking about their hidden motivation or fee. I love my cast, we all share a belief that we are serving the film, and that in turn a great film will give exposure to our accomplishments.
How did you get the project financed? How long was the process from development to completion?
It was a labour of love, for sure – a Herculean task lasting eight years, with much support along the way. I first had the idea and wrote the first draft seven years ago. I started shopping it around in 2015, in Berlin and Paris, looking for potential co-production opportunities, actors, a VFX team and a director of photography who can handle 35mm well. The seeds of possibilities were planted.
Then I went off to do some 'director-for-hire' jobs such as Beautiful Accident before returning to this film in 2016. I started casting the character of Ara, interviewing cinematographers and locking in the VFX team in Paris.
With the support of the Ministry of Culture of Taiwan and Department of Cultural Affairs, Taipei City and investment from Changhe Films (the Taiwan-based company my producer wife Hu Chih-Hsin and I started in 2006), we filmed the present and the past segments in the summer and fall of 2016, in Taipei and Kaohsiung cities.
Because the future segment needed to be shot in winter, we waited until the oncoming winter of that year while raising money for the rest of the shoot. Winter came and went; the money never arrived. Then 2017 went by quickly with two thirds of the film finished and still no financing in sight. While waiting for the financing, we finished editing the present and past segments and showed the rough-cut in order to raise finishing funds.
It was a tough year until the fall, when we were lucky enough to meet various investors who helped us to finish the film. They include China-based Hymn Pictures, Singapore-based mm2 Entertainment, Kaohsiung Film Fund and American company Ivanhoe Pictures.
We shot some of the winter exteriors in Seoul for the future segment. During post-production, we got a post grant from France. We did VFX, grading and music score all in Paris.