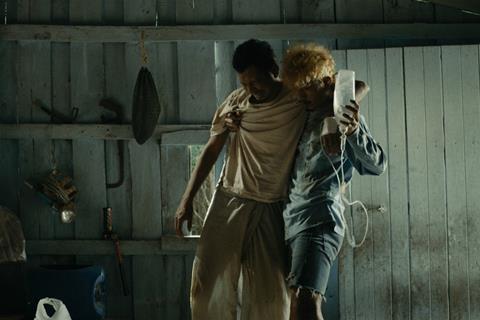 When Phuttiphong Aroonpheng's directorial feature debut Manta Ray won best film in Venice Film Festival's Orizzonti section, it marked the first time that a Thai film had received such an honour at the festival.
Previously known as Departure Day, the project was a recipient of Busan's Asian Cinema Fund for script development in 2010, while Aroonpheng attended the Asian Film Academy the year before. Now he is returning to Busan for the film's Asian premiere, following its outings in Venice, Toronto and San Sebastian.
Dedicated to the Rohingya refugees from Myanmar, Manta Ray follows a Thai fisherman who rescues an injured man lying unconscious in the forest. But when the fisherman suddenly disappears at sea, the stranger slowly takes over his life, including his house, his job and his ex-wife.
The cast includes Wanlop Rungkumjad, who has acted in several acclaimed Thai independent films such as Eternity, 36 and The Island Funeral; award-winning singer-songwriter Rasmee Wayrana, in her first starring role, and newcomer Aphisit Hama.
Prior to directing, Aroonpheng worked as a DoP and won the Asian New Talent Award for best cinematography at Shanghai International Film Festival for The Island Funeral.
Paris-based Jour2Fête handles world sales of Manta Ray.
What's the significance of the film title Manta Ray?
In the beginning, the project was titled Departure Day. I renamed it to Manta Ray just two weeks before we were about to start shooting. At that time I had a recollection of my first diving experience in the Andaman Sea in 2009 when I came across an actual manta ray underwater. It was a really big fish, and I was scared as it was swimming towards me. But then it just swerved right past me with its fin lightly brushing against my face. I thought about how the fish can just swim freely in the sea, not restricted by the geographical borders set by humans. But it's the same sea where refugee boats are found capsized.
Another recollection was when I did a research trip for the screenplay at the Moei River, which serves as a border between the north of Thailand and Myanmar. In that river I looked at young children playing around. Some of the kids were Thai while one of them was from Myanmar. But they just played together in that narrow body of water. This image keeps reoccurring in my mind.
Does the theme of the film come from something personal or external?
Both. For me the theme of Manta Ray is about people's attitudes towards the refugee crisis and creating an unconventional cinematic language. As the Rohingya subject has become very controversial in Thailand and sparked many heated debates with polarising opinions over this past decade, the film is my reflection on what has been going on around the people in my immediate social circle.
And the objective to create an unconventional cinematic language is something in my own personal level. The narrative structure of the film is intended to be very realist in its approach. We see on one level a simple story of the relationship between the fisherman, the stranger and the fisherman's wife told in a documentary style, and the visual technique reflects that. But as the film progresses, we see more fantasy elements coming into this supposedly "real" world: the sparkling lights emerging from the ground, the electric man armed with a gun patrolling the forest. The film is my exercise in connecting these two structures together.
You work as a DoP as well. When did you start wanting to direct?
Almost from the same time, but it was just that I had a chance to work as DoP first. I studied fine arts in university, but I've always wanted to be a filmmaker, either as a director or DoP. I also worked as an art director early on in my career, for films such as Beautiful Boxer by Ekachai Uekrongtham and Iron Ladies 2 by Yongyoot Thongkongtoon. Most recently I was the DoP for Vanishing Point by Jakrawal Nilthamrong and The Island Funeral by Pimpaka Towira.
My experience working as DoP on films by other directors helped me learn about the working approaches of different filmmakers and witness different styles of creativity. And it gave me the opportunities to try different things, improve my own technical skills and overcome the limitations imposed on the set.
This is a Thailand-France-China co-production, a rather rare combination. How did you get the film financed?
In 2011, the project was selected for HAF in Hong Kong and then the Produire au Sud workshop in Nantes. It was in Nantes that we met French co-producer Philippe Avril who was one of the workshop mentors. We kept in touch from time to time after the event but the project became dormant for some period. Finally when we had the final script in 2016, my producer Mai Meksawan started discussing again with Philippe and it turned out he was still interested in the project, and so we began to officially work together.
With Philippe's company Les Films de l'Etranger on board as the French co-producer, the film received supports from CNC & Institut Français's Aide aux cinémas du monde, Eurométropole de Strasbourg and Région Grand Est in France. Our Thai production team: Mai, Jakrawal Nilthamrong and Chatchai Chaiyon from Diversion also managed to secure financing from a number of other Thai sources including Thailand's Ministry of Culture and Purin Pictures.
The financing from China came through Busan International Film Festival. In 2015, I participated in Colour of Asia – a programme that Busan organised with China's Youku in which four Asian filmmakers were invited to make a short film. My short film, Ferris Wheel, which is also kind of a side project to Manta Ray, received an award which entails that Youku will provide a financial contribution to my feature film.
How different was the audience reaction to Manta Ray in Venice, Toronto and San Sebastian? What do you hope Thai audiences get out of seeing the film?
The film was very well received in Venice and Toronto. I am still reflecting on the questions asked by audiences. Many have touched on the symbolism behind the film, the significance of the title and the manta rays of course. It is tricky for me to elaborate all these into words because I work a lot by instinct and feeling. Some of the visual motifs in the film were not in the original script. But I just decided to put them in shortly before we were about to start shooting. My original script is very short – the first draft was only 35 pages. My producer had to work hard to convince the investors and get it financed.
I also received quite a lot of political questions, about the refugee situation in Thailand in comparison to the rest of the world. These are also very interesting but unusual for me to discuss because, even though this may come as a surprise, at heart I am not a political person. I do not fully follow all the latest developments in politics. I am simply reflecting on what's going on around me and my life, as an artist, in my own way.
It's a pity that I did not get to attend San Sebastian but heard that most of the screenings were sold out and the audiences were actively discussing the film. I do hope, of course, that Thai audiences will like it as well when we release it here. Some have asked me whether the film could be controversial given the subject matter, but the truth is we will never know. The film was partly supported by the government through the Ministry of Culture, so I remain optimistic. We're planning a 2019 theatrical release in Thailand.
What did your win at Venice Film Festival mean to you?
Winning the Orizzonti Award, which came completely unexpected for me, is a major moment for my career that will open many doors in the future. It means a lot, not only to me personally, but to Thai cinema as well.