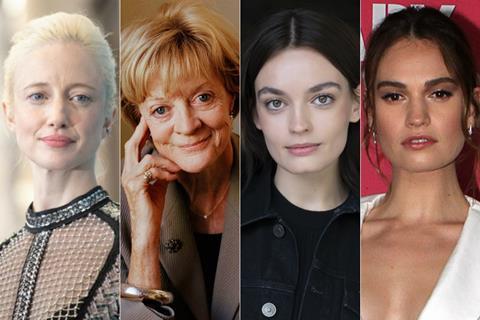 BANKSIDE FILMS has boarded worldwide sales on Stacey Gregg's feature debut Here Before, a supernatural thriller starring Andrea Riseborough as a woman captivated by her neighbours' young daughter, and will show a promo to buyers. BBC Films is a backer on the Rooks Nest production. The company has also boarded Frida Kempff's Swedish thriller Knocking and Lee Haven Jones' Welsh-language horror The Feast for the virtual market, and is introducing Spanish-language drama On The Fringe to buyers. The latter will star Penelope Cruz and Luis Tosar.
EMBANKMENT FILMS has launched sales on a trio of titles led by feelgood comedy drama The Miracle Club, which will star Maggie Smith, Laura Linney and Kathy Bates as working-class women from Dublin who embark on a pilgrimage to Lourdes. An April 2021 shoot is planned. Also on the Embankment slate are Frances O'Connor's directorial debut Emily, to star Emma Mackey, and ballet drama Joika with Thomasin McKenzie as US dancer Joy Womack. The UK company has also ramped up its documentary slate and is introducing buyers to rock-band drummers doc Count Me In, Stasi F.C., climate warriors doc The End Of The World As We Know It and Grace Otto's The Gipsy Kings.
FILM CONSTELLATION is introducing Iraq-set survival thriller Outside The Wire starring Garrett Hedlund to international buyers during the online Marche. UTA Independent Film Group represents North American rights. The UK sales and finance outfit will also give a market-premiere to Spanish heist drama Sky High, which is getting a local release in late August through Universal, as well as screening six other titles: Sundance selections Relic (which it recently sold to Germany, France and the UK), The Evening Hour and Farewell Amor; David Bowie drama Stardust; Tim Sutton's Funny Face; and Keith Fulton and Lou Pepe's Terry Gilliam doc He Dreams Of Giants.
PROTAGONIST PICTURES has launched alien-invasion comedy Alpha Gang and will be holding a presentation for buyers on June 23 on the agency-led platform. David and Nathan Zellner will direct from David's script, and the cast includes Jon Hamm, Andrea Riseborough and Nicholas Hoult. The Zellners are also producing with Adele Romanski and Sara Murphy of Pastel; CAA Media Finance is handling the North American sale. Protagonist will also have a scene from Cannes 2020 Official Selection title Limbo to show during the online Marche, and is giving market-premiere screenings to thrillers The Sound Of Philadelphia and The Education Of Fredrick Fitzell.
ALTITUDE FILMS SALES is introducing buyers outside Australia and New Zealand to Australian survival thriller Shark Bait. To be directed by Sean Lahiff, the project is pitched as "Jaws meets Saw" and is about four backpackers cage-diving with a Great White shark who realise a far bigger danger faces them. Delivery is hoped for the second quarter of 2022.
CORNERSTONE FILMS is bringing two genre films set in Ireland to the virtual markets. Jon Wright's The Little People is about two Londoners who move to rural Ireland in search of the quiet life only to discover malevolent goblins lurking at the end of their garden. Cornerstone has worldwide rights to the project. The company will also be talking to buyers about Anders Engstrom's modern take on classic horror The Changeling, about a musician who returns to his childhood home after the death of his daughter to face a series of terrifying events.
HANWAY FILMS is handling international on Phillip Noyce's feel-good romp Peggy Jo, which stars Lily James as a real-life Texan bank robber who wants more from her life. UTA Independent Film Group is handling the US deal. The company is also showcasing Kim Mordaunt's bomb-disposal thriller Wildlands, starring Matthias Schoenaerts, to which it has worldwide rights. Tom Hardy is producing.
MISTER SMITH ENTERTAINMENT has international on Michael Morris' To Leslie, set to star Andrea Riseborough, John Hawkes and Alison Janney. Riseborough will play a single mother in West Texas who quickly squanders a lottery win and is trying to put her life back together years later. UTA has US rights. The company will also market debut Canadian director Nicole Dorsey's psychological thriller Balestra starring Tessa Thompson and Marwan Kenzari (Endeavor Content and CAA Media Finance handle US rights) and Steven D Katz's animation Mooned, a lunar adventure about a rabbit whose quiet life on the moon is shattered by humans.
WESTEND FILMS is giving a market premiere to The Banishing, a horror from British genre director Chris Smith (Creep, Severance, Triangle). Screen revealed a first look at the film last year, which stars Jessica Brown Findlay, Sean Harris, John Heffernan and John Lynch. Set in the 1930s, it tells the story of a young reverend and his wife and daughter who move into a manor with a horrifying secret. WestEnd has also released the first image of Joanna Lumley and Danielle Macdonald in Falling For Figaro, which is debuting first footage at the Marché.
DOGWOOF has worldwide rights on The Story Of Film: A New Generation, the latest anthology title from Mark Cousins. It updates previous title An Odyssey by looking at the innovations and peaks of global cinema from the last decade. The doc specialists also have Dreaming Walls, about legendary artists refuge Chelsea Hotel, which will soon reopen as a luxury venue; and Stray, which shows a portrait of Istanbul through the eyes and ears of a three outcast dogs.
Market premieres for two new titles lead INDEPENDENT's virtual Cannes slate. Alice Gu's The Donut King won the special jury award at the rearranged online SXSW. Executive produced by Ridley Scott through his Scott Free banner, it tells the story of Ted Ngoy, a Cambodian refugee to the US who built a multi-million-dollar empire around America's favourite pastry. Also on the SXSW start line was Kieron J. Walsh's The Racer, about an experienced cyclist who dreams of wearing the yellow jersey in his final run on the Tour de France. Screen premiered the first trailer this week.
Sport takes centre stage in SC FILMS INTERNATIONAL's Gensan Punch, a Japan-Philippines co-production from Filipino filmmaker Brillante Mendoza. Scheduled to wrap next month, the English-language film tells the true story of Japanese athlete Naozumi Tsuchiyama, who became a professional boxer despite having an artificial leg. SC has international rights on the title and will be presenting initial footage at Cannes.
KALEIDOSCOPE FILM DISTRIBUTION has launched new animated feature Danger Island, about 16-year-old activist Hanna, who works to raise climate awareness and fight against global warming. The company has world sales rights to the feature film, which is the first property in a planned series including further features, three separate pre-school TV shows, and immersive experiences.
Comedy-drama The Obscure Life Of The Grand Duke Of Corsica heads AMP INTERNATIONAL's slate. Written and directed by Daniel Graham and shot on location in Malta, it follows a brilliant architect who accepts an unusual commission from an eccentric billionaire. Timothy Spall and Peter Stormare star.
Spall also heads the cast of CELSIUS ENTERTAINMENT's The Last Bus alongside Downton Abbey alumnus Phyllis Logan. Gillies MacKinnon's film tells the story of a widower who, on the passing of his wife, uses his free bus pass to travel the length of Britain. Screen revealed a first look last year, while presales have been signed for the UK and Ireland, Australia and New Zealand, Canada and Spain among others.
Animation experts GFM FILMS is launching family adventure Musketeers Of The Tsar. Set in 17th-century Russia, it sees the bodyguard bear of the young tsar and his daughter set off on a threefold mission to defend the empire. The project attracted buzz as one of the most-attended pitches at Cartoon Movie 2019. It is also selling A Greyhound Of A Girl, based on the novel by Roddy Doyle. Sharon Horgan and Brendon Gleeson are attached for voice roles, with the film heading into 2D pre-production.
REASON8 FILMS' buzz title is documentary Joy Womack: The White Swan, about the first American ballet dancer to sign a contract with Russia's Bolshoi Ballet. Earlier this week Embankment Films launched its own title on the topic – a drama telling Womack's story, with Thomasin McKenzie in the lead. Reason8 is doing a market premiere screening of Australian thriller Sweet River, which is ready for delivery at the end of this month.
CARNABY INTERNATIONAL is launching US title Evil Takes Root, a newly-completed horror having its market premiere at the virtual market. The company is handling world rights, excluding North America, on the film about a grieving teenager who is possessed by the vengeful demon Batibat. Chris W Freeman directs and co-writes with Aaron Mack, with Elevate Pictures, Genre Labs and Up & Away Productions producing.
Horror specialists JINGA FILMS unite Caroline Williams (The Texas Chainsaw Massacre 2) and Nicholas Tucci (You're Next) in Ten Minutes To Midnight, the story of a punk rock DJ who is bitten by a rabid bat on the night of her last broadcast and turns into a vampire. It is also debuting Rony Patel's home-invasion horror Chop Chop for the world excluding North America, about a streetwise couple who become embroiled with a gang of hardened criminals after surviving an attack by a murdering psychopath.
MOVIEHOUSE ENTERTAINMENT is selling UK drama Hurt By Paradise, directed by Greta Bellamacina, who also plays Celeste, a young mother trying to carve out a career as a poet in modern-day London. Written by Bellamacina and co-star Sadie Brown, the film played at Edinburgh International Film Festival in 2019, and also stars Anna Brewster, Sai Bennett, Jamie Winstone, and popular YouTuber Tanya Burr. It was set for a UK theatrical release through Iheartcinema and Miracle Communications before Covid-19 caused cinemas to close.
Two elderly strangers with painful pasts find romance through dog walks in 23 Walks, which makes its market premiere for PARKLAND PICTURES. Starring Alison Steadman (Life Is Sweet) and Dave Johns (I, Daniel Blake), it will have a UK release through the company's distribution arm Parkland Entertainment later in 2020.
Genre brand DEVILWORKS is debuting 1980s throwback Beast Mode, about a has-been Hollywood producer who turns to an ancient herbal elixir to save his career after he accidentally kills his lead star. His pact unleashes a band of bloodthirsty shape-shifting beasts on LA. Devilworks has world rights.
EVOLUTIONARY FILMS has volume one of Australian horror anthology Dark Whispers, for which 11 directors have contributed a segment. It also has romantic comedy A Christmas Feast, in which a working-class boy brings an affluent girl to his family's raucous seasonal Italian feast. Booksmart's Skyler Gisondo stars opposite Jumanji: The Next Level's Madison Iseman.
FILMSEEKERS is leading with See Pictures' family feelgood drama June Again. Studiocanal will release in the film's native territories of Australia and New Zealand in spring 2021, after the rollout was pushed back eight months. Noni Hazlehurst, Claudia Karvan and Stephen Curry star in JJ Winlove's story of a matriarch who, in a break from her dementia, wants to unite her children and save the family wallpaper business.
Meat The Future, a documentary about the 'food science' that grows real meat from animal cells, is having a market premiere through METFILM SALES. It premiered through the online HotDocs festival this year, and is directed and produced by Liz Marshall. MetFilm also has Giedrė Žickytė's The Jump, about the attempted defection of Soviet soldier Simas Kurdika to the US on Thanksgiving 1970, and the Cold War muddle which followed. It is expected to premiere in autumn/winter 2020.