MGM's lavish spend on wrestling film and Netflix deal for zombie drama stood out.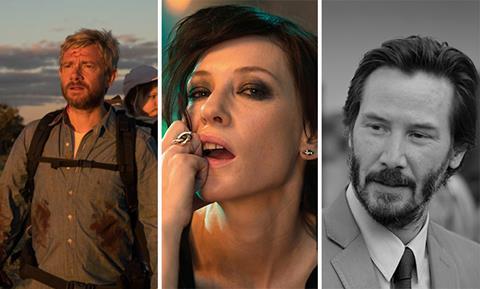 Scroll down for a selection of the biggest deals
Business simmered at the EFM as buyers perused the market with one eye on Cannes and only a handful of marquee titles triggered sales.
Besides MGM's splashy pre-market acquisition of worldwide rights to Fighting With My Family, a reported studio deal with Sony for Tom Hanks' Greyhound, and plenty of interest in Liam Neeson's action film Hard Powder and thriller-romance Serenity, sellers reported steady trade on a variety of films.
But the growing presence of Netflix and Amazon Studios – both of whom were on the ground – continues to shake up the industry. After both went on big spending sprees at Sundance, Netflix swooped on worldwide rights to the Martin Freeman zombie thriller Cargo.
For smaller international distributors without the wherewithal to invest in films, board projects at script stage, or compete with the digital giants and the studios on worldwide buys of must-have titles, there are slim pickings and these are challenging times.
Patrick Wachsberger, the Lionsgate International chief and chairman of Lionsgate Motion Picture Group, said: "Most of the big distributors have their slates covered for 2017 and probably part of 2018, so there's no rush because you're thinking about Cannes".
"It's less volume," Covert Media president of international Liz Kim Schwan said of the EFM. "We've had a solid market and in this landscape that's a cause for celebration."
Big deals revealed in Berlin
MGM in lavish worldwide deal for 'Fighting With My Family'
In one of the biggest EFM deals ever, the studio has paid what Screen understands to be in the mid-teens for the upcoming comedy drama.
Full story HERE
Netflix swoops on world rights to Martin Freeman zombie movie (exclusive)
Streaming platform in multi-million dollar deal for Cargo from The Babadook producers.
Full story HERE
Roman Polanski thriller 'Based On A True Story' goes to SPC (exclusive)
Psychological thriller recently wrapped production in Paris.
Full story HERE
SPC swoops on competition title 'A Fantastic Woman'
Sebastián Lelio's well-received drama counts Pablo Larrain as an executive producer.
Full story HERE
Lionsgate snaps up US rights to 'Rally Car'
The company announced it had acquired Olivier Megaton's upcoming action film to star Keanu Reeves.
Full story HERE
Open Road to go wide in US on Travis Fimmel, Forest Whitaker heist movie
Travis Fimmel, Forest Whitaker star in heist movie.
Full story HERE
'Star Wars' spoof drives strong EFM sales for Covert Media (exclusive)
Comedy Star Worlds Episode XXXIVE=MC2: The Force Awakens The Last Jedi Who Went Rogue has closed deals in Berlin in multiple international territories.
Full story HERE
Latido racks up key sales on in-demand EFM slate (exclusive)
Chavela Vargas documentary sells to US and France.
Full story HERE
'Earth' sequel heads to France, Italy, Benelux, Asia (exclusive)
Goldcrest secures pre-sales in a slew of international markets to documentary voiced by Robert Redford and Jackie Chan.
Full story HERE
'I Am Not Your Negro' sells to more than 40 territories (exclusive)
Wide Management has closed a series of deals on the feature doc.
Full story HERE
IFC buys Armando Iannucci's 'The Death Of Stalin'
The seven-figure North American deal came together quickly in Berlin on Saturday and reunites the distributor and director of In The Loop.
Full story HERE
Mirovision strikes Japan deals on Korean titles
Japanese buyers in Berlin were hungry for Korean titles.
Full story HERE
Sean Baker's 'Florida Project' goes to France (exclusive)
Protagonist Pictures scores French deal on Tangerine director's next feature.
Full story HERE
'[Rec]' director Paco Plaza's 'Veronica' gets France deal (exclusive)
Upcoming horror follows a woman who attempts to bring back her dead father through a Ouija ritual.
Full story HERE
Cate Blanchett starrer Manifesto racks up further sales (exclusive)
Deals have closed in multiple territories including Italy and Australia.
Full story HERE
Guy Pearce, Toni Collette romantic thriller scores pre-sales for Celluloid Dreams (exclusive)
Ensemble romantic thriller Andorra, also featuring Gillian Anderson secures German distribution.
Full story HERE
Saban Films acquires sci-fi 'Redivider' from FilmNation
The distributor announced at the EFM it has picked up North American rights to Tim Smit's sci-fi starring Dan Stevens and Bérénice Marlohe.
Full story HERE
Joachim Trier's 'Thelma' racks up first sales for Memento (exclusive)
Film shot in Oslo in September is due to be delivered this spring.
Full story HERE