The latest in the Gatao gangster franchise and a mind-bending serial-killer thriller are among the Taiwanese titles available to EFM buyers.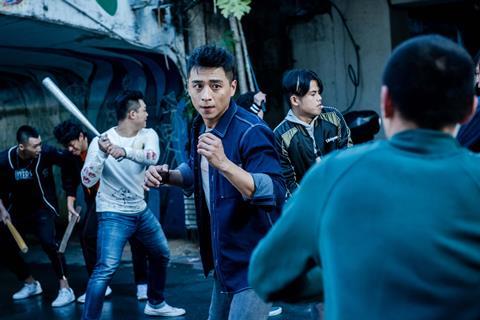 The Year of the Ox enjoyed an auspicious start for Taiwanese productions. Gatao: The Last Stray drew large crowds over the festive Chinese New Year period, which coincided with Valentine's Day in February, taking an impressive $4.3m (nt$120m) after three weekends.
The gangster film is the third instalment of the popular Gatao franchise. It finished ahead of two romantic comedies, I Missed You from Dear Ex directors Mag Hsu and Hsu Chih-Yen, and A Trip With Your Wife by director Gavin Lin (More Than Blue). The latter two films grossed a combined $1.25m (nt$35m) at the box office after two weekends. In addition, The Tag Along director Cheng Wei-Hao's mystery thriller The Soul, which was also released in China beforehand, grabbed $1.5m (nt$42m) after four weekends in Taiwan.
Home runs
This latest round of local successes arrived in the wake of a number of robust performances for Taiwanese productions in 2020. Despite the Covid‑19 pandemic, the island managed to keep the virus under control early, which brought audiences back to the cinemas from July.
Gatao: The Last Stray will make its market debut at EFM through Taipei-based Swallow Wings Films, which is also launching As We Like It, an all‑female version of Shakespeare's comedy that premiered in Rotterdam's Big Screen competition last month. US firm Endeavor Content, through its sales and financing outfit in Singapore, continues to pick up Taiwanese films after the success of its earlier acquisition, horror hit Bridge Curse. It will launch sci-fi thriller Plurality at EFM.
Hollywood studios continue to lend their support to the local industry. Sony Pictures, which released three of the highest-grossing local films in 2020 including Your Name Engraved Herein, has picked up Man In Love, while Warner Bros, which handled 2019's top local film Detention, has I Missed You and Listen Before You Sing on its Taiwan slate.
Taiwanese cinema reached another significant milestone recently when Chung Mong-Hong's family epic A Sun made the 15-film shortlist for the Academy Awards' best international feature film category.
American Girl
Dir. Fiona Roan
This debut feature is a semi-autobiographical family drama about a 13-year-old girl who struggles to adjust to life in Taipei during the 2003 Sars outbreak. Starring Karena Lam (Zinnia Flower) and Kaiser Chuang (Who Killed Cock Robin), the film is backed by Hong Kong's Media Asia, Splash Pictures from Taiwan and GHY Culture and Media (Singapore), with Tom Lin (The Garden Of Evening Mists) as executive producer. Roan is a Taiwanese-American writer/director based in Los Angeles and Taipei. Her prize-winning 2018 short film Jiejie was distributed online in the US via HBO Go and HBO Now. Contact: Frederick Tsui, Media Asia
Do The Right Thing
Dir. Chen Tapu
DoP-turned-director Chen's dark comedy follows an ex-convict, starting afresh, who is caught up in a political tussle with a farm woman over water supply. The stellar cast includes Angelica Lee (The Garden Of Evening Mists), Kai Ko (You Are The Apple Of My Eye) and Lee Kang-Sheng (Days). Chen made his directorial debut with 2011's Pick The Youth and followed up with 2017's Turn Around. He won best cinematography at the Taipei Film Awards last year for the Chang Jung-chi-directed We Are Champions. Contact: Sim Wee Boon, mm2 Entertainment
Final Exam
Dir. Kuo Chen-Ti
Kuo sets her latest film in a remote primary school faced with low student intake as birthrates fall. While the students are preparing for their final exam, a teacher is anxiously waiting for his contract renewal before the summer vacation. Kuo won the Golden Horse best documentary award for Viva Tonal — The Dance Age in 2003 and made her narrative feature debut The Boar King in 2014. Her most recent release Love Talk, which consists of three love stories set in Taiwan, Japan and Malaysia, was rolled out theatrically in Japan last December. Contact: Swallow Wings Films
Gatao: The Last Stray
Dir. Ray Jiang
This Chinese New Year hit is the third instalment in the popular Gatao ('gang leaders') franchise, which brings back Cheng Jen-Shuo as a triad mobster who is forced to choose between brotherhood and love. New to the original cast is Nikki Hsieh (I WeirDO), who plays the love interest. Jiang makes his directorial debut, stepping up from his role on the franchise's second film Gatao: Rise Of The King (2018), on which he supported director Yen Cheng-Kuo in the role of executive director. Contact: Swallow Wings Films
Man In Love
Dir. Yin Chen-Hao
Roy Chiu (Dear Ex) stars opposite Hsu Wei-Ning (Netflix's The Victims' Game) in this remake of the 2014 Korean romantic film of the same name. He plays a petty thug who asks a young woman to go on unusual dates with him to offset her family's debts. The Tag Along director Cheng Wei-Hao produces this feature debut for Yin, a music-video director best known for the video of indie band EggPlantEgg's hit 'Back Here Again', which has accumulated more than 114 million views on YouTube. Sony Pictures will distribute the film in Taiwan on April 1. Contact: Calendar Studios
Plurality
Dir. Aozaru Shiao
Tony Yang (Zone Pro Site) and Sandrine Pinna (See You Tomorrow) star in this sci-fi action thriller about a man who wakes up from a coma to find himself uploaded with the minds of four dead serial-murder suspects. These hold the only clues for the police to track down the last surviving victim. The film, which opened on February 26 in Taiwan, is the solo feature directing debut of Shiao, who co-directed 2013's comedy romance Forever Love. CalFilms Asia, Lots Home Entertainment and Machi Xcelsior Studios are among the investors. Contact: Nelson Mok, Endeavor Content
Red Horse In The Summer Sky
Dir. Chang Tso-Chi
Veteran director Chang's latest film follows a runaway city girl who travels to a small seaside village in Yilan to look for the biological father she has never met. The project, which features a cast of unknowns, has been selected for this month's HAF WIP lab. Chang's credits include Thanatos, Drunk, which bowed in Berlin's Panorama section in 2015, and Darkness And Light, which played Directors' Fortnight at Cannes in 1999. Both 2002's The Best Of Times and 2010's When Love Comes were named best film at the Golden Horse Awards. Contact: SimpleView Production