The Mad Men actress talks to Screen about her most challenging role to date.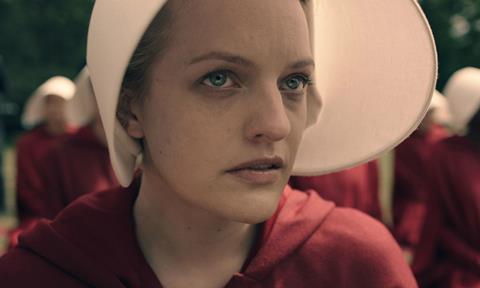 Elisabeth Moss is not averse to a laugh, which is an unexpected treat given her penchant for portraying tough, serious women on TV. For eight years, she rose through the advertising ranks as Mad Men's Peggy Olson, a match for any man in the chauvinistic bullpen of Madison Avenue in the 1960s. And she is no less admirable as the New Zealand detective Robin Griffin in Top Of The Lake, soon to return for a second season.
Her latest lead role, as the subjugated Offred in Hulu and MGM's acclaimed adaptation of The Handmaid's Tale, is as serious as they come, and arguably the most unsettling work in a dazzling career that belies her 34 years. Yet she is happy to mix the light with the dark when she speaks to Screen International before the Tribeca Film Festival world premiere of the 10-episode Hulu original series.
Moss had read Margaret Atwood's 1985 dystopian novel years ago, and confesses she could not recall much detail when showrunner Bruce Miller sent her the pilot script. "Now I'm so familiar with the book that I can unabashedly say it's my favourite book of all time," she says, amid a ripple of chuckles.
Hulu had already ordered The Handmaid's Tale to series when Moss got hold of the first script. She loved it, asked for the second, loved that even more and grilled Miller and executive producer Warren Littlefield on their vision.
"I wanted to make sure it would be very high-quality television," Moss says. "The visuals were important to me. It took me more than a month to sign on… because I wanted to make sure my idea was the same as everyone else's."
Vital touchstone
The series was shot in Toronto in 2016 and Moss also took on the role of producer, which meant she was rarely away from the material. Fortunately she is no method actor — it would be grim indeed to dwell too long in Gilead, Atwood's speculative theocracy that overthrew a US blighted by environmental catastrophe and plunging birth rates, and which condemned women to horrific slavery.
Atwood's book has been flying off the shelves ever since Donald Trump became US president and accentuated the political divide, propelling women's rights, intolerance and fake news to the forefront of public discourse.
"One of the things I took from the book has been the idea that you mustn't be asleep," Moss says. "I have a line in the show when I say, 'I was asleep then and now I'm awake to the world.' That is something that is happening now; people are waking up and using their voices and speaking out. It's a lesson I took from the book and the making of the show."
Moss says that, for her, the book has become a vital touchstone. "When you speak to Margaret Atwood, she says everything that happens in the book was happening somewhere in the world; it just wasn't happening in America. The persecution of women, the violations around the world of human rights, sexual slavery, the selling of children into sexual slavery, genital mutilation, women not being allowed to read, vote, etc - and that's just women. I'm not even talking about the LGBTQ community or other races.
"For me, those things were relevant for a long time," she continues. "Have I found, perhaps, more personal relevance in my own country and my own life? Yes."
Human connections
Moss got to know Atwood a little over the course of the production, and admits to being in awe of the fiercely intelligent Canadian author.
"She's always been wonderful. I'm the one who has been a little bit more intimidated by her," Moss says. "She's always been really friendly and communicative. She speaks how she writes, in these complete sentences. You can almost hear the chapters end in her when she's talking." Moss lets out another laugh. "I don't know if I'll ever get over feeling intimidated, but that's my thing to deal with."
Despite the subject matter, Miller, Moss and their collaborators were determined to leaven the mix and reflect the wry tone of the novel. "It was important to show Offred has a great sense of humour and she's a modern woman," she says. "Some situations were so disturbing that you can't help but laugh."
The show creators channelled the gallows humour through a finely calibrated voiceover which, Moss says, works well. "It's one of the old rules of storytelling, you're not supposed to use voiceovers," she comments. "But here you have this book that is a first-person narrative that's very much in [Offred's] head. Then you have a character who is not allowed to speak her feelings 90% of the time, and the voiceover becomes the only way you can hear what she's thinking and feeling. It became this way to connect to the audience."
Moss has never had a problem connecting with viewers, and has become one of the most in-demand acting talents since appearing on AMC's Mad Men. She had already been acting for a long time, but the show was the game-changer and earned her six Emmy nominations. "It was the breakout for me in terms of the exposure and the amount of people who had seen the show and seen who I was," she says.
Moss also enjoyed a regular role on NBC's The West Wing as the president's daughter Zoey Bartlet, and has made frequent forays onto the big screen in films including Queen Of Earth, Truth, High-Rise and Mad To Be Normal, among others.
She stars in Ruben Ostlund's recent Cannes Palme d'Or winner The Square — an interesting companion piece to The Handmaid's Tale, perhaps, about an art installation in the shape of a square, which represents a sanctuary from society — as well as Chekhov adaptation The Seagull, opposite Annette Bening and Saoirse Ronan. She will also star in crime comedy The Old Man And The Gun, with Casey Affleck and Robert Redford.
Small-screen scope
While she enjoys film work, there is the sense Moss prefers TV. "There's a lot of really good writing in TV," she says. "It has allowed, in the past 10 to 15 years, for there to be more interesting female characters on television, from Damages to Scandal. These are great dramas led by women and that can't be an accident.
"I love making films for an entirely different reason — you have this finite time to tell the story, you go, and you're done," she continues. "It's beautiful and it's an art form. But I love television because it enables you to explore something for a much longer period of time, which I really enjoy. I love watching a character for five years."
Hulu has announced that a second season of The Handmaid's Tale has been ordered, so will Moss get to explore Offred's story beyond her initial 10-episode commitment? While she is keen to do more, she claims to not know - although those familiar with the story will know it is open-ended.
For now, there is the series to promote, and further exposure through yet another acclaimed performance that many believe will bring Moss a seventh Emmy nod. She is enjoying the experience, although cannot believe the impact the show has had already. When someone gave her a new TV tie-in edition of the book, she reveals it made her rather emotional. "I thought, 'This is insane.' I revered this book and the fact my face is on the cover… I don't know how to reconcile those two facts."