"It felt a little strange, because James and I were very good friends."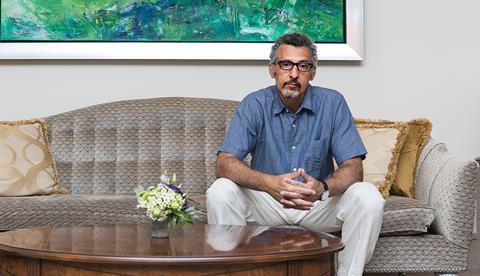 John Turturro had just four months to prepare before shooting began on The Night Of, the eight-part crime drama from creators Richard Price and Steven Zaillian, which is based on the 2008 BBC series Criminal Justice.
The actor-director is best known as a long-time collaborator of Joel and Ethan Coen and for appearances in Spike Lee films such as Do The Right Thing and Jungle Fever. He was cast in the role of ambulance-chasing lawyer John Stone, who is tasked with defending a young man accused of murder (played by Riz Ahmed), after the death of actor James Gandolfini in 2013. Gandolfini had only worked one day on the pilot episode, and Turturro initially had doubts about taking on the role.
"It felt a little strange, because James and I were very good friends," he says. "We worked together, and we had been wanting to work together again."
The Brooklyn-born actor also spoke to Gandolfini's widow, Deborah Lin, before he fully committed to the project. "She was very supportive of me doing it," he says. "Then I started from scratch, because that's what you have to do."
Turturro spent the time before shooting began on the BBC/HBO co-production, which was broadcast on Sky Atlantic in the UK, throwing himself into research on the US criminal justice system. He spent time talking to lawyers and visiting facilities such as New York's infamous Rikers Island prison to ensure he was fully prepared to take on the role of the downtrodden Stone.
Taking its toll
Through the research process, something struck Turturro: the toll the job can take on the individuals who operate within the system. "It's the grey area that you're in," he observes. "Everybody has to negotiate his or her own moral terrain; how much you keep and how much you compromise. Some people I spoke to had had several marriages and their personal lives were a wreck. I thought it was really interesting on those terms — how much you give up of what you started with."
The gravity of the themes of justice and innocence being explored in The Night Of became more evident during the middle of shooting. The publication of 'Before The Law', a now famous New Yorker article by Jennifer Gonnerman, struck a chord with the entire production. The piece chronicled the experience of Kalief Browder, a black 16-year-old who was arrested for allegedly stealing a backpack, imprisoned on Rikers Island for three years without trial and spent the majority of that time in solitary confinement.
"That article really had a big effect on us. It was all about Rikers, which was familiar to us [from our research]," says Turturro, who contacted Browder in the hopes the young man could potentially work on set as a PA. Sadly, Browder committed suicide in 2015.
With the level of intense emotion and heavy drama involved in the production, Turturro recognised the need to inject some comic relief into proceedings. "With my character, I thought that was important," he says. "That's what people have to do, a lot of them, to be able to live with what they do."
While much of the dark comedy was present in Price and Zaillian's scripts, the actor also drew on research he did for Spike Lee's 1995 feature Clockers — which was adapted by Price from his novel of the same name — in which he played a homicide detective.
"I have never forgotten that research, riding with the homicide squad," Turturro recalls. "Those guys were the most black-comic guys you could ever meet. They were full of dark humour, because that's what they dealt with all the time."

Call for more
While a second season of The Night Of had not been confirmed at the time of writing, there is demand for more. US audience figures grew over its run, with daily ratings tripling from its premiere (774,000) to its finale (2.2 million) and an overall weekly US audience of 7 million across multiple platforms. In the UK, it drew an on-demand audience of 2.5 million viewers. The series has also received a strong critical reception.
While he waits to find out whether he will be returning to The Night Of, and in what can only be described as a 180-degree turn in subject matter, Turturro is in the final stages of making Going Places, an adaptation of the 1974 French film, in which he returns to his The Big Lebowski character Jesus Quintana. The original film's director, Bertrand Blier, has given his full blessing to the project. "[Blier] was very generous to me," says Turturro. "He said 'You can do what you want with it.'"