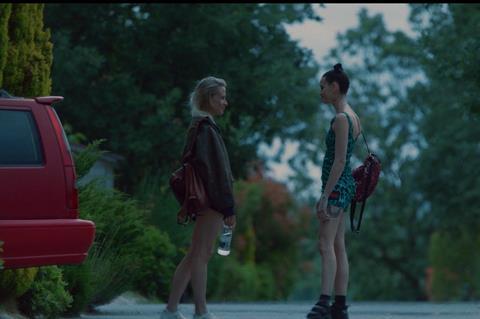 Begin Again Films
The all-female executive suite at Madrid-based Begin Again Films retains a strong focus on auteur-driven features and documentaries that premiere regularly at international festivals.
The sales agent and distributor is led by co-founders Gloria Bretones and Belén Bernuy, who also work as head of international sales and acquisitions and the head of acquisitions and co-production respectively, alongside Sonia Abbas as sales manager and head of distribution.
They are attending Cannes to introduce buyers to Luc Knowles' Libélulas, Meritxell Colell's Duo and Iker Elorrieta's San Sebastian and Tallinn Black Nights selection The Radio Amateur.
What is a typical Begin Again film?
We specialise in Spanish cinema. Our team is always on the lookout for new talent, emerging filmmakers, as well as new audiences. Our goal is to promote the best independent cinema made in Spain, gripping stories that are willing to take risks in terms of content and formats that are not always easy to find in cinemas.
Do you invest at production stage?
We do, through our production company Centuria Films. We then guarantee distribution in Spain as well as the handling of international sales with Begin Again. The perfect combination but we only do it for one project a year.
How healthy is the theatrical pre-sales market for your projects?
Theatrical releases are our main goal, but in Spain and elsewhere box-office receipts are not at their best and that takes a toll. Europe is our strongest market when it comes to theatrical, especially with titles that have premiered at international festivals to good reviews and reception.
Which markets are proving particularly strong for your projects?
As we produce films in Spanish, our main market is naturally Latin America and the US. The European market is more difficult because it is ferociously competitive. Spanish cinema is a good asset, there is clearly a good market for it, but when it comes to risky independent productions from filmmakers that are not yet known, we have to work much harder to obtain good results.
What new markets have emerged for you in recent years?
In 2021 we started working with the Asian markets — unknown territory for us, up until then. And 2022 is promising to be even better. We have more in common than one would think, and we are happy to keep expanding our activity there.
Feel Content
Madrid-based Feel Content was founded in 2020 by two industry executives with a wealth of experience: Geraldine Gonard, who previously launched distributor and events firm Inside Content; and Luis Collar, a producer of more than 40 films and founder of entertainment company The Circular Group.
As joint CEOs, their focus is on rising talent. The Feel Content slate for Cannes includes romantic drama Josefina, by first-time Spanish director Javier Marco and starring Emma Suarez and Roberto Alamo; and Places Where We Have Never Been (Lugares A Los Que Nunca Hemos Ido), the last film by Roberto Pérez Toledo, who died in January. The film won best actor and best Spanish film in the Zonazine section at Malaga Film Festival earlier this year.
What kind of projects do you handle?
We sell mainly Spanish and other European films and Latin American productions — quality films that can connect with an audience.
Do you invest at production stage?
Rarely. We think it's best to invest all our effort into international promotion of the films we handle.
How healthy is the theatrical pre-sales market for your projects?
Theatrical is still extremely difficult. The market is clearly still suffering the effects of cinemas closing worldwide due to the pandemic although we trust that box office will get better in the future and help boost the fees for film sales.
Which markets are proving strong for your projects?
We deal with territories worldwide, with films that perform very differently. If we had to pick some it would probably be Latin America and Europe.
What new markets have emerged for the company in recent years?
It has more to do with type than geography: the fall of theatrical sales in the last couple of years and the rise of sales to platforms for VoD rights and multi-territory. In VoD, advertising-based video on demand (AVoD) is becoming more and more significant although revenues are still quite low.
Film Factory Entertainment
Barcelona-based Film Factory Entertainment has a tradition of working with well-established Spanish directors. Its present slate includes Prison 77 by Alberto Rodriguez (due to be released in Spain on September 22) and The 3 Wise Kings Vs Santa by Paco Caballero, as well as genre films such as The Communion Girl by Victor Garcia.
The company's key executives are Vicente Canales, managing director, and Manon Barat, sales and marketing executive.
Describe the kinds of projects you handle.
With the pandemic, distribution companies have become more selective since the box office is generally low. We try to acquire the most commercial projects, such as The 3 Wise Kings Vs Santa, Two Many Chefs by Joaquin Mazon and The Key Game by Vicente Villanueva, as well as arthouse films such as Jaime Rosales's Wild Flowers and Carlos Vermut's Manticore.
Do you invest at production stage?
We are looking for projects at production stage. Sometimes we acquire films based on scripts [but] only when we believe they have a strong potential.
How healthy is the theatrical pre-sales market for your projects?
Buyers have become extremely selective. The pandemic has accelerated the process and except for some key titles, most of the buyers want to watch the full feature.
Which markets are you finding particularly challenging in 2022?
Asia can be a generally challenging market for Spanish-speaking productions, except when you have a horror film — then it can become a very strong market, like in the case of The Communion Girl. Box office is low everywhere and it's challenging to find the right project for each distributor.
Where are the opportunities?
The VoD and digital market has been growing fast and is now one of our strongest in comparison with the cooling of theatrical sales. The impact of Netflix on the Spanish market has been followed by that of other big platforms.
Filmax
Barcelona-based Filmax is one of Spain's leading entertainment companies, with film and TV interests that encompass development, production, distribution, exhibition and international sales. As a sales agent, Filmax is attending Cannes with four market premieres: Cesc Gay's comedy Stories Not To Be Told; Jorge Dorado's thriller Lost & Found, starring Alvaro Morte; Avelina Prat's intimate drama Vasil, for producer Miriam Porté; and Amazing Elisa, starring Asier Etxeandia and Ivan Massagué. The company's key executives are CEO Carlos Fernandez, producer Laura Fernandez, head of international Ivan Diaz and sales executive Cristina Carro.
Describe a Filmax film.
Filmax has traditionally focused on genre films — horror, thrillers and animation. But our slate has become more diverse and now includes dramas, comedies and romantic comedies. The goal is to broaden our offer to attract a wide range of buyers. We are investing less in buying international titles to bring to Spain and instead focusing on Spanish films we can then distribute in the Spanish market and sell internationally.
Are you investing at production stage?
Yes, Filmax is also a production company. But we work with projects developed outside our company in order to secure the rights if we think they have commercial potential.
How healthy is the theatrical pre-sales market for your projects?
We still manage it. It's easier for certain genres, like animation and horror. It's harder for dramas where you need a bit extra — either the selection of the title at a prestigious festival or the name of a well-known director who has proven successful in the market with their previous work.
Which markets are proving particularly strong for you?
The main market for our slate is Europe, particularly France, Italy (which has been very active lately) and Germany. Latin America and the US come second, although companies in the US are a bit slower when it comes to buying. There are also certain films that work well in Asia, and animation is particularly strong in Eastern Europe.
What new markets have emerged for you in recent years?
There hasn't been a new territory strong enough to compensate for the loss of others, but we are seeing markets that are becoming more dynamic, as in the case of Italy. Latin America has also grown considerably and so has China. When it comes to China, the business opportunities are much better than they used to be if you have content that doesn't clash with censorship and has potential for theatrical.
Latido Films
Madrid-based Latido Films brings movies from Spain, Europe and Latin America to market. Led by managing director Antonio Saura and head of international sales Juan Torres, the company works with new talents including director Alauda Ruiz de Azua, with her Berlinale Panorama entry Lullaby, and veterans such as Arturo Ripstein and Carlos Saura.
At Cannes, Latido is handling The Beasts by Rodrigo Sorogoyen, which screens in the Cannes Premiere section. The company also hosts the market premiere of Staring At Strangers, based on the novel by Spanish author Juan Jose Millas, directed by Felix Viscarret and starring Paco Leon, Leonor Watling and Juan Diego Botto, and is pre-selling All The Names Of God by Daniel Calparsoro, now in development.
Describe the Latido slate.
As well as working with renowned filmmakers, we also give international exposure to up-and-coming talents such as Mariano Cohn and Gaston Duprat [Latido handled the Argentinian filmmakers' The Distinguished Citizen, 2016], Rodrigo Sorogoyen [The Realm], Alvaro Brechner [A Twelve-Year Night], Galder Gaztelu-Urrutia [The Platform], Arantxa Echevarria [Carmen & Lola] and Pepa San Martin [Rara]. In terms of genres, we like diversity, from thrillers to fantasy and horror. Recent success stories — such as The Platform, the upcoming Virus:32 by Gustavo Hernandez, and the thriller Unfinished Affairs by Juan Miguel del Castillo — have strengthened our reputation as a genre company. Comedies also have a place in our catalogue and we're proud of our work with Spanish directors including Santiago Segura and Fernando Colomo.
Do you invest at production stage?
We have only done so if this helped a film we thought deserved to be made and needed our support.
How healthy is the theatrical pre-sales market for your projects?
I wonder if the word 'healthy' is applicable. We hope theatrical will return to past figures, but we are uncertain about which films will help us to get there. Latido supports the idea that films are better seen on the big screen but the main point is for them to be seen, so if big screens are not an option yet, platforms are doing a fantastic job in helping audiences fall in love again with cinema. The all-rights market is understandably cautious, but we do pre-sell movies to distributors that believe audiences will go to the theatres to see [them].
Which territories work well for the films you handle?
The pandemic has changed everything and we are having to adapt. Some markets have reacted faster, others slower. Traditionally our films have the Latin American and European markets but the Asian and US markets have also been there when needed.
What new markets have emerged for you in recent years?
The fastest growing market for films is the platforms, either multi­national, pan-regional or local companies. The beauty of our industry is that it's always evolving, and our job is to adapt and be able to provide the best films to our clients. This involves a great deal of care, thoughtful strategy design and analysis.