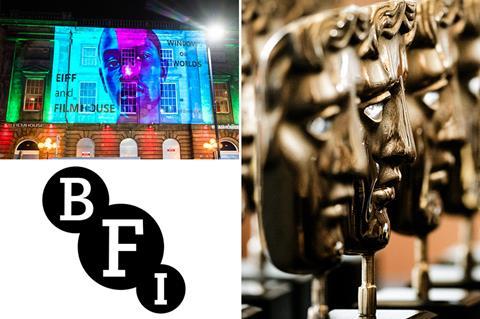 Significant change at the BFI
The UK's lead organisation for film starts a new 10-year strategy with an annual budget down around 10% on the past few years. It is also looking to fill several major posts. In addition to the big BFI Festivals role (see below), the head of international and industry Neil Peplow is moving to run the London Film School, and the BFI is looking to see how to replace the role. Recruitment is also underway for a new role, head of Lottery skills programmes, to co-ordinate the funding meted out to the soon-to-be announced regional partners who will help to issue out the new skills funding. Mia Bays, director of the Film Fund, has overseen a refresh of the film funds in line with slimmed-down (in line with inflation) National Lottery funding. Bays herself is now nearly halfway through her three-year term and speculation will soon to be turning to who will be her successor.
UK festivals face uncertain future
As part of the new funding strategy, the BFI London Film Festival (LFF) is in a transitional period. The National Lottery funding mechanism under which the LFF has been supported ended with the 2022 edition. It is understood the Department for Digital, Culture, Media and Sport (DCMS) will provide support to cover the 2023 festival, in addition to continued sponsorship from corporate partners including a multi-year agreement with headline sponsor American Express. A long-term strategy is yet to be fixed but may include the use of a different National Lottery funding mechanism.
Plus, there's the question of who will be leading the LFF, as festival director Tricia Tuttle steps down. Her replacement will be announced in February at the earliest. Tuttle is staying on in a part-time role until March 31 to help deliver LFF 2023 and LGBTQIA+ festival BFI Flare.
In Scotland, the future of the Edinburgh International Film Festival (EIFF), previously the world's longest continually running film festival, is even more precarious as the dust continues to settle on the fallout from the collapse of parent charity, the Centre for the Moving Image in October 2022. EIFF has been offered a chance at resurrection, with Screen Scotland purchasing the intellectual property of EIFF from the CMI administrators. Kristy Matheson, creative director of the 2022 edition, is leading an options appraisal for a 2023 festival, but with plenty of details still to be ironed out. Where will the festival be run out of, with the Edinburgh Filmhouse's future looking uncertain? How will it be funded?
Change is also on the cards for Sheffield DocFest and Glasgow Film Festival. Annabel Grundy will run her first edition as Sheffield's managing director in June, in tandem with acting creative director Raul Niño Zambrano. Its funding model is also in question, as it builds a revised five-year plan and management team. As unveiled in November of last year, Sheffield is to receive a reduced one-year grant from Sheffield City Council, as the council determines the level of its long-term commitment to the event. The council issued a one-year grant of £100,000, which is £50,000 less than the festival has received in previous years.
This year will also see Allan Hunter's final edition as Glasgow co-director, after 15 years at its helm. Allison Gardner, however, will continue to run the festival.
A pivotal year for box office recovery
Total UK and Ireland box office for 2022 is £978.5m according to Comscore – a solid increase on 2020's £597.1m, but nevertheless 28% down on the total for pre-Covid 2019, which was £1.35bn. Pre-Covid, the last time UK and Ireland box cinemas delivered an annual total below £1bn was 2008 (with £949.5m) – essentially meaning that nearly a decade and a half's growth has been lost.
Can 2023 finish the recovery that started tentatively with 2021, and more robustly with 2022? The industry is now talking up the 2023 calendar but film tech firm Gower Street is forecasting around £1bn for UK and Ireland this year – a very modest rise on 2022.
One concern for UK cinema operators, especially boutiques and independents, is the commercial strength of the awards-season slate in January and February. In pre-pandemic years, January was traditionally the month that saw the release of the strongest competitors for best picture. In early 2020, just before the pandemic, 1917 grossed £44.1m at UK and Ireland cinemas. Even in post-pandemic 2022, January saw the release of Belfast, which yielded a handy £15.6m.
Looking at this year's calendar for January and February, it's hard to see the awards contenders – including The Fabelmans, Babylon, TÁR, Empire Of Light, The Whale, Women Talking and Till – performing at this level.
Juries, voting interventions, settle in at Bafta Film Awards
Bafta is now in the third year of its revised processes for its film awards – instituted after the embarrassment of an all-white set of acting nominees across the performance categories in 2020, as well as yet another all-male director line-up that year. Both 2022 and 2023 have seen tweaks to the radical shake-up introduced for the 2021 film awards, gently rowing back on the power of juries to give members a greater say in the nomination of actors and directors. Bafta will doubtless keep a close eye on the nominations that result, before deciding whether members can be given even more say in future years.
One major category to keep an eye on is leading actor: at Oscar, white men dominate the list of names considered to be front runners this year. At Bafta, the six best actor nominees will comprise the top three votes of the members plus three jury selections from the rest of the longlist. The other three performance categories are much more likely to produce diverse sets of nominations.
This year, Bafta has a new venue for its film awards: London's Southbank Centre's Royal Festival Hall. More relevantly for TV audiences, the ceremony – which in past years has been quickly edited for broadcast on a time delay – will feature the final four awards of the night presented live. Whether this is enough to see a spike in the historically declining viewership remains to be seen. New Bafta CEO Jane Millichip, who took over from the long-serving Amanda Berry last October, will be analysing the viewing data with interest.