SCREEN SUBSCRIBERS: In Reykjavik to collect a lifetime achievement award, Margarethe von Trotta reflects on an illustrious career with ScreenDaily.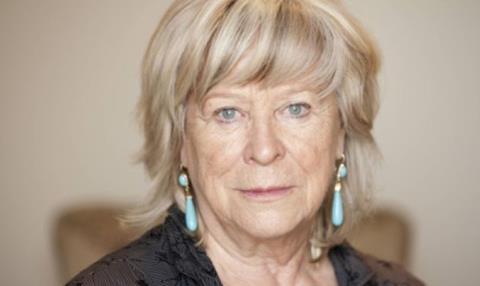 To add to the Golden Lion she won for The German Sisters (aka Marianne And Julianne) way back in 1981, revered German director Margarethe von Trotta now has a new award to put on her mantlepiece: a "Silver Puffin" lifetime achievement award which she picked up this week from the President of Iceland at the Reykjavik International Film Festival (RIFF).
At first, von Trotta didn't know what a puffin was ("we don't have them in Germany"). She consulted an encyclopedia and was disconcerted to discover that the little bird was known as a "papageientaucher" in her homeland. "In English, it is so nice. It is 'puffin'," she says, lamenting the tongue-twisting German spelling.
The Misplaced World (sold by Wild Bunch), von Trotta's latest feature, has also been screening at RIFF. The film is about a man who discovers on the internet a photograph of an US opera diva who looks identical to his own dead wife. His daughter travels to New York to track the woman down. It's a story with a very personal undertow for its director. This is the fifth feature Von Trotta has made on the theme of sisters (and she promise the last).
Bizarrely, when von Trotta started making films about sisters, she didn't know that she had a sister herself. "It was only after the death of my mother that I learned I had a sister. My mother never told me."
Von Trotta was baffled and angry at discovering she had a sibling she had never met. She felt that she had a "warm, intense relationship" with her mother, to whom she was very close. She couldn't understand why her mother would conceal such an important piece of information. "But then, slowly, I understood that maybe she had to forget it. She repressed it or maybe she didn't tell me because she didn't want me to say 'now we have to go and search for her.'"
This long lost sister, who was 15 years older than von Trotta, had been given up for adoption shortly after her birth. After their mother's death, she wrote von Trotta a letter and the two women met. "My sister looked much more like my mother than I do," the film-maker recalls. "It was like a sort of resurrection of my mother when she was young… it was strange. It was not easy."
The two sisters struck up a bond and stayed in touch. "But you can't get back your childhood, that we don't have together."
The director doesn't have much nostalgia for the heady days of the 1970s, a golden period for German cinema, when she was appearing as an actress in films by Rainer Werner Fassbinder, collaborating with her then-husband Volker Schlöndorff and beginning to establish herself as a film-maker. This was a period of political convulsion, terorism and violence in West Germany. "I don't know if I would go back. I look back - it is part of my life - but I look forward. It was a very, very troubled time."
One difference in the 1970s is that it was far easier to get films financed. They were not as expensive to make, broadcasters were more supportive and there were fewer film-makers competing for the same resources. "You had not so much to fight," she says. "Now it is much more difficult to get money together."
In spite of her achievements and track record, it took von Trotta eight years to get her recent feature Hannah Arendt (2012) into production. "The fact that I am a woman doesn't help," von Trotta observes. Her producers have told her that when they are applying for funds from public subsidy boards in Germany, "it is much, much harder to get money for a female director than for a male director."
Von Trotta has been called "the world's leading feminist film-maker." It's not a sobriquet she takes especially seriously but she remains as outspoken now as she was in the 1970s about the lack of opportunities for female film-makers. What depresses her is how little has changed. Ask her why women film-makers are denied opportunities and funding and she replies bluntly, "It's because we are women."
Women, she believes, are encouraged when they stay in a supportive capacity but "when they take the power, then it is not so easy."
Amazingly, Von Trotta was the first female director to win The Golden Lion in Venice - unless you count the Nazi propagandist Leni Riefenstahl for Olympia in the late 1930, although the award she won was called The Mussolini Cup.
When von Trotta was starting out as a director, Fassbinder was supportive of her ambitions. His own movies always had strong roles for women, although she draws a line at describing him as a feminist director. "When he wrote his stories where women were the protagonists, it was always himself. He put himself into women characters very often. For instance, The Bitter Tears Of Petra Von Kant, that was the story of the break-up with his boyfriend."
As for festivals like Cannes, which have been accused of not programming enough films by women directors, she suggests, "It's not that they are bad or they want to destroy wonen. They are just not thinking. They are not realising." Von Trotta would be in favour of positive discrimination in favour of women directors. "If you don't write it down, you don't get it."
Following on from The Misplaced World, von Trotta has various new projects in development. One is a comedy - a genre she hasn't often attempted before - which was written by New York-based Pam Katz (who co-wrote Hannah Arendt). Made through Heimat Films with producer Bettina Brokemper, it's an odd couple romp in similar fashion to old Walter Matthau/Jack Lemmon films but with women in the lead roles. She is also developing a film about artist Wassily Kandinsky and his lover and fellow artist, Gabrielle Münter, which will be produced by Markus Zimmer through Concorde.