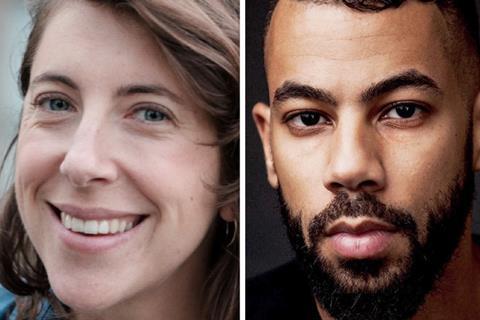 When Toronto-based Hot Docs announced on March 13 that it was postponing the public festival in late April / early May and taking the industry conference and market online, Hot Docs industry programmes director Elizabeth Radshaw and her team worked fast to reconfigure the event.
Seven weeks later on April 30 the Hot Docs online market launched with keynotes, micro-meetings, the Zoom-enabled Hot Docs Hangouts networking sessions, access to official festival selections, an expanded Doc Shop sales platform, and a pitch competition in the co-financing Hot Docs Forum event.
To date the market, which runs until May 31, has drawn 1,535 global delegates and counting. At the half-way mark, Radshaw and distribution director Julian Carrington spoke to Screen about the event.
What were your priorities when you decided to pivot to an online event?
Elizabeth Radshaw: March 16 was when we shut down and we had about seven weeks to get to launch on April 30. For Hot Docs it was different than other events who had the shutdown happen right at their doorstep – I think of CPH and many others – and we were also different from those who don't have their events until the summer and have a very long runway for planning. We had a tight seven-ish weeks to pull this off. We knew we wanted to deliver that value-add of the market, and also deliver on the content and the B2B. We knew we had a huge group of delegates who count on us to be that point of marketplace, sales, professional development and education.
We talked about the ingenuity and resilience of documentary filmmakers when they're shooting. Very interestingly as a festival industry organiser, you've absorbed a lot of those qualities. There was a lot of assessing our delegates' needs. We wanted to create a stop gap measure that could deliver on all of our objective – emotional and business-oriented.
What components were important to lead off with at the online market?
ER: The traditional festival window [April 30-May 10] was where we concentrated many of our live events. So we had a live session about surviving and thriving in Covid around production components, and we hosted a series of live Hangouts… We had 15 of them over five days and about 350 people participated from over 41 countries. [It was an] important opportunity for us to recreate those moments of connectivity and serendipity that happen when you attend something physically… So we hosted this series of Hangouts. Some were more social, some were more focused, but they were intimate. It was small, about 25 to 50, people max, and everyone really got a chance to connect and doing that throughout the week created that very warm feeling you get when people come together physically.
What's activity been like on the site in the first 10 days?
JC: Unsurprisingly we've seen a large increase in the Doc Shop activity versus last year. So maybe this is to your point about online creating an access point that in some ways is wider than the physical festival. Obviously, with a traditional physical festival the Doc Shop is that secondary access point but this year it's the main offering, and so we've seen a huge increase in in views, actually over 300% versus last year. So to give you a sense of where we're at after those first 10 days, we've had approaching 9,000 views of the 216 titles that are active on the system at the moment.
And on the content side, it's been interesting to see what has been capturing people's attention because a new element here is that we have our industry sessions on the Doc Shop, whereas traditionally, the Doc Shop is just a sales platform for rough cut and completed films. This year it was hosting the Hangouts as well as certain pre-recorded sessions with funders and commissioners.
What's been the most viewed piece of content so far?
JC: The keynote is actually our most viewed piece of content. And it is titled Why Art Matters In A Time Of Crisis [by Kenyan filmmaker Sam Soko]. So maybe there was some element of a need in the community to tap into that subject matter, because our second most viewed piece of content is CBC Docs: Micro Meeting In A Pandemic, which is all about navigating the pandemic. So one or two pieces of content there are very much speaking to this moment and then we've got a variety of other stuff: close-ups from broadcasters, and the bulk of the festival selection, which people are checking out as well.
You've said your Doc Shop sales platform took on an expanded role

ER: We've always had this Doc Shop, which is an online viewing platform, and we rebuilt it a handful of years ago. We consciously kept in mind the notion of potentially having it as a larger SVOD platform and built that into the framework. It was a very easy pivot but a gruelling amount of hours – like building a plane while it's flying with all of your constituents and VIP's on board in the fog. We built this awesome thing that is working incredibly well and people feel it's easy to navigate and fun to use.
Julian Carrington: We've had the bones of the service in place for a few years, but there was an extensive overhaul this year that allowed us to introduce some of those live elements, the Zoom integration and so on and that all has come together in this timeframe post-shutdown. Normally the Doc Shop is a supplementary access point… and we knew that this year it was going to be the main event and so luckily, the framework existed, but there was a lot of work done on the back end to sort of reconfigure it to serve that purpose.
Has the online nature of the event led to a wider pool of participants?
ER: It's been a great point of expansion. Of course, the majority come from Canada and the US, but after that it's pretty impressive to see where they come from: all across Europe and then into Latin and South America. Nine people have signed in from Azerbaijan, and Qatar and Jordan and other places. We realised the pros of having a digital event is that you're going to reach people for whom it may have been very challenging to travel in the past.
How did the Forum Pitches work?
ER: It was like a taping of a late night show. We asked the pitch teams to record their pitches ahead of time and they all took really awesome creative spins on presenting and capturing their material. We would bring into the room decision-makers to do a traditional sit so they could observe and give feedback. The pitch team came into the room and they were moderated and we would capture those components and edit them in so they played smoothly. A lot of people came back and said it was great to see. The fact they were captured means that until the end of May we have over 1,500 accredited delegates who can access these pitches.
Has the pandemic influenced the subject matter of the pitches?
ER: These projects were selected back in January, so some allude to the situation but others don't. What's interesting is that in terms of the decision-makers' interest, I don't think everyone is looking for all things Covid-19 right now: the play's the thing – they want a good story. Every situation was different and the reality was they all, in those seven weeks [from when Hot Docs said it was postponing on March 13 to the launch of the online market on April 30], diligently responded in their storytelling components about how their pitches were more relevant in the new zeitgeist, or how were they unaffected because [in some cases] they'd shot 97% of it. The reality was it was a very thoughtful and reflective component in the pitch and into their prepared materials.
Are you encouraged by the number of delegates?
ER: It's over 1,500. We usually record about 2,500, but I want to offer some context that is really targeted industry participation, the b2b market side. So not as many sponsors or public media or people who typically participate in live events. For example when we're here at the festival we have over 200 films and we host the subject of the film, and they all get passes too, and so it was a bit of a more targeted industry participation.
What was also heartening is that we were selling passes back in late September, early October. Around 74% of delegates who purchased prior to the online pivot retained their accreditation and participated. And the remaining opted for a deferral till 2021 or a refund. And then we had another 36% of participants who were new purchases after the online pivot was introduced. It's been pretty amazing to see that we could pivot to a price point that was appropriate and they wanted to stick with us and they knew the value of what we were offering.
So in summary, how are you feeling about the event?

ER: This is a good point of connection at a time of crisis and a good way to capture an opportunity when things go sideways, but as you know an industry of storytelling trades in powerful and empathetic points of connection that trickle into the relationships that build those storytellers and those companies and those platforms, and that sharing still has to be face-to-face.
In future we'll all think about our impact on the climate as we fly around the world, but I don't think [online events] will ever replace those critical points of gathering where we meet and do business and build relationships, storytelling and audiences. We're going to find our way in this new paradigm. It will take time, We figured this out so we'll figure out the other end as well.
Hot Docs data
1,535 and counting accredited delegates, of whom approximately 74% that had purchased passes prior to the online pivot retained their accreditation and participated. Remainder opted for deferral or refund. Futher 36% of participants purchased passes after the online pivot was introduced.
9,000 individual streams over first 10 days.
Over first 10 days users on average viewed seven pieces of content, not including live events.
Fifteen Live Hot Docs hangouts held over five days, welcoming close to 350 participants from 41 different countries.