A House Made Of Splinters, about a children's shelter in eastern Ukraine, is an underdog among this year's nominees for documentary feature. Screen talks to the Danish director and producer duo behind the film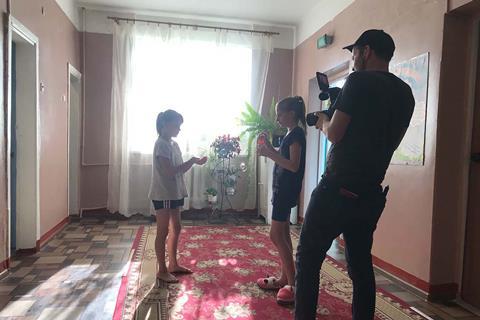 Denmark's Simon Lereng Wilmont, the director of A House Made Of Splinters, refused to watch the livestream when the US Academy Award nominations were announced on January 24. On hearing the whooping and hollering coming from his colleagues next door, he first chided them for joking around. It took him a few moments to register the film had made the final cut.
That it has is impressive. The film, about children in eastern Ukraine passing through the care system, enjoyed a successful premiere at Sundance last year, winning the world cinema documentary directing award, and going on to scoop prizes at Göteborg Film Festival, CPH:DOX and Thessaloniki Doc Festival, as well as nominations at the European Film Awards and Film Independent Spirits. But the Oscar nomination was a surprise for many, particularly because the film did not have a well-resourced engine behind it like many of the other contenders.
"We had the groundwork in place," says producer and fellow Dane Monica Hellström, explaining they were working with the same sales company, Cinephil, and publicity team that had handled Lereng Wilmont's previous feature The Distant Barking Of Dogs, which made the Oscar shortlist of 15 in 2019.
Events in Ukraine last year have had an impact. "When the war broke out, it made the film very relevant and urgent, and it has stayed very relevant for a long time," says Hellström. "We did a lot of publicity in the US and we felt a lot of love for the film. We could sense it was getting good word of mouth." However, she adds, "We have not campaigned as such, so the nomination blew both of us away."
One handicap that needed to be overcome was the lack of distribution in the US. POV, the indie documentaries strand of US broadcaster PBS that also showed Distant Barking, will broadcast A House Made Of Splinters later this year, but, Hellström says, "Everyone in the US is asking, 'Where can we screen the film?' and it's not out in the US. We've only just signed with POV, and we need to cut our film down to fit their slot before we can deliver."
Challenging subject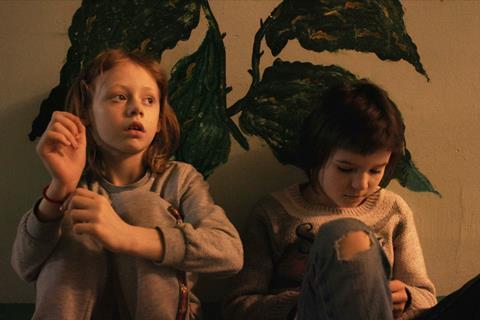 A House Made Of Splinters began life on the back of Distant Barking, about a child from a broken home in eastern Ukraine. The new film focuses on three children living in one of the many shelters that house abandoned children while the courts process their cases. Interspersed with the joyful scenes of play, dance and exercise are heartbreaking reminders of the reality of their lives as children of alcoholic, neglectful parents.
The documentary is Lereng Wilmont's sixth film about children. "I'm an identical twin," he says, "and I find it fascinating how kids tackle the massive challenges that adolescence brings without someone else to share that with. There's so much drama at that time in life and it's very instrumental in shaping who we grow up to be.
"I had made documentaries about kids with safe lives and then thought about all the kids who have very unsafe and uncertain lives. In those situations, where do you go to look for comfort and stability? I knew I had to go to a conflict zone, and then realised there was a war on the doorstep of Europe in eastern Ukraine."
Lereng Wilmont visited around a dozen shelters in the Luhansk and Donetsk regions between 2017 and 2019, an area that has been the focus of the battles between Russian separatists and Ukraine since 2014. "They were all good at taking care of the physical but not the emotional side of the kids," he says. "The second I stepped over the threshold into the Lysychansk Centre, the warmth of the staff captivated me. From the start, we had a close relationship with the people at the administrative level who we worked with to get the permissions, and also the social workers at the shelter. We wanted to include them as much as possible because they were cleverer than us in knowing what's okay with their kids and what isn't."
Hellström had already secured support from the Danish Film Institute and Danish broadcaster DR. Sweden's Story (which co-produced Distant Barking), Finland's Donkey Hotel, Ukraine's Moon Man and Germany's Mitteldeutscher Rundfunk then boarded the film, followed by a medley of European initiatives, broadcasters and individual state funding, including Arte and the BBC.
The filmmakers were surprised by the encouraging reaction of commissioning editors. "It was not so much that the story was set close to a war zone but that it was about children growing up with alcoholic parents," says Lereng Wilmont. "They saw that as a universal story, relevant not just to Ukraine but to large parts of Europe and Scandinavia too."
The feature shot mostly in 2020, with Lereng Wilmont returning to the shelter every other month for up to 10 days at a time to film. The town was relatively safe, and it was only when the director and his local co-ordinators were taking supplies to a town nearer the frontline that he experienced real danger. "Our Jeep was hit by a grenade," he says. "A tree saved us. It didn't deter me because it was a fluke accident; some bad luck but good luck that none of us were hurt."
Lereng Wilmont has been praised for being able to get so close to his young subjects, and to film such poignant scenes as a group of boys talking about the violence that is part of their everyday lives, or one youngster crying silently as her mother complains on the phone. Being a one-man filming crew helped minimise disruption, but he also spent a lot of time with the children.
"I have kids the same age and I know what they think is funny," he says. "I loved hanging out with these kids and I think they can feel that, so they don't mind you being there through the rougher emotional moments.
"We made an effort to explain that if there was something they didn't want us to film, they should tell us," he adds. "It did happen sometimes and I respected them, so they realised I was true to my word. That's when mutual trust starts.
"Also, I try not to be greedy. The professional in me knows that the film is about those precious emotional moments, but the second I know I have enough to cover the scene, I put down the camera."
The outbreak of war last year saw the shelter close and the children and staff evacuated to a safer area in western Ukraine. They had already seen the film but, says Hellström, the Oscar nomination has given the participants and the Ukrainian team a huge boost.
Lereng Wilmont is now working on a short documentary with Ukrainian director Alisa Kovalenko, whose We Will Not Fade Away premiered at the Berlinale, about a young Ukrainian gymnast in exile in Germany. He is working on projects with Hellström, and is not ruling out a drama in the future.
"I would love to include something magical in a film for once," he says. "Maybe some social realism with a little bit of magic."