Javier Bardem plays Cuban-American band leader Desi Arnaz in Aaron Sorkin's Being The Ricardos. Screen talks to the Spain-born star about a trio of roles shining this awards season.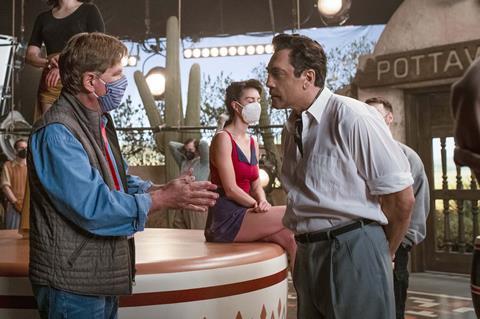 With three films in the running for awards this year, Javier Bardem is clearly an actor in much demand. But even an Oscar-winning international star has to chase a part every now and then.
Spain-born Bardem pursued the role of Desi Arnaz, the Cuban-American husband of 1950s Hollywood TV icon Lucille Ball, for years before finally landing the part in writer/director Aaron Sorkin's behind-the-scenes drama Being The Ricardos.
The film — acquired by Amazon Studios and given a streaming (as well as US and UK theatrical) release in December — captures Ball (played by Nicole Kidman) and Arnaz in personal and professional crisis during a fraught week of production on their sitcom I Love Lucy, revealing Arnaz as a talented performer and producer but a wayward, if loving spouse.
"The thing that got me the most was his energy," says Bardem of Arnaz's appeal. "His relentless need to not get stuck in his own drama, or anybody's drama. Of course, he had his darkness, but he was always striving to make everybody around him comfortable, loved and included. That energy was so positive and refreshing."
The project also allowed Bardem to flex his singing and dancing muscles — Arnaz was a nightclub band leader as well as Ball's on-and off-screen partner — and to deliver plenty of Sorkin's famously punchy dialogue, which, says Bardem, is both a gift and a responsibility. "The words are full of images, full of sensations, full of great ideas that you have to convey physically and emotionally."
Bardem gently pushes back on suggestions, mostly aired on social media, that the part should have gone to a Latin American actor, or one of Cuban descent. "It's a complex thing, for sure," he acknowledges of the discussion over authenticity in casting. "Of course, there must be more and better representation of Latin American actors and actresses and stories in the movies. I absolutely support it."
Outside Spain, Spanish characters are underrepresented too, he argues, pointing to the fact that in international films he has played Cuban, Mexican, Peruvian and Brazilian characters, but very rarely Spaniards.
In the case of Being The Ricardos, he reports, he was only offered the role after the producers considered other actors of Latin American and Cuban ancestry. "I'm an actor and I support everybody having their own opportunities," asserts Bardem, who has been SAG-nominated for Being The Ricardos alongside Kidman. "But if the opportunity comes to me after they've tried to find someone else, let me tell you, I'm going to try to do it and I'm going to give my best."
The Good Boss (El Buen Patron), Spain's submission for this year's international film Oscar, did give Bardem the chance to play a Spanish character, and to work for a third time — after 2002's Mondays In The Sun and 2017's Loving Pablo — with compatriot writer/director Fernando Leon de Aranoa.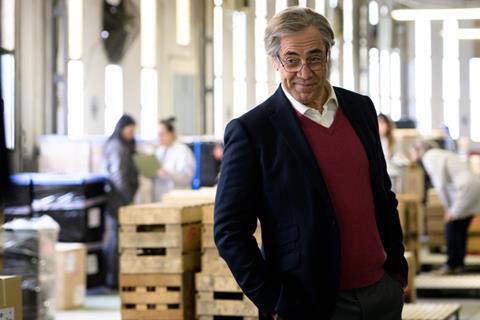 The MediaPro Studio comedy-drama, about the seemingly benevolent but manipulative and womanising boss of a small Spanish factory, had other attractions too. Delivering the script's dark humour in his own language was one, Bardem explains (he still has to "work hard" to be comfortable performing in English, he admits). The social commentary "that is so present in Fernando's movies and that I am so in tune with" was another.
Between them, actor, director and script portray a character that is "very well known all around the world", says Bardem. "It can go from Harvey Weinstein, being one of the most dramatic examples, to any guy who runs a bar and abuses the waiters. It speaks volumes about the abuse of power in a working environment."
Happy to chat about the homegrown film — which spent more than two months in the Spanish box office top 10 and recently snagged a record 20 nominations for top Spanish film honours the Goyas — Madrid-based Bardem says The Good Boss is working as well for audiences in pre‑release US screenings as it did for Spanish cinemagoers. "They laugh at the same times," he says. "They totally get it."
Bardem's US profile — burnished by his best supporting actor Oscar for 2007's No Country For Old Men, as well as appearances in Pirates Of The Caribbean: Dead Men Tell No Tales, mother!, Skyfall, To The Wonder and other studio and indie films — should receive a further boost from three upcoming projects.
He has already completed work on Lyle, Lyle, Crocodile, Sony Pictures' live-action/animated hybrid based on the popular children's book, and The Little Mermaid, Rob Marshall's live-action remake of Disney's animated classic, doing more singing as the title character's father King Triton. And this summer Bardem is due to start work on the sequel to Dune, his other current awards contender, reprising his small but significant role as desert tribe leader Stilgar in Denis Villeneuve's sci-fi epic.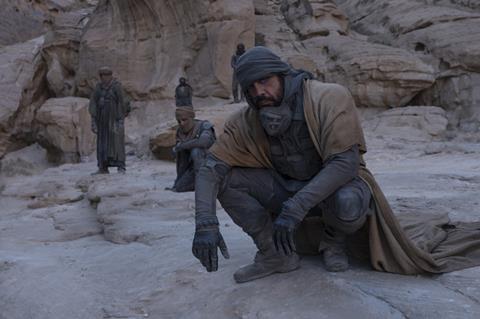 Home grown
It was Bardem's Spanish-language career that first put him on the international map, thanks to films such as Alejandro Amenabar's The Sea Inside, for which he won Venice Film Festival's best actor prize and one of his six Goyas, and Alejandro Inarritu's Biutiful, which earned him the Cannes acting award in 2010.
Currently, however, there are no Spanish-language projects — or at least none that he is ready to discuss — on his schedule. He was to have starred as Hernan Cortes in a Spanish-language Amazon miniseries (based on a long-planned feature that for a while had Steven Spielberg at its helm) about the 16th-century conquistador who toppled Mexico's Aztec empire. That project, though, on which Bardem was also an executive producer, died when production was halted soon after the start of the Covid-19 pandemic. "It took me quite a few years to put it together," says Bardem ruefully. "It's sad."
He would like to do more Spanish projects, he says, partly so he could work closer to the Madrid home he shares with wife Penelope Cruz (herself a current awards contender for Pedro Almodovar's Parallel Mothers). But the nationality of projects is "not something I choose or don't choose". Recently, he says, "for whatever reason, the projects I've felt more driven to do came from outside of Spain."
And the choice, he insists, is never about making "a good professional move. I don't know what that is. If I have the chance to choose, I choose because I really think it's something I want to do."