With Norway's foreign-language Oscar submission 'Thelma', Joachim Trier explores genre terrain and the supernatural.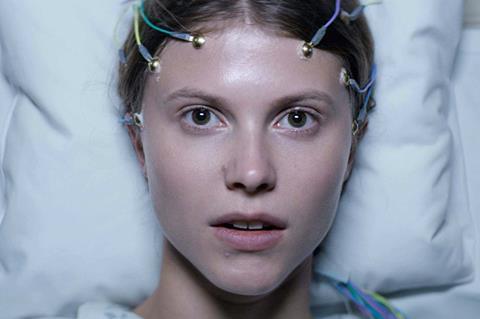 The fourth feature from Norwegian director Joachim Trier, Thelma is a film that embraces its contradictions. For its director it is, in some ways, a return to familiar territory — having shot in English in the US with his previous project, Louder Than Bombs, here he comes back to Norway. Simultaneously, with its striking genre elements and extensive use of VFX, it is a leap into the void for Trier, who is hitherto better known for the naturalistic, realistic approach of his earlier films Reprise and Oslo, August 31st.
But while it makes enthusiastic use of horror tropes, Thelma is not a film that fits neatly into any genre category. The story follows the titular character (a remarkable, physically committed performance from newcomer Eili Harboe), a young woman from a strict rural Christian upbringing, as she ventures to university. She becomes attracted to another girl, Anja (Kaya Wilkins), but along with her burgeoning emotions come other unbidden side effects — destructive supernatural powers that are unleashed in the form of seizures.
It is not, Trier is at pains to stress, a regular horror film. He describes himself as "a drama filmmaker out on a limb". He adds: "We thought about trying to do an allegorical supernatural film. There was a more fairytale, larger-than-life aspect that would heighten the experience of something recognisably human. We didn't want to make a horror, slasher, blood-and-guts, jump-scare film. We wanted to access nightmares, but to allow ourselves to talk about self-love and self-loathing."
The film's nightmare images include snakes (both real and CGI), fires, shattering glass and, in one bravura sequence, a concert-hall ceiling that looks set to shatter and crush the audience below. This called for considerable use of VFX, a tool that Trier had not previously employed in his filmmaking to any great extent. It was, he recalls, a happy experience despite ambitions that far outstripped the film's financial resources. "Someone said to me early, 'You're trying to do a Christopher Nolan film on a Norwegian budget. There are more set-pieces here than a Hollywood movie.'"
He pays tribute to visual-effects supervisor Esben Syberg from Copenhagen-based Ghost VFX, who oversaw work that was divided between facilities in Denmark, Sweden and Norway. "We wanted to avoid the comic-book CGI that a lot of American action films have. I wanted this film to be very tactile."
Although at the development stage Trier encountered a certain amount of pressure to set it in the US, this was always conceived as a Norway-set picture. The power and originality of the idea, he argues, is in the way the genre elements are counterpointed with a naturalistic story from Oslo. It also allowed him to make a certain amount of mischief at the expense of Nordic stereo­types. "I wanted the perversion of a lot of the Norwegian iconic images," he says, "like people walking in the snowy woods, which we see all the time in chocolate commercials. It turns very sinister in our film. I wanted to twist these things around."
Following its August world premiere as opening film at Norwegian International Film Festival in Haugesund and an international bow at Toronto, Norway was first to release Thelma, in September, via SF Studios. UK (Thunderbird), US (The Orchard), Sweden (Tri AA) and France (Le Pacte) followed this month. Memento Films International is handling sales.
Under the influence
Trier, who co-wrote Thelma with Eskil Vogt, namechecks Dario Argento and Brian De Palma as influences, and went to see John Carpenter play his film music live in Oslo during the writing process ("It was so cool — he's kind of punk in his attitudes"). But Thelma does not feel rooted in the past. It was important, Trier says, that the film work as an authentic portrait of contemporary youth culture. To that end, the story incorporates the omnipresence of social media, both among young people and, more intriguingly, as a quasi-surveillance tool for parents.
But although Trier explores mobile phones and tablets as a narrative element, when it comes to viewing the film, which is his first to be shot in a widescreen aspect ratio, he is adamant it is a cinema experience. "We wanted to do something for the big screen, the dark room," he says. "We wanted to embrace the vulnerability of being exposed to big images."