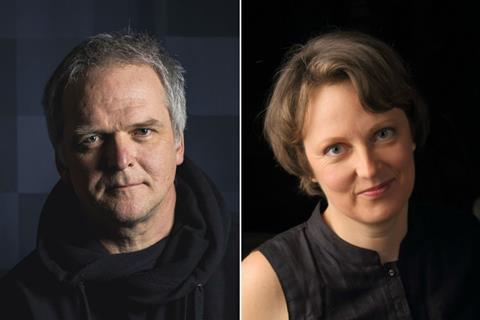 A special focus on Baltic documentaries at this week's Karlovy Vary International Film Festival is bringing together classic documentaries made in Estonia, Latvia and Lithuania from the 1960s.
'Reflections of Time: Baltic Poetic Documentary' is celebrating not only the unique poetry of those films but – appropriately as the Baltic countries celebrate their 100th anniversary this year – their indomitable spirit.
This spirit is celebrated in Kristīne Briede's and Audrius Stonys' Bridges Of Time which is making its world premiere in the Documentary Competition. Both respected doumentarists in their own right, Briede (from Latvia) and Stonys (from Lithuania) have crafted a film exploring the history of documentary in the region while considering the very nature of documentary filmmaking.
Screen: In the film you focus on a number of Baltic directors. What was the reasoning behind the choices of filmmakers that you made?
Audrius Stonys: All these great filmmakers directly or indirectly were my teachers. I learned film language from their films. Meeting with Henrikas Šablevičius changed the trajectory of my life. He was, and remained, my teacher and I always feel his presence. Short conversations about cinema with Herz Frank helped me to understand what documentary cinema is. I am eternally grateful for them and the others - Ivars Seleckis, Mark Soosaar, Robertas Verba and Andres Sööt - and therefore decided to write a love letter/film.
Kristīne Briede: For Latvia we chose the four "cornerstones" our poetic documentary stands on - they were the very path-finders and pioneers of the new style in the 60s - Uldis Brauns, Herz Frank, Aivars Freimanis, Ivars Seleckis. They together created what was later called the Riga School of Poetic cinema or Riga style.
In Lithuania the two 'grandfathers' of Lithuanian film were the obvious choice to too. Henrikas Šabļevičius, as mentioned by Audirus and Latvian/Israelian director Herz Frank. There was also Robertas Verba - the first one who made great timeless films about life in the Lithuanian countryside and marginal people.
From Estonian, we knew Mark Soosaar well. His films were very famous in Latvia in the late 70sand 80s. But Andres Sööt was a great discovery for me.
What was the nature of your collaboration on the film and how did you work together as co-directors?
KB: I had done a lot of research for this film and there were really many ways to walk developing this project. We - me and Uldis Cekulis, the producer - approached Audrius Stonys first as a possible protagonist as there were no Lithuanian author of that generation alive and Audrius is one of the very few great directors working in a poetic tradition. Audrius loved the idea of the film but was not so much willing to be on the screen, so he said he was ready to contribute as a director where it might be appropriate. We started to work together little by little - I was concentrating mostly on Latvian authors, Audrius on Lithuanian and the Estonians we did together.
But first we did a "pilgrimage" trip to Jerusalem and the holy lands where one of our main protagonists Herz Frank lived his final 20 years. We followed into his footsteps in a way and one of the holy places we visited was his grave. It kind of triggered off our work and gave it a blessing. We had time to get acquainted and talk about film and life.
After coming home we started to shoot both separately and together but the real collaboration and path-finding started out on in the editing. We each edited in our [own] studio and sent each other episodes and clips for discussion. I have to admit I would never make so poetic and meditative film without Audrius.
AS: First I was supposed to be a character in the film, as a connecting link between present and past, because I personally knew all these film makers Kristine wanted to speak about. But later little by little I was absorbed by the creative process and we continued to make this film together.
The film is a meditation not only on the passing of time but on the entire process of making a documentary.
AS: The deeper you go, the more you understand the invisible connections between time and space, past and present. Documentary cinema saves the moments that time takes away from us. A world without documentary is a world without past. We tried to save the memories of those who were saving our memories. When you make such a film you start to understand that you are not so important. The importance is what images, moments, seconds, landscapes, tears or smiles you managed to save from oblivion.
KB: I am very, very happy to have been able to meet those grand filmmakers and listen and talk to them, watch their works together with them. Herz Frank's book "The Map of Ptolomy" from 1975 should be every serious documentary filmmakers manual to be studied and read and re-read. It should be translated into English and included in the curriculums of film schools. It tells not only "how to", but "why".
Is the flm a lament for a kind of filmmaking that has passed? Or is it a celebration of the differing forms that documentary can take?
AS: Every time has its own language. The changes are always frightening. It takes time to accept them. My generation experienced a dramatic transition from film stock to digital. For many of us it seemed that we moved from the age of visual perfection to the age of visual compromises. Only after some time we understood that changes only brought us new tools, not more. The film stock is gone. That kind of film making is gone. But the desire to save images of this world is still here. Therefore it is important to embrace and celebrate different forms, different rhythms and try to stay honest as much as possible.
Is there something that you think typifies a 'Baltic' documentary? Something that other places and countries don't do?
AS: What is special about us is that we still believe that documentary cinema is an art form. Not journalism, not news, not an educational tool and not for an entertainment slot. Our authors still have their signatures. We, as everybody in this world, live under the tremendous pressure of the market, but I hope we still manage to preserve our territory of creative freedom. And we also still believe that documentary cinema can speak in the language of images.
KB: Danish documentary theoretician and cinephile Tue Steen Mueller - who has loved and worked with Baltic documentaries since he first discovered them in 1991 - said something like this: a typical character of a Lithuanian (read - Baltic) documentary is an old man sitting in the middle of woods covered with fog and contemplating. And believe it or not, we found several of our masters in that position!
The exploration of humanity, the inner world or the soul of a man or woman I would distinguish as the main things that typify Baltic documentaries.
Do you think the latest generation of Baltic documentary makers follows on from the predecessors or do you think they're doing something totally new?
AS: The latest generation found its own language. It looks very different from the language of the great masters of the 1960s and different from the language my generation used to speak. They are more social, political, they are closer to the life we live now. But if you dig deeper, you will definitely find the root of the Baltic poetic documentary cinema. Poetry is in our genes.
KB: Our latest generation is, of course, doing all kinds of stuff. The whole world is open, the space is open and they explore and create freely, not considering the tradition as something to be followed. But to my mind the poetic touch is somehow always present in Baltic art and literature. Also in the works of those who create something totally different. You can often go to the most technically advanced and conceptual contemporary art or new media exhibition and you will certainly distinguish works created by Latvians and Lithuanians. Estonians are more modernistic, I feel. They usually carry at least a breath/a part of that poetic code always adding a meaning or two on top. It sits in our sub consciousness.
I had two main reasons for making this film: one was to document our great masters of documentary in a film language that would celebrate their own filmmaking. Other was to reach out to the wider international audience and give it a notion about the cinema, about the masterpieces that were made half a century ago in the Baltics.
These films helped us to live, taught us to think beyond the surface but they were never widely known because they were created behind the Iron Curtain.
I hope the festival audience will discover something new watching these old films as the films of our masters speak about timeless questions, the ones that every generation has answers for themselves.