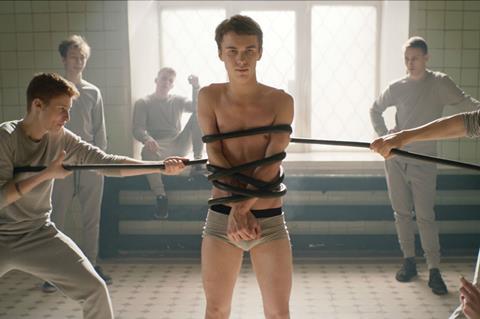 Russian director Ivan I. Tverdovskiy was back at Karlovy Vary with the international premiere in official competition of Jumpman, a drama about the generation of Russians who have grown up under Vladimir Putin. The film won a special jury mention.
Jumpman is about a young man, Denis, played by Denis Vlasenko, who is reunited with his mother after spending his childhood in an orphanage. He possesses an unusual trait - that he is unable to feel pain. His mother and a group of shadowy acquaintances begin to capitalise on this and Denis becomes a the titular 'jumpman', hurling himself in front of cars to rinse the unsuspecting driver of money.
Screen: What inspired Jumpman?
I wanted to reflect on the time we live in today. I wanted to make a fable, a fairy tale that departs from a realistic narrative and encompasses all the symbols of our country.
For the past four years I have been working on a big documentary project about the Russian police. It encompasses around 400 hours of material. One of the stories there is about a young policemen who used teenagers to extort money. We couldn't film that in the documentary, but when I learnt about this scheme, I wanted to write a script about it.
Jumpman is quite critical of contemporary Russian society. The world you present is a venal and corrupt one in which people will do anything for money. How do you think Jumpman fits in with other contemporary critiques of Russian society such as Leviathan and Loveless?
For me it's important our protagonist is deprived of everything. His comes from a generation that was born when Putin was president. This is different from Leviathan, which has older characters. He was raised in a magical fairy-tale-like orphanage, surrounded by strict rules, but also love. In the real world, he encounters quite the opposite – darkness and an absence of any morals and love.
This – like your previous film Zoology – is tinged with surrealism and the world you create is slightly unreal. What is it about this approach that appeals to you?
In this film, it was important for me to experiment with the boundaries of realism. I wanted to leave the zone of daily realism, and turn the whole vision into more of a fable, a myth. A party attended by corrupt officials here resembles a vampires' ball, and the ability of the protagonist to jump under cars transcends human physical abilities. The trial scenes resemble a theatre play.
The realism of those seemingly fictional scenes is the scariest thing about them though. They resemble reality too close, with the recent trials of Sentsov, Serebrennikov and many others, which could have seemed absurd and fake a few years ago, but today are a part of our life.
How did you cast the character of Denis? He's amazing as both this participant in the corrupt world and later as someone growing disillusioned with it.
I was extremely lucky. Denis Vlasenko was the very first actor who came to the casting session. He smiled and said that his name was also Denis. He impressed us with his love for life and charisma. I still looked at many other actors after that, but could not find anyone who possessed the same pureness of character and inner strength. I felt that it was a sign that I am doing everything right,
How do you think Russian audiences will react to the film?
I think our audience is very hungry for modern films with social criticism. Our marketplace is filled with high-end fantasy projects, as well as historical and war movies. People want to see on the screen something that happens today. People speak with them very little about the realities of today. For example, the characters in Andrei Zvyagintsev's stories are mostly older people, in their 40s, 50s. There really hasn't been a "socially active" film that is addressed to a young audience, to those who were born and grew up when Putin was president.