Keanu Reeves talks to Screen about his directorial debut, the joys of playing a villain and his love of martial arts in film.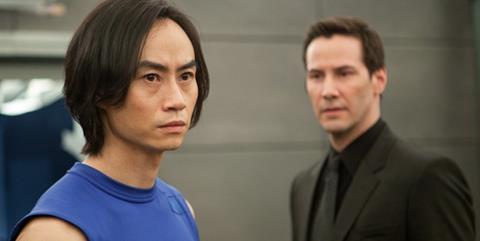 In 2007, Keanu Reeves had his eye on developing a story with long-time friend and collaborator Tiger Chen. The two met on the set of The Matrix where Chen was part of the stunt team. The fruit of their collective imagination was a script for Man Of Tai Chi.
It became apparent to Reeves that this would be appropriate for his feature directorial debut. The film shot in Beijing and Hong Kong and follows Tiger Chen (name of both the actor and character) whose unparalleled Tai Chi skills land him in an underground fighting ring run by Donaka Mark (Reeves), where he is forced to fight for his survival.
Now, six years later, Man Of Tai Chi is being released on Blu-Ray and DVD by distributor RADiUS-TWC, after spending time in VOD and a limited theatrical run.
How did financing come together for the film?
It started with China Film Group (CFG). I had met a gentleman named Han Sanping with Tiger in 2007 and told him that we were working on a project together. He told us when it was finished to let him know.
I ended up working with a wonderful producer name Lemore Syvan. She and I, with the script, went out into the world trying to find international partners. We ended up having great meetings with Village Roadshow Pictures Asia and Universal International and basically went and pitched the movie.
Do you think acting prepared you for the director's chair or was it completely a learn-by-doing exercise?
I would say both are true. Certainly my experiences of being on sets, working with directors and getting involved with producing let me know what it took to make the film, resource-wise. Also, working with so many different amazing directors.
I think being in it for so long absolutely helped prepare me. Then it's just, how do you do it; what's your style. I found myself in a lot of familiar places in terms of making a movie.
It seems you have an affinity for making movies that are rooted in martial arts. Why do you think that's so?
I guess the first one that I did that was rooted in martial arts would probably be The Matrix Trilogy. Those scripts and that story were so amazing beyond the Kung Fu genre.
I loved Kung Fu films as a kid and I still really enjoy them. I like Eastern thought – what I've been exposed to in terms of philosophy, architecture, aesthetics.
Also, I like doing action. I really enjoy physical acting and telling a story through physical conflict. The struggling, the striving, the defending. All of that sits great with drama.
How much did you rely on previous martial arts or Kung Fu movies and how much did you try to have your own take?
I definitely had my own take, but I was certainly influenced. I wanted to use the resources of the genre.
Tiger has a master who is a light master. The character that I play, who is the villain, is a kind of dark master. Master being the idea that they know something that the other character doesn't know; someone that has knowledge and experience.
It's called Man Of Tai Chi and it's definitely using light and dark, pushing and pulling. The idea of thoughtfulness, meditation and transformation.
How is it being the bad guy?
Villains are fun. They know what they want. They're not confused. The protagonist is always confused and trying to seek out. The villain just goes, 'I want this, I want that, and I want it now and I'll kill you if I can't have it,' in some form or another.
Donaka is very sure. I wanted to play him in a Mephistophelean way. He's someone who is trapping Tiger; trapping him with his own desire. I feel like the film is kind of a cautionary tale.
How did Tai Chi become brutal?
It's a martial form. There's a martial part of Tai Chi and then there's an internal part. So there's a physical side to it and it has a mental, spiritual and philosophical side to it as well. Tai Chi does have punches and kicks.
We invented a kind of Tai Chi called 'Ling Kong' that used a lot of elements from some of the main branches of Tai Chi. I was using some of the concepts and ideas that I found in Tai Chi; not just the slow movement, practicing on the beach.
The idea of stillness, contemplation, and connection to yourself and to all around you is part of the story of Man Of Tai Chi.
Was this a one-time experiment or are we witnessing the beginning of a change in career?
I'm looking for a story to tell as a director. It's something that I would love to have the chance to do again. Absolutely.
Could the now seasoned film-maker Keanu Reeves give any advice to the aspiring director just deciding on Man Of Tai Chi as the first vehicle?
I felt comfortable doing it. The experiences that I've had before directing Man Of Tai Chi have put me in most of the situations that I would be in as a director in terms of pre-production, filming and post. I just had never done it before. So I felt comfortable and enjoyed it immensely.
Now that I've gone through the experience, I'm looking forward to taking that experience and applying it and developing it for the next story, whatever that may be.