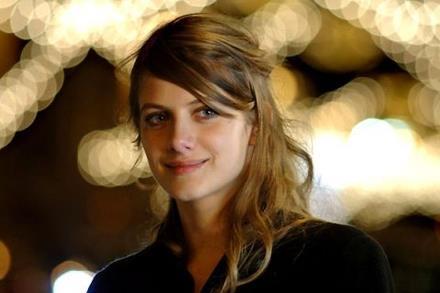 Mélanie Laurent tells Melanie Goodfellow about overcoming her fear of the sea to shoot the romantic drama Plonger, which premieres in Toronto on Friday night (Sept 15).

Laurent premieres her fifth feature in Special Presentations. Loosely adapted from a novel by French writer Christophe Ono-dit-Biot, the high-blown romance stars Maria Valverde as Paz, a talented Spanish photographer, who falls for former French war correspondent César, played by Gilles Lellouche.
Paz is a restless spirit who lives for fresh experiences with new people and places. César swapped war coverage for culture after being kidnapped while on assignment, and wants a quiet life. When they accidentally conceive a child, César embraces fatherhood while Paz climbs the walls and tries to make sense of her new life in Paris.
Out of the blue, Paz announces she is leaving the family and disappears, giving no indication of her destination. When tragedy strikes, César will be forced to overcome his travel-phobia to follow in her footsteps to a diving haven in Oman.
What drew you to Christophe Ono-dit-Biot's novel? The love story, the exotic settings or the exploration of diving?
All three. I really wanted to direct a love story; one that starts in Asturias, crosses France to end up in the sea of Oman, [and] was visually very exciting. I am actually really scared of the sea. I lived the diving element of the story as a challenge. I wanted to overcome this fear, like the character in the film.
How much did you stick to the original storyline?
My adaptation was very loose. I had to appropriate the story to make it mine. I sort of forgot the story to then reinterpret it. Sometimes, the desire to adapt a book can hang on three pages, three sentences, three words.
At times in the film there is very little dialogue. Was this difficult to envisage before shooting and also direct?
No, that's how I like to shoot. I write things and then spend time erasing it. I improvise a lot when I'm setting up scenes and directing actors. There's a village scene in Oman where I let Gilles discover the place, following him with the camera. There's no need to speak in moments like that. I erase a lot in the editing too, simplifying and purifying, to leave the viewer to uncover the story for themselves.
How did Gilles Lellouche and Maria Valverde come on board?
Gilles is an old friend and we really wanted to work together. I was dreaming of seeing Gilles as an emotional young father, in love, sensitive, lost. I saw Maria's screen tests and fell for her immediately. We had dinner and I couldn't imagine anyone else for the role. She's sensitive, intelligent, kind and as beautiful as the day.
It's quite brave to make a full-blown love story like this these days. What drew you do this genre?
It was all about the story. I'm never calculating about my choices. Making a film takes so much time and energy that it has to be something I feel in my gut and heart. I never make films to be in fashion or to follow a trend but rather because it seems necessary to me… it's instinctive. A story gets inside me and I need to tell it.

The character of Paz has a hard time coming to terms with motherhood. Was this an aspect of womanhood you were keen to explore on the big screen?
Paz's maternity brings with it this static concrete, this reality that anchors her in time and is incompatible with a creative life which is necessarily erratic and dynamic. She loves her child but she also loves her freedom as a woman. It's that tug of war between fighting to remain an artist and the duty of becoming a mother. This isn't what I experienced with my child but I understand it… Being a woman is a daily struggle, being an artist too, being free even more… Paz wants all three at the same time… Me too… The common point with my character lies in these three desires.
Is it important for you to have strong female characters in your films?
I can't imagine working otherwise… even when they're victims, my characters find a way out.
How did you shoot the diving scenes?
A second crew did the underwater scenes –sometimes without us, with doubles and a storyboard, sometimes with us and Gilles. I stayed on the boat… I was too scared. Everything takes longer underwater. We knew it would be complicated but it was also fun, setting off in the boat, eating on the beach, swimming when it was too hot… there are worse shooting conditions.

Do you have an update on you when your English-language thriller Galveston will hit the big screen?
Give me a bit of time to finish in the editing room!