Beyond Alfonso Cuaron's Oscar win, Mexico's growing film industry has much to celebrate, from a new wave of talent to steady box-office growth and smart global partnerships. Jeremy Kay reports.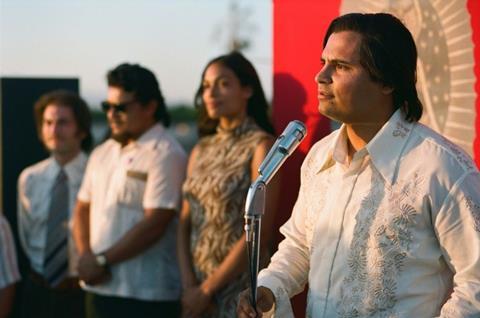 Before Gravity director Alfonso Cuaron hoisted aloft this year's Academy Award, Golden Globe and DGA Award, there was 2007. That was the year when the irrepressible talent of Mexico's most celebrated crop of modern film-making sons coalesced into an extraordinary night of Academy recognition.
Cuaron was up for adapted screenplay and editing Oscars for Children Of Men, and Alejandro Gonzalez Inarritu had earned a directing nod for Babel.
Meanwhile, Guillermo del Toro and Guillermo Arriaga were in the frame for writing foreign-language nominee Pan's Labyrinth and Babel, respectively.
None of the quartet would win individual honours that Oscar night - although Pan's Labyrinth cinematographer Guillermo Navarro and art director Eugenio Caballero saw Oscar glory - yet the dazzling haul of senior nominations had not gone unnoticed.
They were winning Ariel Awards in their native country and directing international blockbusters in the US. The Mexicans had arrived.
Behind the success of this established cadre and the promise of more to come from them - let alone the prospect of a new wave of talent - lies a vibrant and supportive industry and film-going culture.
As exhibition infrastructure, box office grosses and production incentives continue to grow and the prestige of festivals such as Guadalajara, Morelia, Guanajuato and Los Cabos increases, so does the number of US suitors looking to gain a foothold in Latin America.
Box-office boom
Hollywood studios have been enjoying success in Mexico for years. Combined box office for all industry product released in the territory climbed 53% in local currency terms over the last five years, from $592.8m (peso7.8bn) in 2009 to a record $904.6m (peso11.9bn) in 2013.
Attendance has mushroomed by 43% from 179.5 million in 2009 to 257.4 million in 2013. A steady multiplex growth curve led by Cinepolis and Cinemex is responsible in no small part: a 39% surge from 3,500 screens in 2009 is keeping exhibition on course to cross 5,000 this year.
Cinepolis CEO Alejandro Ramirez says that with an annual average of 2.1 visits per film-goer and a broader choice of films, the strategy at the largest chain in Latin America is to keep on growing by an average of 200 to 250 screens a year.
The group operates 299 cinemas and 2,754 screens in Mexico, with plans for 158 new Mexican and 129 international screens in 2014. Brazil and India are the prime targets further afield.
"The past decade has been very positive for Mexican box office," says Paramount Pictures International president Anthony Marcoly. "The territory has become a top five or six market for the studios. Year-on-year growth has been in the high single- to low double-digits consistently."
"There's an overall general growth in Mexico," says CDC United Networks founder and CEO Alexandre Lippens. "Brazil experienced substantial growth in 2010-11, but these two territories essentially have about the same box office. Growth in Mexico has been steady." Lippens notes the polarised effect on box office, whereby Hollywood blockbusters can overperform and local titles can get lost at sea.
Local-language production is still hit-or-miss and has remained at around 5% of total grosses since 2009 - although Instructions Not Included and Nosotros Los Nobles powered local share to 10.3% in 2013 and landed at five and 21 on the all-time top 25 pantheon.
This is music to the ears of Jorge Sanchez, head of Imcine (the Mexican Film Institute), the support body that administers various film funds and oversees the film school system, among other duties. For Sanchez, Cuaron's recent success at the Academy Awards reflects well on the ambitions of the industry. "Our film-makers have done really good work," he says, "And whether it's here or abroad, we're as proud as we are when Chicharito scores a goal for Manchester United." Mexican production incentives include the Fidecine fund for commercially skewed projects, Foprocine for arthouse fare and the Eficine 189 tax stimulus designed to attract private investment.
International producers can benefit from VAT exemption complemented by the ProAV fund that provides a rebate of up to 7.5% on Mexican spend of at least $3.1m.
"The industry is still growing in Mexico," says Xavier Hernandez, head of sales at Corazon Films, a partner of the International Distribution Company network set up by Summit Entertainment and NuVision founder Pedro Rodriguez several years ago.
"Even though the ticket price is not cheap for most of the people, it's cheaper than other [forms of entertainment]… There are alternatives like 3D, 4D and Imax having a lot of success. It's a big market… a lot of people like watching movies in theatres."
Strong partnerships
Canana, the producer-distributor set up in 2005 by Gael Garcia Bernal, Diego Luna and Pablo Cruz, is one of several notable Mexican players with offices in Mexico City and Los Angeles, the others being the increasingly prevalent Mexican financier-producer Alex Garcia and Lemon Films.
Several years ago Canana launched joint sales venture Mundial with IM Global and it is also a partner with Participant Media, Chile's Fabula and Colombia's Dynamo on the young co-production entity Participant PanAmerica.
It is said that Mexican film-makers at times do not know how to present themselves to the rest of the world and work with their counterparts. That is partly why Canana was eager to strike a deal with finance, production and sales specialist IM Global.
"This helps us position those films in the wider international arena," says Cruz. He adds that Mundial also offers "the fact that we know what this Latin American market is going through and we can approach the international space knowing that".
Canana aims to produce two, possibly three, films a year and distributes around 12 predominantly arthouse titles.
"From IM Global's perspective, we wanted to legitimately be a player in Latin America," says IM Global founder and CEO Stuart Ford. "Hopefully in so doing we can discover great talent - be they film-makers or on-screen - and build a set of relationships with financiers, broadcasters and producers that can have a knock-on effect on the rest of the business."
Mundial vice-president Cristina Garza was selling Canana production Cesar Chavez at the recent EFM in Berlin and the slate has included box-office hit The Liberator, A Wolf At The Door and Jorge Michel Grau's upcoming Curse The Darkness.
"We're super-thrilled with the quality of the slate that Mundial has built up," says Ford.
"This US-Latin market is very complex," adds Cruz. "We consider the US an extension of Latin America. We share values that are consistent in terms of strong values and strong connection and spirituality."
Future opportunities
The success of Mexican films on Netflix, Carlos Slim's Claro TV and Grupo Televisa's VEO has not gone unnoticed at Canana, itself a player in the digital space. Cruz believes the digital arena may help to erode resistance to Spanish-language content in Latin America from outside the originating territory.
"Inevitably we will extend into South and Central America," he says.
"Between Mexico and Central America this is almost 180 million Spanish-speaking people. Spanish is a language that unites us. We have never been able to make it work on a theatrical or film-by-film basis, but VoD will allow us to connect the dots." Expansion has been the name of the game at Participant Media, giving rise to the Participant PanAmerica arrangement.
"It was created to co-finance Latin American films that require gap financing or up to half the budget," says CEO Jim Berk of Participant Media, which can fully fund should it so choose. "We come in with equity and co-finance the movie with them."
The first film to emerge from the arrangement is Bernal-starrer The Ardor directed by Pablo Fendrik and now in post with US rights up for grabs.
Berk says Latin American tax incentives are "really strong" and provided an impetus to seek partners from the region.
"Twenty-eight per cent of the US market is Hispanic," he adds. "It's the fastest-growing segment, so understanding and having a relationship and knowing the Spanish-speaking marketplace is extremely important to us when we start to think 10-15 years from now. It's why we have a TV partnership through Pivot with Univision." It is crucial to look ahead, as Todd Brown of LA-based XYZ Films is only too aware.
"It's definitely an area we're looking for opportunities to move into," says Brown. He says the impetus to investigate potential ties came when he met We Are What We Are director Jorge Michel Grau at Guadalajara a few years back.
This enabled Brown to not only get to know the film-maker but pay attention to the emerging class of Grau and the likes of Fernando Urdapilleta and Gabriel Marino, some of whom are graduates from the Centro De Capacitacion Cinematografica (centre of cinematic training).
XYZ Films is now developing Grau's Keep Quiet, an elevated werewolf story in the vein of We Are What We Are, and is in the process of securing government funding.
"What's happening in Mexico now," says Brown, "is you're getting a generation that was young when Inarritu broke out and these guys in that wave would have been in their teens and are saying, 'We could do that.'" And they are doing it.