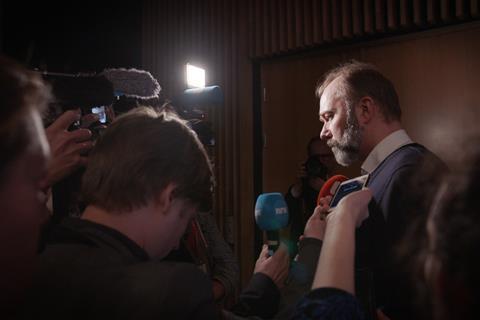 Inspired by Nick Broomfield and Louis Theroux, Norwegian filmmaker Håvard Bustnes turned his camera on the scandal that erupted when popular politician Trond Giske was accused of sexual harassment by a series of women in 2017.
Tipped as a future prime minister, Giske's career came to an erupt end. Name Of The Game, Bustnes' film about the events, has made its world premiere at IDFA in the Frontlight section. International sales are being handled by First Hand Films.
Bustnes started filming Giske in slightly surreal circumstances.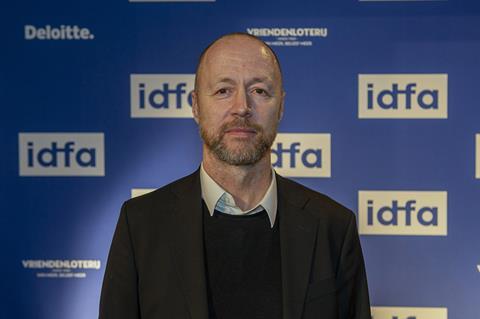 "Giske was so close to becoming the prime minister in Norway and then suddenly, he loses everything after #MeToo, so he buys a Polish caravan, painting it red and travelling around Norway. It's the perfect set-up for a film," Bustnes explains.
This was in the summer of 2018. Perhaps surprisingly, the politician was happy to have Bustnes along for the ride. The filmmaker, for his part, thought Giske's political career was already over. In fact, Giske very nearly clambered back to the top. Many within his party were strangely forgiving of his previous misdemeanours.
Bustnes made it very clear to his subject at the start he was there to make a film, not to try to rehabilitate his subject's reputation. However, many people he approached assumed he was part of Giske's camp and the filmmaker had to work hard to persuade them otherwise.
"The deal from the very beginning was that I have full creative freedom, full editorial control," says Bustnes. "It was very important to be critical, to ask critical questions all the time."
If Bustnes feels any sympathy for the fallen politician, he isn't showing it, "For some period of time, I almost believed in this narrative of him being a victim of power struggles but then I talked to the whistleblowers," the director recalls. "The interesting thing is that power makes blind. People around him are blinded by him and his power. So many people wanted him to become a Prime Minister. 20 years ago, the first I contacted him, I believed he would become the prime minister. He was a great politician. He is clever with words, really good with rhetoric."
Through making the film, Bustnes believes one of the most disturbing aspects to this story is that no-one tried to stop Giske earlier.
"So many people have seen this kind of behaviour," the director says of the sexual harassment. "A lot of people around him, maybe they were part of this bad culture themselves or had too much to lose. It was also that people wanted to protect him…that he was more important than the women in a way which is really scary. That is the big message of this film. We have to stand up for women and stop this abuse of power."
A few weeks ago, the politician sat down in an office with Bustnes and watched the film. He didn't have many comments but Bustnes agreed to make some very small changes and slightly tweaked his voice over.
Bustnes initially envisaged that his documentary would have only local appeal. However, the story it tells has turned out to have a very universal resonance. IDFA marks the world premiere but other festivals are understood to be clamouring to show it.
"Unfortunately, this is relevant all over the world. Power makes blind is something that happens everywhere," the director reflects. "We knew before that sexual harassment was wrong. It was not something we learned in 2017 but this is about power. If you are a woman and somebody above you, maybe a leader, is trying to give you a sexual interest [sic], it is very difficult to say no."
Name Of The Game was financed by the Norwegian Film Institute and by regional funds. It was produced by UpNorth Film.