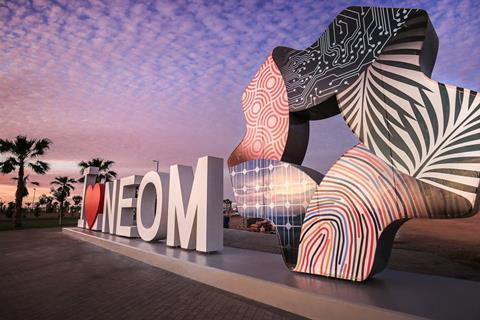 In the northwest of Saudi Arabia, an entirely new region is being built that will not only transform the way we see urban development but features a world-class media hub that encompasses the cutting edge of filmmaking technology surrounded by stunning locations.
NEOM will be a semi-autonomous region that stretches for 100 miles along a perfectly straight line from the north of the Red Sea. It will consolidate the region's industry as it looks to establish itself as part of the elite network of global media hubs and provide everything from a wealth of production facilities to spacious film soundstages.
"NEOM is about redefining every aspect of life in a broader context," says Wayne Borg, managing director of media, entertainment, culture and fashion at NEOM. "It's trying to understand what are going to be the breakthroughs in five or 10 years and how we can bring those to market within the next two to three years.
"That's what we're challenged with every day by our leadership team, because, fundamentally, that's what NEOM's about. If it's been done before, it's not NEOM. That is what's going to distinguish us not only from a media industry perspective, but as a proposition in its entirety."
NEOM is at the heart of Saudi Vision 2030, which aims to reduce Saudi Arabia's dependence on oil, diversify its economy and develop public service sectors such as health, education, infrastructure, recreation, and tourism.
The city, whose name means "new future", will be populated by 1 million residents who are set to begin arriving in 2024, with infrastructure kept below ground to preserve the natural beauty of the region.
"NEOM will be a truly carbon neutral environment," says Borg. It will also be roadless and carless. Transportation will include various forms of rail including a metro system leading to super trains propelled by magnetic levitation technology, and personal mobility achieved using electric scooters and bikes.
A major part of NEOM is the creation of a regional media hub integrating physical and technology-led production across film, television, games and digital publishing, which will be home to sustainable productions from the region and internationally.
"It's a digital-first approach," says Borg. "Game-engine technology and the nature of convergence is playing a big part. So how do we deploy that game-engine technology right across the production process? Volumetric and virtual production are areas that continue to grow.
"It's still early days, but that's going to be at the core of our offering. How we bring together the gaming sector and screen production, given the intersections that are happening. Then, from a location basis, how we improve connectivity on set and create a controlled environment through technology."
Open for business
While some aspects of NEOM are still under construction, the media hub is already running and open for business, providing studio space and production facilities.
There is also a raft of spectacular and diverse locations within easy reach, the vast majority of which have not been filmed before. These include deserts, mountain ranges — from sandstone ridges comparable to Jordan's Wadi Rum to 2,500-metre peaks covered in winter snow — as well as areas of lush vegetation and greenery, palm trees and oasis-style settings. NEOM also has around 300 miles of coastline running up the Gulf of Aqaba, as well as the Red Sea, with its crystal-clear waters, stunning reefs and abundant marine life.
Construction is underway on a 2,400 square metre soundstage with facilities to support this, located next to the NEOM Community where its employees live. The stage will be completed by the end of January 2022, when it will house production of a regional soap opera. There are also two modular 3,000 square metre soundstages in use, creating an initial footprint of 8,400 square metres of stage space.
The initial phase will feature six soundstages and several smaller TV studios and support spaces, totalling around 23,000 square metres, when it opens in mid-2023, along with a 10,000 square metre backlot, 7,000 square metres of dedicated gaming space, including a AAA game studio, 2,000 square metres of coworking space and more than 6,000 square metres of commercial office space. It will also house the first phase of the region's most comprehensive industry learning proposition.
Some 75 production trailers will be available as well as two nearby hotels for cast and crew, although 100 accommodation units are also in the works. By 2026, the studio capacity will have increased even further.
"We'll probably end up with over 25 soundstages and as many support facilities across film and television," says Borg. "The size of the media hub will be between 850,000 and a million square metres."
Financial incentives and rebates are being offered on a production-by-production basis, be it cashback on qualifying spend or facilities, hotels and equipment in kind. NEOM states that its scheme will be among the most attractive in the world. "We're in beta mode," says Borg. "Right now, those incentives are consciously attractive because it's about accelerating the ecosystem and demonstrating to the industry at large that we're open for business and what our capabilities are."
International profile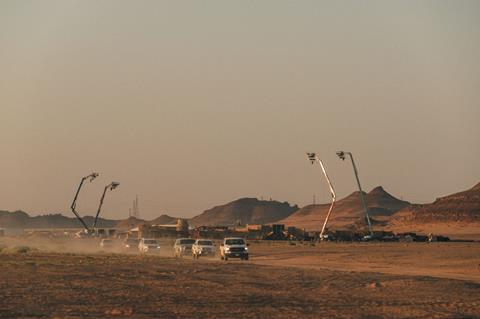 NEOM is playing host to its first international feature. Hollywood star Anthony Mackie takes the lead in Desert Warrior, directed by UK filmmaker Rupert Wyatt (Rise Of The Planet Of The Apes).
Set in 7th century Arabia, and shot entirely in NEOM and Tabuk, the period epic co-stars Aiysha Hart and is being produced by MBC Studios, the production arm of MBC Group, the largest media company in the Middle East and North Africa, alongside US-based JB Pictures and AGC Studios. The film is supported by the NEOM Media Industries Sector.
"It's by far the region's biggest ever production," says Borg. "We've got between 400-500 people on set every day. Again, it's a testament to what the team has been able to pull off here in a relatively short period of time and show how we can liaise with government and unblock things quickly, whether it's importing gear or permits.
"In time we will control all that. We will have our own screen office and authority office. But in the interim, it's about making it as seamless as possible."
Later this month, NEOM's first Saudi feature starts shooting, meaning by the end of 2021 it would have supported 21 productions, ranging from a Vogue Arabia digital photoshoot to a $100m Hollywood tentpole. Next year promises to be even busier.
"We've got a number of location recces lined up for some major franchise films," reveals Borg.
Given cinemas have only opened in Saudi Arabia in the past five years, local and international productions rely on talent from neighbouring Egypt and Lebanon to complete their crews. Key to NEOM's vision of a sustainable regional industry is education and training to upskill and reskill existing talent from the region as well as to equip the workforce of tomorrow now.
In partnership with the UK's National Film and Television School (NFTS), NEOM and the NFTS are offering Saudi nationals five scholarships to earn a masters degree and 50 places on the NFTS Certificate in Filmmaking course. As part of this training drive, 10 people have been given work placement employment on Desert Warrior. Any future production accessing NEOM's incentive programme will be required to find placements for interns.
"If you look at NEOM in its entirety, the media industry is playing a significant and prominent role in terms of the amount of GDP it will generate for the jurisdiction. And that's reflective of what you're seeing around the world," he says. "I quote the Korean example and how the creative industry there contributes around 4.5% of GDP to the economy. We've taken that as a benchmark. That's where we want to be."
Ultimately, NEOM will operate as a semi-autonomous state within Saudi Arabia, with its own legal and regulatory framework, separate from the Kingdom, much like Hong Kong 30 years ago. NEOM will be progressive, inclusive and diverse
"NEOM has got to attract talent from all over the world. And to attract talent, we've got to offer the best liveability," adds Borg. "NEOM is about addressing the big challenges the planet is facing and taking advantage of the opportunities that might come out of those challenges.
"Consequently, NEOM is not just going to be a regional hub, but a global capital. And global capitals attract people from all walks of life because they share a vision, they share a belief, they share an ambition. That's what NEOM will be all about."

NEOM is an accelerator of human progress and a vision of what a New Future might look like. It is a region in northwest Saudi Arabia on the Red Sea being built from the ground up as a living laboratory – a place where entrepreneurship will chart the course for this New Future. It will be a destination and a home for people who dream big and want to be part of building a new model for exceptional liveability, creating thriving businesses, and reinventing environmental conservation.