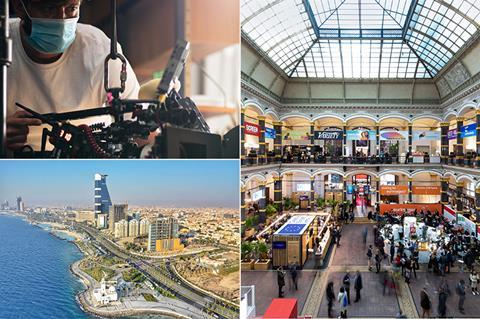 The theatrical window could get even shorter
Cinema distribution and theatrical exhibition as we know them are evolving to a place where they are becoming unrecognisable compared to where we were just over two years ago. The question is will the exclusive theatrical window get shorter in 2022 if Covid continues to discourage cinema-going?
Distribution models vary by studio but generally the pandemic-fuelled individual deals cut by distributors and exhibitors around the world mean North America's pre-Covid 75- to 90-day exclusive theatrical window – 90 days in the UK – has shrunk to 30-45 days. It's even shorter at Universal, which has the option to move a film from North American cinemas to PVoD after 17 days of exclusive theatrical play, rising to 31 days for those that score a $50m-plus opening weekend. And starting this year all Universal and Focus films will debut on Peacock as soon as 45 days after their theatrical and PVoD release.
The international rollout of HBO Max means Warner Bros titles now have just a 31-day window in the UK (45 days in the US), while Paramount releases in the US can play in cinemas for a maximum of 45 days before heading to Paramount+. Depending on the title, Disney is experimenting with exclusive theatrical and day-and-date models whereby a film opens simultaneously in cinemas and on Disney+. However, the studio will be wary of switching models without careful consultation with talent after Scarlett Johansson sued when Black Widow opened day-and-date, which the star said was contrary to what she believed was an exclusive theatrical agreement and cost her a pile of money in lost potential backend participation. (The parties settled out of court.)
Sony has been the most reluctant US major to abandon exclusive theatrical releases – not surprising given it doesn't have a global streaming service. In the case of Spider-Man: No Way Home that reluctance has paid huge dividends.
There will always be exceptions to the rule of dwindling theatrical exclusivity. Christopher Nolan and his Oppenheimer project at Universal is a case in point and James Cameron will surely have insisted Disney keep his upcoming Avatar sequels exclusively in cinemas far longer than the new norm. On the whole, however, studios are now expected to play their part in growing subscribers on in-house platforms and their media corporation parent companies will be chomping at the bit to bring films to audiences at home as quickly as possible.
Exhibitors need to adapt. Fast.
Cinema owners have endured a torrid two years and will inevitably contract. Sad to say, but a footprint of 44,000 cinemas in the US today seems needlessly high and wasteful. In these days of the streaming wars, no in-house audits by exhibitors or a perusal of the books by potential suitors will look kindly on keeping the lights on in struggling markets, or at times of the day when there is minimal engagement. The world is changing fast and more exhibitors will need to cut VoD revenue-share deals with distributors, implement dynamic ticket pricing, programme alternative content like sports, theatre and live music, and make more noise with fewer sites.
Indie films' disappearing act at the box office
The pandemic has shifted the balance of cinema releases even further in the direction of blockbusters and away from local and independent titles. This has been replicated in key international markets including the big English-language ones of the UK-Ireland and Australia, but also in Italy where the big local comedies failed to ignite in 2021, and even in France where the older demographic has had its usual dedication to independent cinema shaken by Covid concerns. Now indie distributors are looking to find space for titles among a release schedule that is still holding back blockbusters first planned for 2020. And while exhibitors will be glad of the money brought by No Time To Die, Spider-Man: No Way Home and co, they – especially independent venues – will know a variety of programming is important to their long-term survival.
The big exception is China, where US releases are severely limited. The China box office has made a stellar start to 2022, continuing its strong form from last year when it was the largest individual territory with $7.4bn. Three of the top five films in last weekend's global top five were local Chinese titles; local content has also flourished in Thailand in recent weeks.
Festivals cannot sustain the Covid uncertainty for a third year…
The physical components of January festivals Rotterdam and Sundance and the European Film Market in February have been forced online by the pandemic, meaning it will be three years since their last get-togethers should they return as in-person events next year. By March, international film events will be reaching a third pandemic-afflicted edition; and while vaccines have reduced the virus' damage, events are still walking a tightrope between holding in-person events and being overwhelmed by case numbers.
This uncertainty is not sustainable in the long term, and while numerous events took place last year with varying degrees of 'Covid safety', such measures are expensive – prohibitively so for some. With the less-deadly Omicron now widespread in many countries, film festivals may follow other industries in reducing testing and returning towards a scenario where illness is the determining factor in attendance, not swab results. With Cannes now under 130 days away and counting (gulp), for now, the industry is crossing its fingers – and holding its breath.
…and neither can buyers and sellers
International sales companies and distributors are at sea over their immediate next moves, with many now likely scrambling to move their Berlin flight to Cannes.or wondering whether to attend a festival-only event. There's a nervousness in the market as we head into the third year of the pandemic, with sellers wondering where on earth is best to hold the sales or theatrical launch of a title and fielding growing concern as to whether their long-time distribution clients are in even in a position to buy new titles. Many are still working their way through the release of a backlog. "Normally at this time of the year, we'd be setting out our strategy up until Cannes and beyond but this year, I can't figure out what is going to happen over the coming three months," confided one key European sales agent.
US streamers may meet greater regulation in Europe
2021 saw another big push by global streamers into Europe. Their investment in local content is a boon but there is growing unrest in the independent community over the all-rights demands they impose and how they are pricing local producers out of their own markets. Now regulation in this highly regulated region looms. France's long-awaited bold transposition in December of the European Union's updated Audiovisual Media Services Services Directive, for example, includes measures to protect independent producers from all-rights deals and sets limits on how long a platform can hold rights. Will other territories follow where France dares to tread?
Covid measures take a toll on mental health – and budgets
The impact of filming under Covid conditions is hitting both budgets and the mental health of the film industry hard as productions attempt to balance duty of care towards employees with ever-evolving and wildly different national guidelines. Fatigue is setting in over regular testing, quarantine requirements and the strain when productions are interrupted by Covid outbreaks. On-set camaraderie, the stuff that gets crew through the long hours and often challenging conditions, has taken a hit, while departmental bubbles have made after-hours bonding sessions almost impossible. Wellbeing officers on set may now be commonplace, but this can add further stress owing to a squeeze on production costs. Removing Covid measures entirely does not appear to be the answer either. But the time may be coming to explore a middle ground, in which protective measures remain in place, but vaccination statuses are taken into greater consideration with regards to on-set regulations and testing regimes, before the burden becomes too great.
NFTs as a possible funding and distribution mechanism
Hollywood is continuing to scrutinise and experiment with the NFT, or non‑fungible token. It's like a digital version of a rare coin or some other coveted item made from a unique chunk of digital code stored on the blockchain and verified for authenticity. Investors ascribe value to NFTs which are traded on specific marketplaces like Open Sea. At first it was deemed a fad, but the idea of NFTs has not gone away and after gaining popularity in art and music now the film industry is dipping its toes in the water. Warner Bros has partnered with a company to create unique digital avatars of ordinary people trapped in the Matrix, while Quentin Tarantino has locked horns with Miramax in a copyright dispute over his plan to auction off seven digitally scanned scenes based on his original handwritten Pulp Fiction screenplay (with misspellings and original character names intact) as secret NFTs. The content will only be known to the buyer. There has been early blue-sky talk of NFTs as a kind of ultra-boutique distribution model for small films whereby the buyer gets a digital collectible of the work with some unique accompanying element, while the producer or financier pockets the proceeds of the auction. NFTs remain a new frontier for Hollywood, but the industry is circling.
Saudi's cinema drive may signal a new era
Key Middle East and North African industry players flocked to the first edition of Saudi Arabia's new Red Sea International Film Festival in December. Most view Saudi Arabia's push into cinema, after its 35-year ban was lifted at the end of 2017, as a game-changer for the MENA film industry and were eager to connect with the country's burgeoning filmmaking scene and its market of 34.8 million people, two thirds of whom are under the age of 35. Saudi's cinema push is already having reverberations in the region, particularly for Egypt, the mainstream comedies of which are proving a hit with the local audiences. A raft of new partnerships between emerging Saudi film companies and established MENA players were announced while the country's ambitions to become a major international shooting location were exemplified by the arrival of action pictures Desert Warrior and Kandahar.