How do you follow the most successful non-US studio family film of all time? Paddington 2 director Paul King and producer David Heyman tell Screen about living up to their 2014 triumph.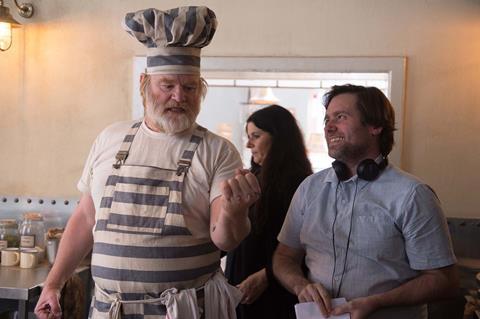 Back in January 2015, as Paddington was nearing the end of its triumphant run in UK cinemas and continuing its global push towards becoming the most successful non-US studio film of all time with a box-office tally of $268m, the filmmakers received an unexpected bonus.
That year's Bafta Film Awards nominations included Paddington among the honorees for outstanding British film, while writer-director Paul King was named in the adapted screenplay category. Not what you might anticipate given its source material — Michael Bond's classic children's books about the titular Peruvian bear — and positioning as mainstream family entertainment.
"It was an incredibly nice surprise," says King. "These aren't the sort of films that are considered awards fodder. It was gratifying to feel that people had embraced the film not as something that's just fun for Christmas but as a good piece of work. We certainly don't approach it like we're trying to make a kids' film and we're going to put in 20 fart jokes for the children and then some slightly risqué material for grown-ups to prevent them from falling asleep. We were trying to make a film we felt was really good."
There had been plenty of flak prior to release. "I'd never really worked on anything that had been done in the public eye," says King, whose sole previous feature as director was the little-seen UK indie Bunny And The Bull. "The first article you come across about it is, 'Why I hope Paddington is a total failure'. You sort of go, 'I'm working 15 hours a day on it, I rather hope it's good.' But you're working with a very cherished character who is beloved by different generations across different media, so there was a public anxiety about, 'Would it be terribly Hollywood-ised and updated in a very brash, insensitive way?'"
Financier and multi-territory distributor StudioCanal — which had picked up the Paddington project in turnaround from Warner Bros — struggled to control the narrative when the replacement of original voice actor Colin Firth with Ben Whishaw played out in the media as a negative story; the 'Creepy Paddington' meme went viral; and a pre-release storm erupted when the British Board of Film Classification cited "mild sex references" in its PG rating advice (later revised to "innuendo"). "It was a series of bad-news days," recalls King. "I did find the horror Paddington meme very funny, but we did think, 'Oh God, this is not going as we anticipated.'"
Second helpings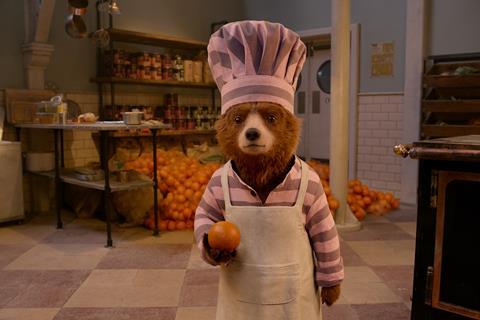 Despite the challenges, King and his producer partners at David Heyman's Heyday Films delivered the goods creatively and commercially with the first film, and it has been a smoother ride for Paddington 2. Anticipation for a sequel began almost as soon as Paddington hit theatres, but King insists he felt no pressure from his producers.
"Until you sit down and try to write a sequel, you're not really sure how it's going to go," he says. "You've jumped on a train before you're sure what the destination is. David just went, 'Well, do some writing. In six months, we'll sit down and have a conversation about whether we think this is a film worth making. If we don't think it is, then we'll walk away.' It was the most un-Hollywood conversation to have, but it took a whole weight of responsibility off my shoulders."
On Paddington, King received sole screenplay credit, sharing story credit with Hamish McColl — the original writer hired by Heyday when the project was at Warner Bros. For the sequel, he decided a co-writer would be preferable and selected Simon Farnaby (Mindhorn), with whom he had enjoyed collaborations stretching back to fringe comedy shows at London's Battersea Arts Centre and who had acted in Bunny And The Bull.
In truth, King's writing on the Paddington movies has always been collaborative, and a large number of contributors — including Joe Cornish, Graham Linehan, David Nicholls and Emma Thompson — are thanked in the credits for the first film. "He has other writers, a couple for logic and character arcs and thematic through-line, and then others for comedy and the like, to bounce ideas off," explains Heyman of King's creative process. "It's quite a common thing in the comedy world, but more unusual for this sort of film, although they seem to do it at Pixar. Different writers brought different things, and ultimately Paul put it all through his own voice."
King's collaborative instincts extend to the Heyday team, including producer Heyman plus executive producer trio Rosie Alison, Jeffrey Clifford and Alexandra Ferguson-Derbyshire (the latter participating in a freelance capacity), with whom he has "a proper creative partnership. They're also very open to me disagreeing with them. Sometimes you go, 'We just disagree, and I think this and you think that.' At that point, David will always let me have my way, which always makes me very nervous. Sometimes he's right, but we'll discover it when I shoot the scene."
All parties were mutually keen not to repeat the conceit of the first film, in which the titular bear faced a sinister adversary — Nicole Kidman as taxidermist Millicent Clyde — who wished to kill and stuff him. For the new film, ageing thespian antagonist Phoenix Buchanan (Hugh Grant) has a rather less determinedly evil agenda, although it nevertheless sees the bear wrenched from the bosom of his adoptive London family.
"What we wanted to do was not so much dial down the menace from the get-go, but more to find ways of Paddington interacting with the baddie earlier on," says King. "Millicent only really spent time with Paddington in the third act. We wanted to have a character who Paddington could irritate from page one. We also really fancied doing the snowball film where it starts with something so small — I just want to get Aunt Lucy a birthday present — then it gets you somewhere much more extraordinary than you might have imagined in the first 10 minutes."
In the early days of the screenplay, when King and Farnaby were still planning out the story beats, they referred to the conceited-actor antagonist simply as "Hugh Grant", before eventually settling on a character name. Finally, it came time to approach the actor himself.
"I don't know if this is how it works in the big Hollywood world, but I don't really have anyone's phone number," says King. "I wrote him a letter: 'Dear Mr Grant, we've written this character of a vain, washed-up, narcissistic old has-been, and we thought of you.' You don't know how somebody's going to take it. I know in the Richard Curtis films he seems like a very friendly old chap, but there's no guarantee that's what he's like in real life. We met and got on like a house on fire. He absolutely relished sending the whole thing up."
Given the huge success of the first film, King was granted a more generous budget this time around — although that was partly swallowed up by salary bumps, since the original actors had not been locked in for sequels. One necessary indulgence that King fought for was three weeks of additional shooting, with actors contracted to return after editing and visual-effects work. "It really does evolve, especially with the bear," explains King. "Until Paddington starts to exist, you don't really know how it's going to feel, how it's going to work."
Chapter three?
Based on the commercial performance of Paddington 2 to date — the film has already reached $31.4m at the UK box office and $77m internationally, with most territories still to come — a third instalment would be on many people's wishlist. Much hinges, however, on what happens in North America when Warner Bros — which stepped in to acquire the film from The Weinstein Company for a reported $32m in the wake of the Harvey Weinstein scandal — releases on January 12.
Heyman says that King would have first refusal on a third film. "My feeling is that he will remain involved in some capacity," says the producer. "It would be wonderful if he chose to direct it. He loves the little bear, so I think it will be hard for him to leave it behind. At the same time, there are many opportunities out there for him. If he doesn't direct it, I'd like him to remain involved in some producorial capacity, because in so many ways he's built this. It's Paul's voice, through and through."
Currently attached to two projects, one with a UK writer and one with a major US screenwriting duo, King agrees that "it would be hard to let go of Paddington", before adding, "It's definitely a very long commitment, especially if you write and direct, and I think we'd want some more help in one capacity or another. I'm quite slow and irritatingly meticulous."