Nabil Ayouch talks about his latest film, which has attracted controversy in its native Morocco.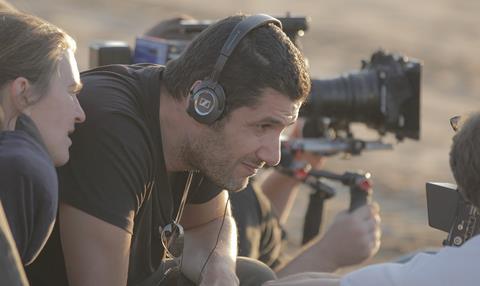 French-Moroccan film-maker Nabil Ayouch doesn't shy away from covering difficult topics. His last film Horses Of God, which won Ayouch the Best Foreign-Language film prize at France's 2012 Lumieres, focused on a group of young men in Casablanca who fall in with Islamic fundamentalists and become suicide bombers.
His latest film Much Loved broaches the controversial subject of female prostitution in Morocco. Premiering in Cannes' Directors Fortnight, Much Loved delivered an in-depth portrait of four women brought together by the profession, whose friendship and love outweigh their lives as sex workers.
Shortly after its Cannes premiere, Much Loved was banned by the Moroccan government - a decision reputedly taken before anyone from the country's state-run Moroccan Cinema Centre had even seen the film. Lead actress Loubna Abidar has also received death threats.
Screen caught up with Ayouch during the film's LFF premiere; Celluloid Dreams is handling international sales.
What inspired you to tackle this subject matter?
These women are very inspiring by themselves. They are brave and full of humanity - I wanted to portray that on screen. When I decided to go deeply into this matter, I interviewed women all over Morocco. I learned about their personal stories, their backgrounds, what led them to prostitution, their responsibilities to their families. It was a long process.
This film has been banned in Morocco. Why do you think the reaction has been so strong?
They never tell you the exact reason. I guess it has a connection with the way I decided to portray the women: the way they talk, the way they act, the way they move. They're also strong and brave - they decide they are not miserable. This mentality is not widely accepted in Morocco, particularly by men.
But the Moroccan Cinema Centre knew you were making a film about this topic.
Yes, it is very frustrating. We had no problems when shooting. But there are different departments within the [Moroccan Cinema Centre]. I don't think the responsible departments even saw the film when banning it. They banned it based off reactions on the internet.
You've received support from different people in trying to get the film seen in Morocco. Will the ban be lifted?
Many women have fought for the film to be screened. But it's only been a few months. We need time.
Do you hope the film will help give more women a stronger voice in Morocco?
Because the film is banned, it has given more attention to the film and its subject. A lot of people in society have spoken out in defence of the film: women's associations, citizens, artists, journalists. It has opened debate about freedom of speech, as well as the place of women in Arab society. I hope this will change their [Moroccan Cinema Centre] minds one day or another. It is not the film that they pretend to think it was.
In terms of financing, you partly funded Much Loved yourself. Did you receive any support from the Moroccan Cinema Centre?
I proposed it twice to them but they didn't give me any money, so I decided to finance it by myself with two other producers who also put in some of their own money. At the end of production, we also received funds from CNC in France, bringing our overall budget to 650,000 Euros.
Are there developments in getting the film shown elsewhere in North African or the Middle East?
We are having discussions. I can tell you it will be screened in cinemas in other Arab countries. As for Morocco, I don't want to have to convince them. If they want to ban a film without seeing it, it's their problem. I think they've done the wrong thing, especially when the film will be seen everywhere around the world. But it's going to be seen, whether they like it or not - pirated DVDs, the internet, foreign television.