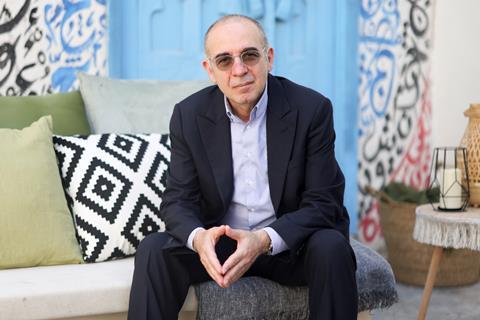 Italian director Giuseppe Tornatore was president of the jury at the inaugural Red Sea International Film Festival which meted out top prizes to Brighton 4th, Hit The Road and Europa this week.
The festival kicked off on December 6, four years after Saudi Arabia officially lifted a 35-year-ban on cinema as part of sweeping social and economic reforms. They have included allowing women to drive, travel without the permission of a male guardian, choose what they want to wear and while youngsters of either sex can socialise openly for the first time in nearly four decades.
Screen caught up with the Tornatore on the eve of the awards ceremony, to ask him about his first impressions of Saudi Arabia as a country and a possible shooting location.
What are your first impressions?
It's been a surprise, a big surprise. The mood I've felt on the ground here corresponds 100% with the 'Waves of Change' banner you see all over the festival. It's not an empty slogan. This is truly the climate here. There's a real sense of change, rebirth and opening up.
Are there any parallels between contemporary Saudi Arabia and your native Sicily?
Not exactly parallels but I have found some things very familiar. Certain tastes in their cooking, certain smells. There are things that I connect with here, that I feel belong to me.
Does contemporary Saudi Arabia society remind you of the conservative Sicilian society of the past that you captured in films like Malena?
When I was very small, the Sicily in which I grew up wasn't like the Sicily of today. It was a place with lots of problems even if there was a great desire for renewal. There was never this sudden consciousness around women and their place in society. It took us decades to arrive at the point where we are now. Here, they've set everything on fire.
When you made Malena in 2001, starring Monica Bellucci as a woman whose beauty puts her on the wrong side of society during World War Two in her small Sicilian hometown, did you see it as a story about the past, or a comment on the present at the time?
I was conscious of making a film that told a story that had happened decades earlier, but I also knew the theme was contemporary. It touched on the drama of beauty and how If you live in a society where a woman is viewed as an object, beauty can be a source of great internal confusion, and even danger.
Would you consider shooting a film in Saudi Arabia?
I'm usually very wary about filming in countries that I don't know well. You risk ending up with stories that don't really work. When I do go down that route, I do a lot of research. But here, when I've been going around old Jeddah [the Al Balad quarter where the festival is taking place] I've been saying to myself that if I had a story, I would definitely shoot something here.
I'm also very interested in AlUla [the world heritage site Saudi Arabia is transforming into a tourism and shooting destination] which sounds like a wonder. I haven't been there, but I need to go.
If you were to do a film here, would you try to tell a Saudi story?
No, I would study the history of the Italian community here, to see if anything interesting had happened involving Italians who have lived here and explore that.