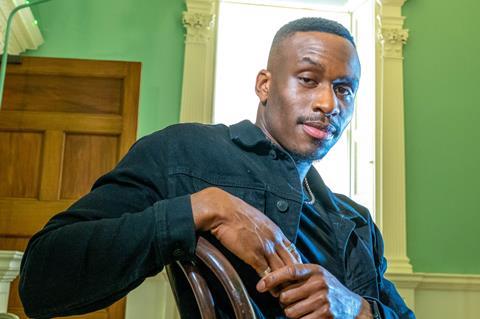 Patrick Martins is a man on a mission. Having emigrated to Dublin with his family from Nigeria aged five, Martins is keen to show younger Irish creatives of colour that an international screen and stage career is possible.
"It's about encouraging people who have the same heritage as me, or who are new Irish, in taking part in the arts and really acknowledging it as a career path to go down," reflects the 25-year-old. "I want to encourage more people with similar stories and similar backgrounds, whether it's acting, writing, directing, producing — anything within the creative space."
A graduate of The Lir Academy, Martins made his theatre debut in a Rough Magic production of Much Ado About Nothing, before earning rave reviews at the Abbey Theatre in Dublin, playing the lead roles in a production of Branden Jacobs-Jenkins's An Octoroon. "I knew it would be the lead and I knew it would be on the national theatre, which was very exciting, but I was terrified, because the play starts with this 15-minute monologue. I'm so glad I did it, because the reception it received, what I learned on that job, was so rewarding."
Martins's TV credits includes RTE's Blasts From The Past, BBC's Roadkill and ITV's Ireland-shot crime miniseries Redemption. He also starred as Laddie Lightning in The Confessions Of Frannie Langton, which aired last December as part of the inaugural slate of dramas on the new ITVX streaming service.
His big screen debut came in Chris Cottam's upcoming feature The Problem With People, opposite Paul Reiser, and he completed work on Baltimore. Directed by Joe Lawlor and Christine Molloy, the Ireland-shot film stars Imogen Poots and recounts the true story of how the English heiress and Rose Dugdale became involved in the IRA's armed struggle.
"I'm currently auditioning for really exciting projects," says Martins, who also wrapped the Lionsgate, Deadpan Pictures and TG4 series Northern Lights. "It feels like much bigger projects are coming my way."