Screen highlights some of the most interesting shows heading to the Riviera.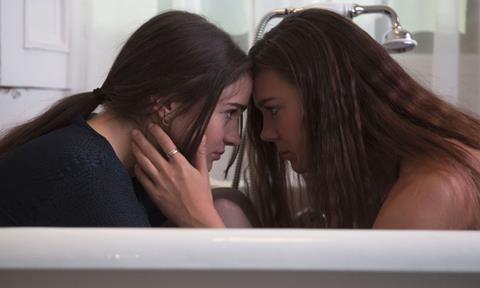 Clique (UK)
BBC
The dark drama (pictured, top) by Skins writer Jess Brittain is about an elitist group of ultra-groomed, competitive female students at Edinburgh University and the lecturer to whom they are drawn. Louise Brealey and Aisling Franciosi, a 2014 Screen Star of Tomorrow, star with newcomer Synnove Karlsen. Clique is produced by the UK's Balloon Entertainment for BBC Scotland and BBC3. It launched online in the UK at the beginning of March and is now being rolled out internationally. Former Star of Tomorrow Robert McKillop was a director on the series.
Contact: international@all3media.com
Coincoin And The Extra-humans (France)
Arte
French auteur Bruno Dumont will start shooting this sequel to his quirky police procedural style series Li'l Quinquin - which scored 1.4 million viewers in France - at the end of May. It is set in Dumont's native Nord-Pas-de-Calais in northern France, like the first, and will feature many of the original cast. He promises a sci-fi element, with an alien invasion at the heart of the plot. Paris-based Taos Film produce, with Arte also on board.
Contact: doc@docandfilm.com
Crisis (Japan)
Kansai TV
Japanese drama series have a tough time travelling outside Asia but this could be set to change with regional broadcaster Kansai TV's big-budget action series. Crisis is about a secret team of specialists working for the National Police Agency who battle a terrorist group that threatens the safety of the entire country. Based on a story by award-winning writer Kazuki Kaneshiro, the cast features local stars Shun Oguri and Hidetoshi Nishijima.
Contact: francois.grosjean@fujicreative.co.jp
Jailers (Brazil)
Globo
Set against the backdrop of one of Brazil's toughest jails, the latest high-end series from Brazilian powerhouse Globo is inspired by the writings of public commentator Drauzio Varella. Focusing on the guards rather than the inmates, it stars telenovela star Rodrigo Lombardi as a decent man grappling with the pressures of work and home. Leading Brazilian director Guel Arraes oversaw the production, directed by José Eduardo Belmonte from a screenplay by Marcal Aquino, Fernando Bonassi and Dennison Ramalho.
Contact: www.globotvinternational.com
The Optimists (Russia)
Russia Television & Radio
Russian Television & Radio is kicking off international sales of this 13-part Cold War drama centred around young Russian diplomats in the 1960s. It is set against the backdrop of the real-life Francis Gary Powers espionage crisis, in which the US pilot was shot down over Russia. Aleksey Popogrebskiy, whose How I Ended This Summer screened at Berlin in 2010, directs from an idea and script by Michael Idov, the US-Latvian writer behind Londongrad.
Contact: MDorokhina@vgtrk.com
Ride Upon The Storm (Denmark)
DR
Having tackled politics in hit Danish series Borgen, co-creator Adam Price turns his attention to religion with this saga revolving around a group of priests in the Church of Denmark who are torn apart in a Cain and Abel-style conflict. Now shooting in Denmark, Ride Upon The Storm is co-produced by Danish broadcaster DR, Franco-German channel Arte and Copenhagen-based Sam Productions, a subsidiary of European production powerhouse Studiocanal, which is handing international sales. Lars Mikkelsen stars.
Contact: sales@studiocanaltv.com
Riviera (UK)
Sky Atlantic
MIPTV opens with a preview of Neil Jordan's thriller set in its own backyard. The English-language Riviera is created by Jordan and directed by award-winning German filmmaker Philipp Kadelbach (Generation War, SS-GB). Julia Stiles stars as an art curator investigating her billionaire husband's death on a Russian oligarch's yacht in the Mediterranean. Adrian Lester, Iwan Rheon, Dimitri Leonidas, Lena Olin and Amr Waked co-star. Riviera is produced by Archery Pictures and Primo Productions for Sky Atlantic in association with French telecommunications group Altice.
Contact: andrea.zarzecki@sky.uk