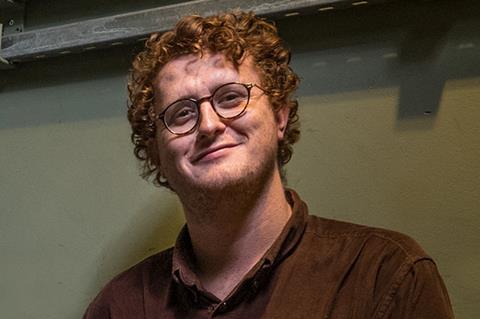 Harry Michell was introduced to showbusiness at a young age, having started out as a child actor in the likes of The Mother, which was directed by his father, Roger Michell.
Click here for the complete list of 2017 Screen Stars of Tomorrow.
"It made me feel comfortable on set," he recalls. "I loved the hustle and bustle of set life, working in the environment where so many people were doing so many different things at once. It made me want to direct as well as act.
"Michell began gravitating towards comedy when he attended the University of Cambridge and became involved in the famed Footlights comedy group.
Aside from writing and starring in sketches, he also began to develop short-film concepts. He struck up a relationship with London-based kit rental company Aimimage, which at the time was looking to invest in a selection of young filmmakers who were after their first break.
The result was short film Guinea Pig, appropriately named as Michell used the opportunity to experiment with his still embryonic ideas.
Adapting ideas from that short, he then began setting up his debut feature, Chubby Funny, with his producer Helen Simmons.
Alongside writing the script and directing, Michell also starred in the film, playing a budding actor whose physique sees him cast only in the 'funny sidekick' roles.
The completed film was warmly received after premiering at Dinard Festival of British Cinema in 2016 and playing at Loco London Comedy Film Festival.
Chubby Funny has opened doors for Michell and Simmons and the pair are now working on their second feature, which London-based Independent Films has boarded as sales agent and exec producer. They hope to shoot this year.
"I don't have pretensions to change the world," says Michell of his burgeoning career. "If I can entertain people for 90 minutes, that's good enough for me."
Contact: Alec Drysdale, Independent Talent alecdrysdale@independenttalent.com