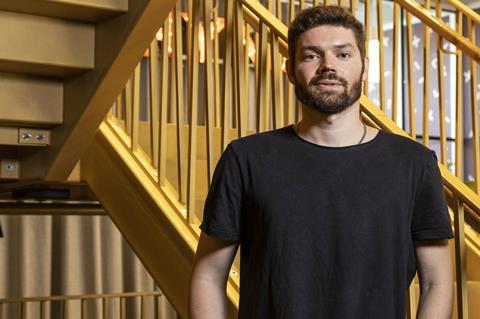 Fans of online video platforms may recognise Gabriel Bisset-Smith. He wrote, directed and starred in his debut short Thrush, the story of an entire relationship told in five minutes through photos, which won the 2010 Vimeo best narrative short award. His 2017 comedy skit in which privileged City workers express secret admiration for the UK's Labour Party leader Jeremy Corbyn went viral, and is pushing half a million views.
Bisset-Smith is currently working on his debut directorial feature Caring, "a horror comedy about a disabled woman discovering her carer is a serial killer", written by playwright Matilda Ibini and produced by 2012 Star of Tomorrow Dominic Buchanan. "We wanted to cast disabled actors, and do stuff with disability, film and horror that you've potentially never seen before," he says.
Also in the works is Offbeat with Wigwam Films and Two & Two Pictures, about a kid whose body goes out of control whenever he hears music; and an untitled Football Manager project, based on the videogame, with Universal, which he is co-writing with Kenny Emson.
Making The Last Hours Of Laura K (2015) through the BBC's Writers Room gave Bisset-Smith a larger platform — far larger, in fact. The interactive murder mystery invites users to act as detective on the final day of protagonist Laura K across various CCTV, social media and other formats. "Luckily because it was so big and confusing, I kind of had to direct it and edit it. No one else really got what we were doing at that stage."
Raised on a London council estate with a mixed-race mother from Jamaica and father from Manchester, Bisset-Smith is also a performer and playwright. He has landed a guest part in upcoming Sky series The Athena, and runs a podcast with comedy partner Robert Cawsey called Guilt & Shame; guests have included 2014 Star of Tomorrow Phoebe Waller-Bridge.
And with the online landscape changing at pace, he is grateful for the medium that has showcased his comedy. "My career wouldn't exist if it weren't for the internet. I'm happy with whatever way best reaches the most diverse audience."
Contact: Nish Panchal, Sam Greenwood, Kat Buckle at Curtis Brown