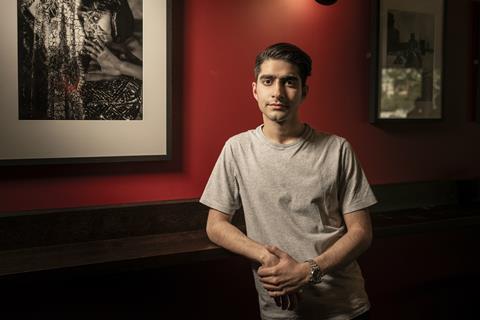 Viveik Kalra was in his first year of acting school at the Royal Welsh College of Music & Drama when he landed his first professional role in six-episode ITV series Next Of Kin, which shot in London and India in the summer of 2017. Next came an even bigger opportunity: the lead in Gurinder Chadha's big-screen musical Blinded By The Light, based on Sarfraz Manzoor's memoir about growing up in the 1980s in Luton, England as the world's least likely Bruce Springsteen obsessive.
Having been raised on films such as Bend It Like Beckham and Bride And Prejudice, Kalra was excited to play the role as soon as he saw the director's name. "I thought, 'No matter what the script is like, I'll go for it,' but the script was amazing," he says. "It was beautiful, wonderfully written and very relatable."
Running up and down the streets of Luton singing his heart out was an experience that pushed him "slightly out of my comfort zone", as was the initial experience of "the most awkward read-through ever", when he serenaded his female co-star Nell Williams with Springsteen's 'Thunder Road', a cappella.
Chadha was evidently impressed with his performance. She also offered Kalra a key role in her ITV series Beecham House, an upstairs-downstairs story set in a Delhi mansion before British rule. Filming had completed before Blinded By The Light's warm reception at this year's Sundance Film Festival sparked a bidding war and $15m sale to New Line for worldwide rights outside the UK, Australia and New Zealand.
Kalra — who is in Romania shooting Neil Burger's sci-fi thriller Voyagers with Colin Farrell, Lily-Rose Depp, Tye Sheridan and Fionn Whitehead until the end of July — calls himself fortunate to be arriving at a time of greater opportunity for BAME actors, citing Riz Ahmed playing Hamlet for Netflix and Dev Patel starring as David Copperfield for Armando Iannucci in The Personal History Of David Copperfield.
"I'm lucky I can play more nuanced roles," he says. "And that's because of the groundwork laid by [actors of colour] over the past couple of decades. We're having an influx of roles and projects with Asian and black people in. It's so needed, we've been deprived of it for so long."
Contact: Christopher Farrar, Hamilton Hodell