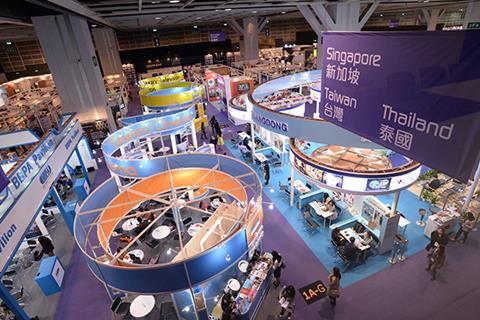 Hong Kong Filmart is making its long-awaited return as a fully physical market after three years as a virtual event. Amid politics and pandemic, the world has changed and film industry professionals attending for the first time since 2019 are eager to see if business can return to normal.
"It's been really challenging this year," admits Peggie Liu, an associate director at the Hong Kong Trade Development Council (HKTDC), the government body that organises Asia's largest content market.
"By the end of November, some of the hygiene policies were still not lifted and we remained sceptical. But everything is lifted now, business travel has resumed to almost normal, and we've had to prepare everything within a short time."
Hong Kong no longer requires Covid-19 testing for entry from most countries and mandatory mask-wearing was dropped on March 1.
"This year is like a reunion, but things have changed a lot in the past two years," says Liu. "Theatres closed and people stayed at home watching content — and Asian content is getting popular internationally. This is a chance to reconnect and find direction for future productions."
June Wu, head of international sales at Taiwan's Distribution Workshop, agrees. "Before the pandemic, Filmart was a place where we could mingle with everybody," she says. "It is also important for Chinese-­language films and, as this is the first physical edition since the pandemic, we want to be there."
On the industry calendar, Filmart has traditionally acted as a bridge between Berlin's European Film Market in February and Cannes' Marché du Film in May, and participants are eager to get back in that groove. "Berlin, Hong Kong and Cannes was our usual market circuit, which has come back to normal this year," says Miyuki Takamatsu, president and CEO of Japan's Free Stone Productions. "By the time we start Filmart, we'll have results from major festivals so can set clearer asking prices for titles before Cannes."
Filmart has always been strong on Asian and Chinese content in particular but Liu notes there will be more mainland China participation than in 2019, with umbrella stands from regions including Beijing, Shanghai and Fujian.
Streaming in
Major Chinese streaming platforms such as iQiyi, Tencent and Youku will also host their own booths for the first time. "Filmart is one of the most important markets for us since we're handling both films and drama series," says Bryce Tsao, director of international distribution at iQiyi. "It is also the place where all the key Asian buyers and distributors will be, meaning it will be busy but efficient."
Distributors will also be in attendance from outside Asia, looking to snap up new and upcoming titles. "Our goal at Filmart is to acquire content that our fans are excited about and may not have a chance to access in North America otherwise," says Doris Pfardrescher, president and CEO of Well Go USA. "As a longtime distributor of both mainstream and more specialised Asian content, we have always considered Filmart to be an important market."
After much deliberation with its members, European Film Promotion (EFP) is once again opening the Europe! umbrella stand, with 23 companies attending in-person and just five online-only this year. The majority of companies hail from France, including Wild Bunch International, Gaumont and Pathé Films. Others include Denmark's TrustNordisk, Germany's Picture Tree International and Spain's Latido Films.
"As a hub to Asia, Filmart had been a strong market for European films in the past," says Jo Mühlberger, deputy managing director at EFP. "Witnessing the energy of EFM, we expect Filmart to follow up as a meeting point to accessing Asian distributors and respective territories.
"We are thrilled that out of 28 European sales companies joining EFP's Europe! umbrella stand, seven are bringing three Berlinale Bear winners alongside five films awarded in the other Berlinale sections," says Mühlberger. Those Bear recipients are Wild Bunch International's The Plough, winner for best director Philippe Garrel; Luxbox's 20,000 Species Of Bees, for which Sofia Otero picked up the prize for leading performance; and Charades' Disco Boy, winner of outstanding artistic contribution for cinematographer Hélène Louvart. "Beyond these titles, sellers will bring a lot of fresh European titles to Hong Kong, covering a variety of productions."
Buyers and sellers from Japan and South Korea are careful how they comment (or not) but tensions around China's Covid response, politics, and the uncertainty of entry and exit regulations have led some to shy away from the market or send a smaller number of representatives.
At time of writing, travellers from Japan and South Korea are among those required to provide a negative PCR test before flying to Hong Kong, and the same before returning, so companies are trying to minimise the risk of employees getting stuck at a time when Cannes preparations are underway.
Pre-pandemic, South Korean companies were already accustomed to the effects of China's politics. The larger country effectively banned South Korean content after 2016 over the stationing of US missile defence system THAAD in the peninsular nation. But after initial dismay over lost business, Korean film companies learned to adapt and developed more lucrative markets elsewhere in Asia.
Notably, CJ ENM's film sales team, Showbox and Lotte Entertainment had not registered to attend at press time. On the other hand, the Korean Film Council (Kofic) is opening its usual umbrella stand and hosting companies such as Plus M, Acemaker Movieworks and Barunson E&A.
"We probably have one of the largest stands and will have our domestic acquisitions and international sales teams there," says Danny Lee, executive vice president of South Korea's Contents Panda, who notes they will be conducting remake-rights meetings and looking at potential co-­productions as well.
"China hasn't lifted its Korean content ban so it's almost an undeveloped land at this point," says Lee. "[With geopolitical concerns], China has sort of gotten the cold shoulder along with Russia internationally. It remains to be seen how much Hong Kong can mediate between the mainland and the rest of the world.
"China has these huge local hits that do practically no overseas sales and there is a need to branch out. We want to step up and show our interest and have exchanges. Politicians can do what they do, but cultural content distributors can think about ways to open the gates in other ways."
UniJapan is also opening a pavilion with eight sales companies — Avex Pictures, Gaga Corporation, Geta Films/Green Light, Kinoshita Group, Nikkatsu Corporation, Rights Cube, SDP and SPO Entertainment — joined by the Japan External Trade Organization (Jetro) and Tiffcom. Further Japanese exhibitors include Shochiku, Toei Company and Kadokawa Corporation.
Taiwan, another territory with cause to be sensitive over politics, is nevertheless making the most of the rising Asian interest in its content and the relatively short flight time of two hours to Hong Kong. The Taiwan pavilion is hosting 82 firms, 32 of which are TV companies. Flash Forward Entertainment, Mandarin Vision and Swallow Wings Films are among the film outfits.
Notably, the pandemic has not proved the only cause for concern for those looking to travel to Hong Kong in recent years. Before the near global lockdown in early 2020, there was violence as the government cracked down on protesters. Although the streets have quietened, concerns about democracy and the impression that Hong Kong is no longer a safe zone remain.
"It looks like a lot of people are ditching Filmart in favour of Busan," says one European buyer, who wished to remain anonymous. "Hong Kong has had a lot of negative press — first because of China and the handling of the protests and then the Covid response. A lot of people are worried they don't [see] the 'one country, two systems' in effect."
"Recent events have damaged Hong Kong's image," added the buyer, who is attending Filmart. "It's going to take some time but it will recover. Hong Kong has always been a melting pot of ideas, entrepreneurship and ruthlessness. That's what makes it successful. We haven't seen the last of it."

EVENTS: EntertainmentPulse
This year, Filmart's conference series EntertainmentPulse will feature more than 20 sessions and events that explore a range of cross-media trends and themes — including the potential of Asian content, the future development of Web3 entertainment and the latest trends from Chinese producers. Notable speakers include Sebastian Kim, director of content sales and acquisitions at Korea's CJ ENM, and Jiang De Fu, CEO of China's Bona Film Group and chairperson of the Guangzhou Film Association.