Indian film-maker's debut feature plays in TIFF's Special Presentations strand.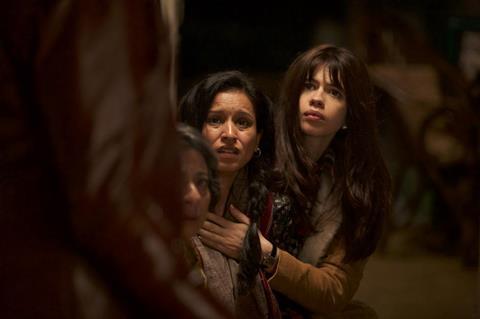 A Death In The Gunj centers on a shy, perceptive boy named Shutu who, seemingly on the cusp of manhood, embarks on a family holiday to the secluded Anglo-Indian town of McCluskieganj in 1979 India. There, his coming of age plays out against the eerie context of the deteriorating town's social divisions, and post-Independence India at large.
The Bengali-language drama received its world premiere at the Toronto International Film Festival (TIFF, Sept 8-18) and has been selected to open the Jio Mami Film Festival in Mumbai in October. Director Konkona Sen Sharma spoke to Screen during TIFF about directing her first feature, from its autobiographical origins to how it came to fruition as a funded project, produced by MacGuffin Entertainment and Studioz iDrream Entertainment, a pair of relatively new Indian production houses committed to promotion emerging, independent content in the industry. C International Sales, a subsidiary of Cinestaan International, acquired the film's worldwide rights in Toronto.
What spurred your interest in making this film?
My father used to tell me stories and some of them were funny, some of them were scary. This is one of the stories he would always tell. I always had my favorites among them but this one just always fascinated me and I would ask him to tell it to me again and again, over the years. I found it compelling enough to develop it further and somehow, reach out to people by showing it to them and make it fascinating for them.
How was the experience working with relatively new producers in terms of raising the finance and having creative freedom?
It's not easy to get funding for films which don't have big stars. The budget of the film is directly proportionate to how big its stars are, which I think is an unfortunate way of conducting the business. But I don't have a say in that. At the same time, I was very lucky to have producers who believed in the film enough to give me a limited but decent budget and resources to actually fulfil that. They didn't really interfere with the filmmaking at all, which was great. It was a privilege to work with them.
How important is the social context of McCluskieganj in the 1970s with its Anglo-Indian and Adivasi (indigenous) communities?
It's vital because it has a specific time and specific place, and that's why certain events can unfold the way they did. I think that if it was not McCluskieganj, if it was a city that was better connected and not so isolated such as Kolkata, then it would not have had the same impact on the characters.
McCluskieganj was started in 1933 by Mr. McCluskie. Pre-Independence, it flourished for a while (he recruited 300 Anglo-Indian families as residents) but they were not agrarian by nature so, post-Independence, many people from that community just left to go abroad. This place just caved in. By the 1980s, it was over. It's only in the 2000s that it's started to come back.
How was the experience of shooting there?
Initially, everyone was like, "Really, McCluskieganj? Must we?" And we were looking at other places. There is no infrastructure there. It's just off the grid. But Siddharth Ray, our production designer, more than anyone else, was adamant that we shoot in McCluskieganj. It was not the easiest decision to take.
How did you cast Shutu?
I always knew that I wanted Vikram Massey as Shutu because he is such a fabulous actor. I'd seen him in Lootera (2013) and Dil Dhadakne Do (2015) and he was amazing.
When and how long was the duration of your shoot?
January to February 2016, 31 days.
What films or filmmakers have influenced your style as a filmmaker?
I think my mum [actress-filmmaker Aparna Sen] has influenced me a lot. Growing up, she didn't really allow me to watch Hindi films. So I've really watched the greats. I would say Satyajit Ray, Kurosawa, Truffaut – these are the filmmakers I watched. And also, a lot of literature because I used to read a lot.