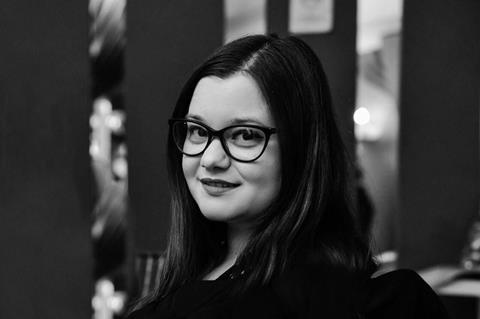 It has a been a baptism of fire for Dumitrana Lupu, head of industry at the Transilvania International Film Festival, who took up the role just months ago.
Lupu previously worked as TIFF's guest coordinator for three years and has a background in production, most recently as a VFX assistant on Tim Burton's comedy horror series Wednesday for Netflix which was shooting in Romania from last September until this spring.
She hopes the horror stories will stay on the screen as she gets ready to oversee the ninth annual Transilvania Pitch Stop (TPS), the centrepiece of TIFF's industry platform. Ten feature projects in development from the region will be pitched to potential co-production partners and financiers at a public session on June 23.
"We received a surprisingly high number of applications - over 30 - this year with a wide range of genres, topics and cinematic language," Lupu says. "Although diverse on so many layers, the majority of the projects share either a genre quality, aspects of fantasy, and/or magical elements."
There is one Ukrainian project in the selection this year, Sasha-Oleksanda, and Lupu says the festival is doing its best to bring director Andrii Ivaniuk and his producer Volodomyr Filippov from Kyiv to pitch their project in person in Cluj.
Ahead of the pitching event, five of the projects will have benefitted from a tailored script consulting provided by script editor Christian Routh and pitching consultant and producer Agathe Berman.
Projects pitched at TPS that have since gone into production and began festival careers have included Natasha Merkulova and Aleksey Chupov's The Man Who Surprised Everyone, Christos Nikou's Apples, and Ukrainian director Maksym Nakonechnyi's debut feature Butterfly Vision which premiered in the Un Certain Regard section at Cannes in May. Butterfly Vision won the Romanian Film Centre's award at TPS in 2019 under the working title of Spas before being pitched at Connecting Cottbus later that year and then presented at European Work in Progress in Cologne in October 2020.
Three new completed films will also be showcased to international film festival programmers and sales agents in closed screenings during TIFF. This year's selection comprises Paul Negoescu's fourth feature Men Of Deeds, Ioachim Stroe's psychological drama set in a seaside campsite in spring 2020 There Is No One Here, and Hungarian filmmaker Robert Lakatos' docu-comedy essay Whose Dog Am I? which was produced as a Hungarian-Romanian co-production between Rita Balogh's Other Films and Ada and Alexandru Solomon's MicroFilm.
Drama Room and First Cut Lab
Meanwhile, two initiatives introduced to the TIFF Industry programme in 2021, Drama Room and First Cut Lab, are now firmly in the line-up.
Drama Room's pilot edition last year in collaboration with MIDPOINT and HBO Europe offered 15 participants a three-day programme of online tutoring sessions and case studies. This year's partnership with Netflix Romania sees the initiative become more of an introduction to the basics of series development and one-to-one mentorship for five selected Romania projects.
"We received 36 submissions and the selection process took longer than expected as we had so many interesting projects with huge potential," Lupu explains
One of the selected projects is Alex Tibu and Serban Racoviteanu's Dark Histories that had already been to TIFF last year when it participated in the first edition of the Full Moon Script Contest. It won the Best Pilot Award in the series/mini-series category for projects in the horror, fantasy, thriller or black comedy genres.
Film producer and Torino Lab head of studies Eilon Ratzkovsky will serve as Drama Room's main tutor, with Netflix executives Anna Nagler, director of local languages original series, Central and Eastern Europe, and Christopher Mack, director for creative growth for Network international originals working together with the participants in a one-day workshop.
In addition, Slovenian producer Ales Pavlin will present a case study of the series The Last Socialist Artefact which played in competition at Series Mania in autumn 2021.
As of June 16, organisers of the second edition of First Cut Lab workshop had yet to announce the titles of the two selected projects, with one understood to be coming from an Ukrainian production company. The two rough cuts will receive expert feedback on their edit from the Polish film editor Agnieszka Glinska, whose work on Jerzy Skolimowski's Eo and the Un Certain Regard title The Silent Twins could be seen in Cannes last month, as well as Romanian producer Gabi Suciu, whose credits include Blue Moon, and sales agent Daniela Cölle of Berlin-based Pluto Films which has handled international sales on five First Cut Lab films in the past.
The first selection made for the First Cut Lab last year has already borne fruit: Monica Stan and George Chiper-Lillemark's debut Imaculat went on to have its world premiere in Venice's Giornate degli Autori section last September where it won the Lion of the Future for best debut feature.
And Paul Negoescu's Men Of Deeds is now one of the Romanian films featured in this year's line-up of closed screenings targeted at festival programmers and sales agents.
Transilvania Talent Lab
Another initiative specifically dedicated to supporting local talents is the Transilvania Talent Lab. For the last few years it had focused on the work of cinema managers but is returning to its original format for 2022, which sees it open to young filmmakers from all fields of the industry.
"We want to boost the creative industry in the Transilvania region by giving talents the resources, people and knowledge to kickstart their careers, initiate and produce new projects and create or broaden their (inter)national network," says Lupu. "We will continue to support the training of cinema managers from the region through our collaboration with Europa Cinemas on the Innovation Day Lab workshop."
TIFF president Tudor Giurgiu, artistic director Mihai Chirilov and festival manager Oana Giurgiu will be among those taking part in the talents' journey by holding masterclasses with the participants.
In the short term, the Talent Lab aims to become a year-long tailor-made programme where the festival supports each talent on to the next stage in the filmmaking careers.
The next generation of filmmakers is also the focus of the Goethe Institut-backed First Films First (FFF) training programme which will be returning to Cluj for the first module of its seventh generation of Southeast European film directors who are working on the development of their first feature-length films Eight projects by filmmakers from Bulgaria, Serbia, Slovenia, Greece, Montenegro, Romania and Cyprus have been selected from 94 submissions for this year's intake.
The module in Cluj is called Developing Stories to Scripts and is followed by another two sessions during the Manaki Brothers Festival in Northern Macedonia and the Auteur Film Festival in Belgrade respectively. The programme is rounded off with the public pitching of the projects during the Sofia Meetings next March.
This year, participants will have a chance to see alumnus Stefan Constantinescu's debut Man and Dog which had its world premiere at the Göteborg Film Festival at the beginning of this year and will now be having its Romanian national premiere in the Romanian Days competition during TIFF.