SCREEN SUBSCRIBERS: The UK's VFX facilities are growing on the back of rising global demand. But how is the pressure to meet deadlines affecting business models and employees?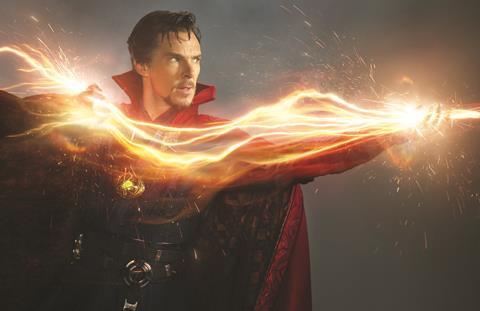 As the complexity and scale of visual-effects productions has rocketed, the UK's VFX post-production shops have morphed from cottage industry to multi-national enterprise. The films that ushered in the era of computer-generated imagery, Terminator 2: Judgement Day (1991) and Jurassic Park (1993), each contained around 50 VFX shots. By comparison, 2009's Terminator Salvation used 1,250 shots, and 2015's top-performing release Jurassic World boasted more than 2,000.
"Companies like us need scale even to win partial awards," says Fiona Walkinshaw, Framestore's joint managing director, film.
Framestore was founded at the dawn of CGI in 1986 and now employs 1,000 people in London, New York, Los Angeles and Montreal.
The VFX sector in the UK has undergone a great deal of consolidation in recent years. Double Negative started out as a boutique operation in 1998 with 30 staff, before merging with Prime Focus World's creative services subsidiary in June 2014 to create the world's largest visual-effects company with around 4,500 employees.
In July 2015, Cinesite acquired Vancouver's Image Engine, contributor of shots for Jurassic World; and Technicolor, owner of MPC, paid $276m (£190m) in September for short-form VFX giant, The Mill.
Cinesite's expansion strategy began with the opening of an animation studio in Montreal in mid-2014, creating 250 jobs and raising its global headcount to more than 400.
"With a footprint in Vancouver, Montreal and London, we have close to 800 people and we can ramp up production to meet larger VFX tenders," says Cinesite's managing director Antony Hunt. "There are cost savings too in using similar software tools and pipelines without having to outlay huge new expenditure on equipment."
The most successful global films are so often VFX-heavy titles. Marvel's Avengers: Age Of Ultron featured more than 3,000 VFX shots, the most for any studio release, and its in-production titles Doctor Strange and Guardians Of The Galaxy 2 (whose predecessor contained 2,750 shots) could soon eclipse it.
VFX software and skills are increasingly important to other kinds of films, too. Cinesite created 138 photoreal environment shots for The Revenant, while Warner Bros tasked Framestore with completing digital jungle and forests for Jungle Book: Origins, to save the expense of shooting on location.
It is rare for a studio to entrust this amount of work to a single outfit — Age Of Ultron, for example, featured the work of 12 VFX houses. Instead, a studio will usually book multiple shops to achieve both scale and access to financial rebates.
Canadian cities and states have been competing with each other to provide the most enticing incentives, luring productions such as The Lego Movie sequel. British Columbia has been most aggressive, offering a 17.5% specific digital animation and VFX rebate on top of the Canadian government's 33% film and TV production credits. Sony Pictures Imageworks relocated to Vancouver from Culver City while ILM, Digital Domain, Cinesite and MPC also operate from the city.
The UK offers 25% tax relief, boosted last April when the qualification to receive it was reduced to 10% of the total production budget. "We can't control where a studio will go but since all [rival facilities] bid on the same work that means having a foot in key markets," says Hunt. "A production might shoot 80% of physical work in the UK to maximise tax breaks but post-produce in Canada to gain financial advantage there."
"Scale is important if you have severe deadlines and you know they can throw people at it. But talent, reputation, cost and availability are equally valid criteria," confirms visual-effects producer Barrie Hemsley, who assigned VFX sequences for The Martian to facilities including ILM, MPC and Framestore.
"Having access to rebates may help you get the job done for the money, but a smaller facility specialising in a certain skillset is also worth considering," he adds.
Profit margins are under pressure regardless of size but, as facilities expand, the pressure rises to win work and pay high numbers of salaried staff. "Wages are 50% of overheads," says Lucy Ainsworth-Taylor, managing director and founder of Soho-based Bluebolt, which employs 65 artists. "They all have to be working. We cannot afford to carry any dead wood."
Facilities must also continually update their software and storage systems. UK companies also bear the burden of Soho's sky-high rent.
"You need to be near the post houses doing DI [digital intermediate] so you have to be in Soho," explains Ainsworth-Taylor. "But how do you offer value for money with enormous overheads and crippling rent?" Ainsworth-Taylor intends to keep Bluebolt operating 50/50 between film and TV VFX, and to select projects that allow her to maintain the company at its present size.
"The cost, complexity and scale required of post houses for tentpole movies is huge and post-production deadlines so narrow you need big resources to push them through," says Hunt. "The post period is so compressed studios don't tend to put 1,000 shots through one facility. Because of the pressure on post, they spread the load."
Pushing the limits
The VFX industry learnt a lesson following the 2013 collapse of prestigious Los Angeles facility Rhythm & Hues, which won an Oscar for Life Of Pi.
"You have got to know when to stand up to a client," says Ainsworth-Taylor. "Never agree to a deal without checking that everything can be achieved on time or without anticipating last-minute changes."
"The business is very pressurised, driven by deadlines and clients changing their minds at the last minute," says Walkinshaw. "The director and the studio are always pushing for what they believe is the best possible cut and VFX can only respond to that. It's always a negotiation but hopefully, after having worked with a client for a year, you can work it through."
Manning divisions in different time zones, often with less expensive labour, can enable a VFX facility to operate around the clock. MPC has an outpost in Bangalore and Double Negative recently established a base in Mumbai (it already has a facility in Singapore) with work on The Huntsman: Winter's War for Universal already booked.
But there are concerns that deadline pressures can have a knock-on effect on staff, particularly in unpaid overtime. The UK's broadcast and cinema union BECTU launched a campaign targeting this last September and says membership has "rocketed" as a result.
"Our members don't believe their management are managing them well," claims Paul Evans, BECTU national officer.
"Hundreds have joined, which is a sign of the strength of feeling." BECTU has amassed the 50% of workforce (around 65 members) it says it needs to solicit trade union recognition at MPC's compositing department. That would mean that legally BECTU could bargain collectively on behalf of those employees on overtime pay.
Evans says membership is also rising at facilities including Framestore and Double Negative, which could lead to demand for recognition. "Studios are aware their actions have consequences but they are not looking to sting people out of pay," says Hemsley.
"They do expect to get what they paid for, in time and at the right quality and they'll demand changes to perfect the picture. The problem is that those doing the work will inevitably suffer from unrealistic deadlines. No-one is ever asked not to work late to change a shot — they just want to know if it's possible. Ultimately, it is the responsibility of vendors in post to manage this."
A stake in production
UK VFX facilities are diversifying as a strategy for growth, some identifying development of their own intellectual property (IP) as a business opportunity.
Cinesite, Double Negative and Framestore have launched animation arms with mixed results. Framestore Feature Animation co-produced The Tale Of Despereaux (pictured) for Universal in 2008, but has not followed this up. Framestore's Fiona Walkinshaw suggests the company's IP lies in projects such as Light Box, the LED-lit studio it designed with cinematographer Emmanuel Lubezki to make Gravity.
In April 2014, Double Negative simultaneously launched a feature film and feature animation arm. The former was billed as providing VFX support and investment to UK-qualifying productions in the $2.9m-$14.6m (£2m-£10m) range in partnership with Apollo Productions.
The latter, Locksmith Animation, was described as the UK's first dedicated high-end CG feature animation studio and backed by Elisabeth Murdoch with former Aardman creative director Sarah Smith at the helm. Neither has yet announced any projects.
Charming, due this year, is the first fruit of a production pact between Cinesite and Shrek producer John H Williams' 3QU Media, produced out of Cinesite's Montreal studio.
"This is an important step in Cinesite's strategy to develop our own creative intellectual property and a slate of original animated films," says Hunt.
In addition, the facility is opening a new Animation Studio in Montréal to employ 500 staff and work on getting nine feature animated films into production by 2020. Announced titles include Klaus, co-produced by SPA Studios and Atresmedia Cine and an animated feature version of the stage hit Riverdance.
Technicolor is putting its weight behind virtual reality. Its acquisition of The Mill capped a 18-month spending spree that saw it buy Toronto film and TV VFX outfit Mr X and Paris animation and VFX specialist Mikros Image.