US box office in 2019 may not quite match the giddy heights of 2018, but its powerful performance is overwhelmingly down to the contribution of just one studio.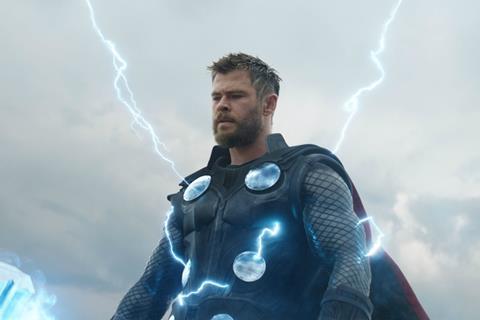 Disney's remarkable performance was the US box-office story of the year, while other studios enjoyed success too. The typically tumultuous 12 months is rumbling towards a low $11bn finish that could see 2019 rank second in the all-time pantheon behind last year's record-breaker.
Many observers have said we may never again see such dominance by a studio in a 12-month period. That is debatable, but this was a perfect storm for the Mouse House, whose releases (not including 20th Century Fox films, which add roughly $500m in North America) propelled Hollywood's overall box office to $10.54bn through December 15, roughly 5.4% behind the year-ago level at time of writing. There were still three weekends of the year left and Star Wars: The Rise Of Skywalker projected to open on more than $200m.
This was the year Disney/Marvel's Avengers: Endgame established the highest opening weekend in history on $357m and finished on $858m in North America to rank as the highest grossing release of 2019. A carefully engineered re-release in North America saw it overtake Avatar to become the highest grossing global release of all time on $2.8bn. The number is not adjusted for inflation.
Hero complex
Endgame was one of a record six Disney releases to cross $1bn at the global box office, joined by Captain Marvel, Toy Story 4 (the highest-grossing animation of the year and top G-rated North American release ever on $434m), Aladdin, The Lion King and Frozen II. Four of the six grossed more than $400m in North America (Aladdin finished on $355m, while Frozen II on $366m could yet cross $400m). These Disney films all ended up in the top 10 and this utter domination helped the studio claim a 31.6% market share through December 12.
The central element in Disney's success was evident at other studios too. The four non-Disney interlopers in that top 10 were Sony's Spider-Man: Far From Home at number five on $391m; Warner Bros' Joker and It Chapter Two at eight and nine on $333m and $212m respectively; and Universal's Us, the only original film in the top 10, at number 10 on $175m.
Through December 12, Warner Bros films generated $1.54bn for a 14.8% share; Universal $1.47bn for 14.1%; Sony $1.11bn for 10.6%; Lionsgate $710.5m for 6.8%; Paramount $561.8m for 5.4%; and Fox $518.6m for a 4.9% share.
Clearly the name of the game continues to be tentpoles and Hollywood has not been shy in rolling out sequels, reboots and spin-offs. Sony is looking like a resurgent major under the motion picture division stewardship of the indefatigable Tom Rothman after several years in the doldrums. Besides delivering in Spider-Man: Far From Home the studio's highest grossing global release ever on $1.13bn, there was the unadulterated success of Quentin Tarantino's awards heavyweight Once Upon A Time… In Hollywood, an original IP juggernaut that took $141m in North America. Hopes are high for Jumanji: The Next Level, which debuted on $59.3m.
Warner Bros gave the industry Joker, the first and only R-rated release to cross $1bn worldwide, which represents a huge win for a film that reportedly cost $60m to produce. Breakouts included Bong Joon Ho's South Korean dark comedy Parasite on $20.4m and counting through Neon.
Another pleasant surprise was Focus Features' Downton Abbey on $96.8m, part of a robust Universal Pictures stable that has once again presented a diverse slate with noted successes in Jordan Peele's original horror Us and Fast & Furious spin-off Hobbs & Shaw. The latter roared to $174m and more than three-quarters of a billion dollars globally.
Lionsgate delivered the goods with John Wick: Chapter 3 - Parabellum over the summer, a $171m smash that put smiles on the faces of international independent buyers too and earned $156m outside North America. Holiday season release Knives Out has raced to $78.8m and counting. It was a tricky year for Para­mount, whose standout release was Rocketman on $96.4m, although it has Top Gun: Maverick to look forward to next year.
Fox contributed little to its relatively new owner Disney's bottom line, with James Mangold's awards contender Ford V Ferrari, starring Golden Globe and SAG nominee Christian Bale, the standout on $98.2m and counting. X-Men feature Dark Phoenix flopped on $65.8m.
Notable misses in 2019 included Warner Bros' Doctor Sleep ($31.3m), Sony's Charlie's Angels ($17.6m) and Paramount-Skydance's Terminator: Dark Fate ($62.1m). Men In Black: International for Sony on $80m, and Paramount's Gemini Man on $48.5m and Dora And The Lost City Of Gold on $60.5m also disappointed. Booksmart stumbled on $22.7m via United Artists Releasing, while pricey Sundance acquisition Late Night proved that timing and marketing are everything as it laboured to $15.5m for Amazon Studios.
Persistent trade reports about a 'down' year at the box office paint a misleading picture. Yes, the overall trend for admissions has been a gradual decline since 2002 (latest figures from the National Association of Theatre Owners put admissions at approximately 935 million through the third quarter; 2018 finished on 1.3 billion overall) and inflated ticket prices prop up the numbers, but this year could end up as the second highest ever for box office behind 2018.
"Last year was an outlier," notes Paul Dergarabedian, senior media analyst at Comscore. "It was an insane year at $11.9bn in North America and well over $40bn for the world. But when compared with 2017, we're actually running about 4% ahead."
Still to play
Some observers say 2019 could finish on approximately $11.5bn. There are still plenty of tickets to be sold by Disney/Lucasfilm's The Rise Of Skywalker, Sony's Jumanji sequel and possibly Universal's Cats, which remains an unknown quantity at time of writing.
Since 2014, every box-office year has delivered $11bn-plus results. "That's very robust for something as volatile as this sector, where the product changes every weekend," notes Dergarabedian.
Amid a flurry of new streaming platforms joining established players such as Netflix, Amazon Prime Video and Hulu, the analyst says we should not be fooled. "The notion that the movie industry is down because of streaming is completely misguided, but we have to be aware that what streaming does is it puts a bigger pressure on that in-theatre entertainment to deliver the goods every time out of the gate because there's so much competition. But if they deliver, people want to go."
Dergarabedian remains upbeat on admissions and says a gradual slide is a "win", all things considered. "We are not living in a world where there's no competition. Back in 1940 there was radio and you couldn't even see a sporting event at night. We're in a super-charged entertainment-driven world with more platforms offering more content than ever before. Movie theatres are creating a great environment but they're at the mercy of the movies themselves."