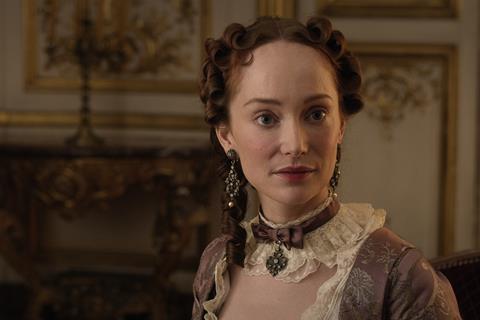 Critics' Week Highlights
The seven films in competition and two out of competition playing in the 35th edition of International Film Critics' Week — the independent festival strand created by the Italian film critics' union — straddle themes including teenage suicide, civil war and homelessness. Debut features for their directors in eight out of nine cases, they include Thou Shalt Not Hate (sales by Intramovies) from Italy's Mauro Mancini, the story of an Italian-Jewish surgeon who encounters the victim of a hit-and-run but walks away when he discovers a Nazi tattoo on the man's chest.
Kiev-born Natalya Vorozhbit has already established her reputation as a playwright, TV writer (Russian series Schools) and screenwriter of three features. She now makes her feature directing debut with Bad Roads (Reason8 Films), combining four short stories set along the roads of Donbass during Ukraine's civil conflict, and adapted from her 2017 London Royal Court stage play of the same name.
Istanbul-born Azra Deniz Okyay studied at the Sorbonne and worked at Michel Gondry's Partizan Productions before a career at advertising production company Depo. Ghosts (MPM Premium) focuses on four characters in intertwined stories that play out against a background of gentrification in the 'New Turkey'.
Films from Italian directors open and close the festival out of competition. Carlo S Hintermann, who played in Venice in 2002 as one of four directors responsible for feature documentary Rosy-Fingered Dawn: A Film On Terrence Malick, opens Critics' Week with his debut drama The Book Of Vision (Celluloid Dreams), about a doctor whose life changes when she discovers a manuscript by an 18th-century physicist.
Closing the sidebar is documentary The Rossellinis (Cinephil), from Alessandro Rossellini, grandson of legendary Italian director Roberto Rossellini (1906-77). Aged 55 and feeling he is not living up to the family name, Alessandro forces his family into what is billed as "an impossible therapy in front of the camera".
All Critics' Week debut films are eligible to compete for the official festival's $100,000 Lion of the Future prize, which is shared between the director and the producer.
Giornate degli Autori Highlights
Modelled on Directors' Fortnight at Cannes, the Giornate degli Autori independent sidebar (formerly Venice Days) is promoted by the association of Italian film directors (ANAC) and creators across various disciplines (under the banner 100autori), and offers a $24,000 (€20,000) cash prize shared by the filmmaker and international distributor to promote the winning film internationally.
The 10-film competition opens with Honey Cigar from Kamir Aïnouz, who had a joint writing credit on French filmmaker Lisa Azuelos' 2012 feature LOL, starring Miley Cyrus. Set in Paris in 1993, Honey Cigar (sales via Best Friend Forever) focuses on a 17-year-old from a middle-class, secular Berber family, who discovers the impact of patriarchal rules on her intimacy when she falls in love.
Following a 2014 Karlovy Vary launch for his debut narrative feature Barbarians, Serbia's Ivan Ikic makes his Venice debut with Oasis (Heretic Outreach), a love-triangle drama set in an institution for young people with mental disabilities.
From Chile's Rodrigo Sepulveda (Aurora), My Tender Matador (Grandave Capital) portrays a passionate relationship between a lonely transvestite and a young guerrilla during the Pinochet dictatorship in the 1980s. Italian filmmaker brothers Gianluca and Massimiliano De Serio, who debuted their illegal-immigrant drama Seven Acts Of Mercy at Locarno in 2011, now offer The Stonebreaker (Shellac Films), the story of an exploited labourer in Italy's south raising his young son after the sudden death of the boy's mother.
The only Giornate degli Autori selection that is also set for Toronto (playing there in Contemporary World Cinema, see page 51) is Preparations To Be Together For An Unknown Period Of Time (NFI World Sales) from Hungary's Lili Horvat. The section closes with an out of competition slot for Saint‑Narcisse (Best Friend Forever), the latest from Canada's Bruce LaBruce. The director of Super 8½ and Hustler White now delivers this 1972-set "queer comedy fantasy" about a narcissistic young man who discovers his twin brother lives in a remote monastery run by a depraved priest.
Profiles by Ben Dalton, Charles Gant, Melanie Goodfellow, Jeremy Kay, Lee Marshall, Wendy Mitchell, Michael Rosser, Silvia Wong