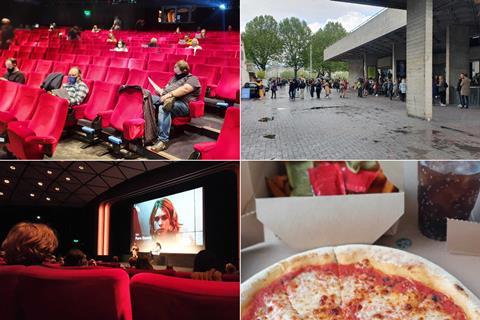 Cinemagoing has changed across the course of the pandemic, with closures, restricted capacities and new safety measures.
Venues across the majority of the UK have been allowed to reopen since May 17; members of the Screen team made a trip to their local venues to test out the new experience.
BFI Southbank
Rare Beasts + Q&A – Saturday May 22, 5.15pm
Tickets: Purchased online for very popular screening – bought the only one available, which was due to a return.
Entrance: Audience required to queue outside prior to screening, unfortunately in biting wind and rain. Not ideal, especially for older attendees. All attendees required to check in via NHS app; hand sanitiser provided.
Staff: Numerous staff present, both outside for the queue and inside the venue showing patrons to seats. All staff extremely friendly and helpful. The screening and subsequent Q&A were introduced by a member of BFI staff.
Masks: Masks required at all times inside bar those exempt and for eating/drinking. One patron who removed their mask pre-screening was asked to put it back on, in a very polite and friendly manner.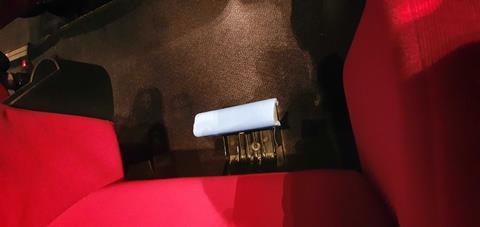 Seating: Two seats left empty between each seat, with seats removed and nifty foam protectors on the vacant seat bars to protect legs. Seats staggered so no-one was directly adjacent in front and behind.
Food & drink: A full menu from the BFI Riverfront café was available from the walk-up booth outside, and permitted to take inside. The indoor BFI bar and kitchen is currently closed.
Anything else: There was an excellent post-screening Q&A with director Billie Piper, hosted by surprise guest Lena Dunham, although it was perhaps a shame that audience questions were not permitted – apparently for Covid safety reasons, although there was no explanation of what these were. Production notes and a director's statement were provided for all attendees via print-outs. In the absence of any film trailers, a short video celebrating the Culture Recovery Fund's support of independent venues ran pre-screening.
Ben Dalton
Everyman Muswell Hill
The Human Voice + Q&A – Wednesday May 19, 6.15pm
Tickets: I booked online and it was pretty seamless. The Everyman site gets top marks in my book in terms of the ease and efficiency of choosing seats, paying and receiving a code by email. I couldn't spot any changes to its booking system from the last time I saw something there, which was pre-pandemic.
Staff: A masked Everyman employee with a hand-held ticket machine checked my confirmation email and directed me to go straight to my seat, explaining that all food and drink orders were being taken from seats rather than the bar. "So go park your bum and someone will come shortly," she said cheerfully, and handed me a menu. When the usual greeting was made by another masked Everyman employee before the film started – "Welcome back again to the Everyman Muswell Hill…" – one audience member shouted "Woo-hoo!".
Masks: All staff were wearing masks. But many in the audience removed their masks during the film.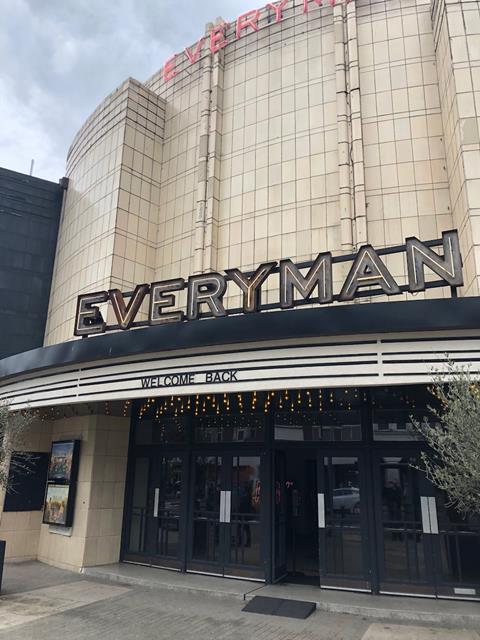 Seating: The cinemas was at slightly less than 50% capacity, and I had empty sofas on both sides of where I was sitting.
Food & drink: It couldn't have been easier, with a masked employee – keeping their social distance – taking my order via contactless payment, and food and drink arriving swiftly after. With its sofa seating and tables, Everyman is set up for in-cinema food and drink consumption.
Anything else: The film was gorgeous and hypnotic but mainly it was just intoxicating to be back in a cinema enjoying the communal experience of watching a story unfold on screen. One slight downside: paying £18.80 (including a £1.90 booking fee) for the pleasure of watching a 30-minute short. Even with the "exclusive" Mark Kermode-hosted Zoom Q&A with Pedro Almodovar and Tilda Swinton that followed, it did feel steep. But the joy at being back far outweighed that concern, and while I can't read minds, I would say everyone in that auditorium was more than happy to pay it to keep the Everyman Muswell Hill a going concern in our neighbourhood.
Matt Mueller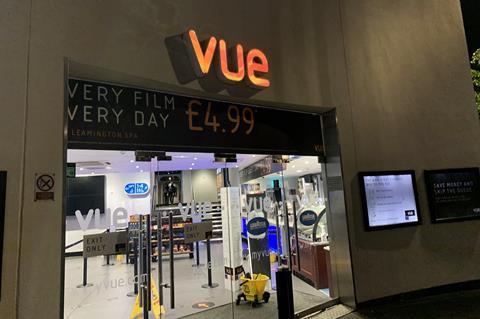 Vue Leamington Spa
Godzilla Vs. Kong – Friday May 21, 9.30pm
Tickets: I purchased online, where I was told number of seats in use and had to leave name and address for contact tracing. Purchase on-site was possible if you signed in with NHS app.
Entrance: A one-way system throughout; hand sanitisers available by ticket machines. We were told on screen before the film that someone would be there at the end to help us leave safely, but no-one was.
Staff: The whole venue felt pretty empty – the only staff member present in the foyer was on the food counter. You could print your ticket and walk into the cinema without going near anyone. Some of this may be due to my screening being the second-last of the night.
Masks: Pre-screening, a sign told people to wear masks, which people did.
Seating: Half of the rows were off-limits; 14 people were present from 21 available seats – not bad for a late-night screening of a film that has been available on VoD for some time.
Food & drink: Drinks and confectionary were available to buy and take in.
Anything else: There were no trailers before the film. Not sure if this was just an issue with my screening, but seemed like a missed opportunity. A positive was that all tickets over the weekend at this site cost £4.99 – Vue's 'super-saver' rate – which seems to be continuing throughout the week.
Orlando Parfitt
Ciné Lumière
My Donkey, My Lover & I – Friday May 21, 8.35pm
Tickets: An online booking and e-ticketing system is in place with reduced booking fee to encourage usage. I used it, and it was easy and painless; although on-site booking was available.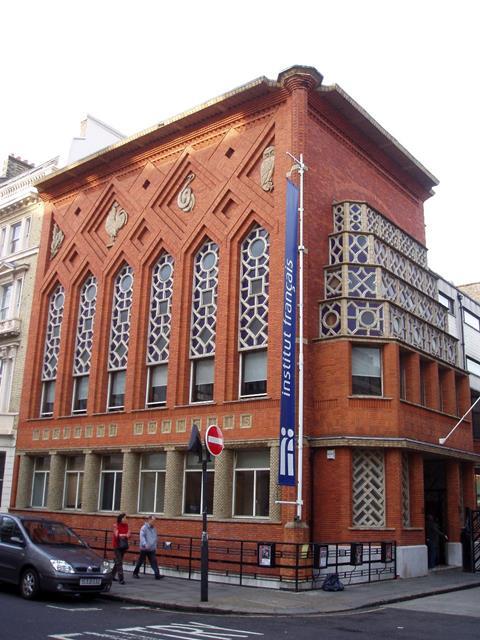 Entrance: Via the Institut Français' double-height art deco foyer which completed renovation during lockdown – overcrowding is not an issue. Staggered film start times prevent spectators crossing paths.
Staff: Plenty of staff around the building – I didn't see anyone checking if spectators were keeping masks on, but people seemed to be complying voluntarily.
Masks: Mask-wearing was mandatory and everyone seemed to keep them on.
Seating: There was a gap between every friend or family bubble. The cashier told me they had sold 62 tickets for my screening in the main theatre which seats 225 without distancing. "It's not bad given cinemas are just reopening but it's usually more full – it's nothing like France, where my mother told me people were queuing around the block," she said.
Food & drink: The Ciné Lumière does not run a concessions stand so you have to smuggle in your own pick and mix but you can stop off at the Institut's Café Tangerine for food or a glass of wine before heading into the theatre.
Anything else: It was a joy to be back in the cinema. I will be back again soon.
Melanie Goodfellow
Vue Guildford
Nomadland – Monday May 17, 4.45pm
Tickets: Vue would prefer if you booked online and if you did the experience was seamless – no need to print out a ticket anymore, just show and scan at the entrance. Those who didn't book online were queuing but there were few of them.
Entrance: It was gleaming. Obviously the team had been working hard because the previous week it had been overgrown with weeds and behind a separate construction site.
Staff: Peter Rabbit 2 let out the kids through a separate exit in a stream of welcome energy, guided by lots of staff as clean and eager as the venue itself.
Seating: Spaces between groups, with a very healthy attendance for that time of day. Normally it's just me and the odd granny at that Vue but it was 50% full. Older demographic but some students from nearby University of Surrey.
Anything else: Total, 100% silence throughout the film – never happened before. I felt guilty about sipping my tea.
Fionnuala Halligan
East Dulwich Picturehouse and Café
Judas And The Black Messiah – Friday May 21, 6.45pm
Tickets: It was easy to purchase tickets online; tickets were selling quickly with few available.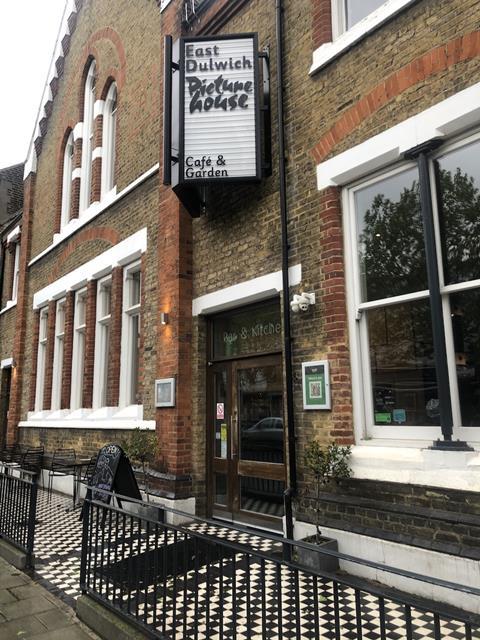 Entrance: Hand sanitiser provided and required upon entrance. There were no queues at the box office; there was staggered entry to the screens, a few people were sat in the café before the screening.
Staff: Three staff were working and available, with two on box office and the other in the screen.
Masks: Masks were required in the foyer and toilets, with only four people allowed in the latter at a time. Mask-wearing was not enforced by staff in the screen.
Seating: Gaps between seats were ensured; most available seats were filled, with groups of three and more common among attendees.
Food & drink: Easy to purchase, and allowed to be taken into the screening.
Anything else: A smooth process with few changes to pre-lockdown
Melissa Kasule