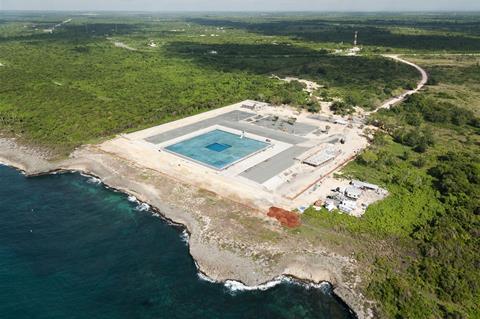 Book early to avoid disappointment. The mantra associated with everything from holidays and concerts to restaurant reservations and theatre shows now applies to shooting in the Dominican Republic.
With financial incentives, world class facilities and diverse locations the Caribbean nation is rapidly climbing the ranks as one of the most sought after filming locations. At the forefront of the growth in popularity is Lantica Media, an innovative media company that provides world class studio facilities and production services across the entertainment industry.
The government slashed withholding tax in 2018 — a retention applied to all foreign hires that receive any work compensation through the Dominican Republic — to 1.5% from 27% and has a transferable tax credit of 25% on qualified expenditure for international productions shooting in the Dominican Republic.
Because the DR film incentive spans both above and below the line expenses of foreign cast and crew, productions have to be paid through a Dominican Republic company. The dramatic reduction is an exclusive benefit for productions using Lantica Media.
"We have seen our incredible island thrive out of the film industry. We had big dreams when the film law was passed in 2011 and we now we see ourselves as the place to be to make content in Latin America," explains Lantica Media chief operating officer Albert Martínez Martín. "And it makes sense, you will not find more passionate people, better infrastructure, and a fantastic incentive, all in the most beautiful place you can imagine."
Servicing everything from film and television productions to documentaries, reality tv shows and music videos, Lantica Media's operating units include Pinewood Dominican Republic Studios, Lantica Production Services and Lantica Pictures, a joint venture that finances and produces original content for Spanish language audiences. (Lantica Media is a company in the MediaNet Partners Investment Fund co-managed by MediaNet Partners and Inicia.)
It is not just the financial incentives attracting productions to the Dominican Republic: The Horizon Water Tank, situated within Pinewood Dominican Republic Studios, is an eight-acre water facility that includes a 60,500 sq. ft horizon water tank with 4,300 sq. ft inner deep tank and blue screen.
One of the most modern in the world, it can be filled in just 12 hours (most tanks take a day to fill). With the Caribbean Sea as a backdrop, it offers an infinity effect and is ran by a team of marine coordination trained at Pinewood U.K.
Underwater thriller 47 Meters Down: Uncaged, xXx: Return of Xander Cage staring Vin Diesel and The I-Land, a sci-fi adventure series from Netflix, are among recent productions to have dived into the tank.
Situated two hours south of Miami, less than four hours from New York and eight from most European cities, Dominican Republic offers a diverse portfolio of shooting locations including stunning beaches, historic architecture, rural and desert locations. The island's landscapes, water ways and towns have doubled up for Jamaica, Vietnam, Philippines, Cuba and Colombia among others.
The BBC adaptation of Andrea Levy's award-winning novel The Long Song, which unfolds on a 19th century Jamaican plantation, shot on location in the Dominican Republic. It made good use of the competitive tax credit incentive, an experienced 180 strong local crew and the locations including tropical vegetation and cane fields, historical villages, unique market places, churches and an amphitheatre already been made famous in The Godfather Part II and Apocalypse Now.
In the past five years, Netflix, Turner, NBC Universal, Heyday Films, Annapurna, See Saw Films, Paramount, and Endeavor Content have been among the companies using the Dominican Republic's diverse portfolio of locations as the backdrops to their projects, many of them serviced by Lantica Media.
The company says the Dominican Republic can handle two big scale productions at once with class A crews so book early to avoid disappointment.
Says Martín: "We love what we do and it shows."