A Brazilian feature wins at the animation festival for the second consecutive year; market reports record high.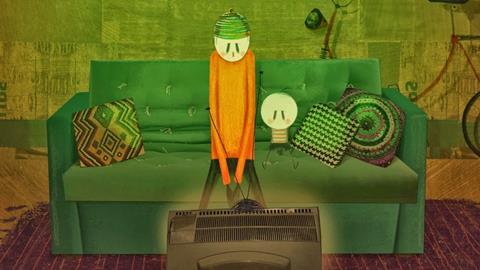 Scroll down for full list of winners
Brazilian director Ale Abreu's The Boy and the World, about a child who heads to the city in search of his father, has won both the Crystal Award and Audience Award for the best feature-length film at the 38th edition of the Annecy International Animation Festival.
"The rising strength of Brazilian animation is confirmed. The Boy and The World's double honours signal yet again the vitality of this cinematography," said the festival's artistic director, Marcel Jean.
It is the second year in a row that a Brazilian film has won the top prize. Last year, Luiz Bolognesi's Rio 2096, capturing key periods in Brazil's history though a man who lives for 600 years, clinched the Crystal for best feature.
In other awards, the Jury Prize for best feature went to Bill Plympton's Cheatin'. The jury also gave a special mention to Mizuho Nishikub's Giovanni's Island.
The Crystal for the best short film was clinched by Dahee Jeong's French-Korean production Man on the Chair, about a man in the midst of an existential crisis.
The Crystal for best television production was awarded to Burci Sankur and Geoffrey Godet's French production Tant de forets, a poetic work about deforestation inspired by a poem by the French poet Jacques Prevert.
Japanese Fuyu Arai's Tissue Animals picked up the Crystal for best-commissioned film, a promotional work for a paper manufacturer in which tissues are transformed via origami into a variety of animals.
British National Film and Television School (NFTS) alumna Daisy Jacobs' The Bigger Picture, a dark comedy about a son looking after his elderly mother, won the Crystal for best graduation film.
The festival reported that some 7,100 professionals from the world of animation from 73 countries had attended the event this year.
Highlights outside the competition included the opening night film Princess Kaguya in the presence of its celebrated Japanese director Isao Takahata in a rare international appearance.
Other buzz events included a sneak preview of Patrick Osborne's new short film Feast as well as extracts from Pete Docter's Inside Out for Pixar and Christian De Vita's migratory adventure Yellowbird, to which Ernest and Celestine co-director Benjamin Renner is attached as art director.
Market hits record high
The festival also reported that its International Market for Animation films (MIFA), which ran June 11-13, saw a 2% increase in overall accreditations to 2,450 and that the number of exhibitors rose by 13% to 513 companies – the highest number since the event's launch in 1985.
A total of 334 buyers, distributors and investors attended the market including representatives of Canal Plus, Cartoon Network, France Televisions, Disney Channel and the BBC.
The market, which will celebrate its 30th anniversary next, is scheduled to take place June 17-19 in 2015.
Annecy 2014 winners
Official Prizes
The Crystal for best feature
The Boy and The World by Ale Abreu (Brazil), prod. Filme de Papel
The Crystal for best short
Man on the Chair by Dahee Jeong (France, Korea), prod. Sacrebleu Productions
The Crystal for best TV production
Tant de forets by Bercu Sankur and Geoffrey Godet (France), prod. Tant Mieux Prod
The Crystal for best commissioned film
Tissue Animals by Fuyu Aral (Japan), prod. Robot Communications
The Crystal for best graduate film
The Bigger Picture by Daisy Jacobs (UK), prod. NFTS
Jury Prizes
Jury Prize for best feature
Cheatin' by Bill Plympton, prod. Plymtoons
Special Mention in feature length category
Giovanni's Island by Mizuho Nishikubo (Japan), prod. Production I.G
Jury Prize for best short film
Patch by Gerd Gockell (Germany, Switzerland), prod. Anigraf
Jury Special Mention (shorts)
Bus Stories by Tali (Canada), prod. NFB
Jury Special Mention (Shorts)
Absent Minded by Roberto Catani (Italy), prod. Ottomani A.C.
Jury Prize for best TV series
Tumble Leaf "Kite" by Drew Hodges (US), prod. Bix Pix Entertainment
Jury Prize for best TV special
The Scent of Carrots by Remi Durin, Arnaud Demuynck (France, Belgium, Switzerland), prod. Les Films du Nord
Jury Prize for best commissioned film
Peau "Instant T" by Perrine Faillet (France), prod. Peaumusic
Jury Prize for best graduate film
An Adventurous Afternoon by Ines Christine Geisser, Kirsten Carina Geisser (Germany), prod. Kunsthochshule Kassel
Jury Mention for a graduate film
The Age of Curious by Luca Toth (UK), prod. RCA
Other Prizes
Prix "Jean-Luc Xiberras" for first work
Hasta Santiago by Mauro Carraro (France, Switzerland), prod. Nadasdy Film
Audience Award for best feature
The Boy and the World by Ale Abreu, prod.
Audience Award for best short
Anatole's Little Saucepan by Eric Montchaud, prod. JPL Films
Off-Limits prize
Foreign Bodies by Nicolas Brault (Canada), prod. NFB
Prix Sacem for Original Music
Hasta Santiago by Mauro Carraro, Pierre Manchot (France, Switzerland), prod. Nadasdy Film
Fipresci Prize
No Fish Where To Go by Nicola Lemay, Janice Nadeau (Canada), prod. NFB
Gan Foundation distribution support prize for a Work in Progress
Adama by Simon Rouby (France), prod. Naia Sas, Pipangai Production and Gao Shan Pictures
Youth Jury Prize for short film
Bus Stories by Tali (Canada), prod. NFB
Youth Jury Prize for best graduate film
Interview by Mikkel Okholm (Denmark), prod. The Animation Workshop