UPDATED: A Colorado judge has granted the soul legend an injunction to stop Friday's screening of Amazing Grace.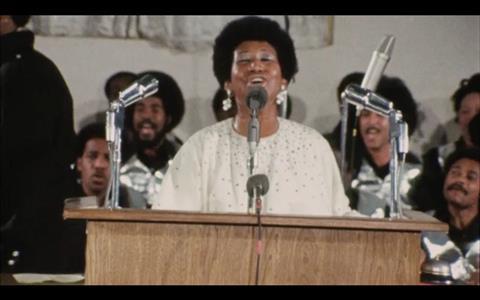 Telluride top brass have scheduled a sreening of Jennifer Peedom's Everest documentary Sherpa in its place on Friday night.
Franklin filed papers with the US District Court for the District of Colorado requesting an injunction against the screening of the 1972 concert footage shot by the late Sydney Pollack, claiming to have never granted permission for public release of the footage.
Judge John Kane on Friday afternoon granted the court order blocking the screening.
At time of writing the film was still set to play in Toronto on September 10. "We're proceeding with plans to screen Amazing Grace at TIFF," said TIFF Docs programmer Thom Powers. "We haven't heard of any legal procedures regarding the film in Toronto."
However the Chicago International Film Festival has decided not to screen the documentary during October 15-29 "..out of respect for the legal process ahead and Ms Franklin's wishes…"
Pollack filmed Franklin as she performed live at the Missionary Baptist Church in the South Central Los Angeles district of Watts but forgot to synchronise the sound track and the film was shelved.
A separate music recording from the concert also known as Amazing Grace remains the performer's biggest seller.
Franklin sued producer Alan Elliott in 2011 over the use of footage and the parties eventually settled the matter. After Pollack shot the footage it remained in the Warner Bros vaults until recently when Elliot hired a team to successfully sych sound and image.