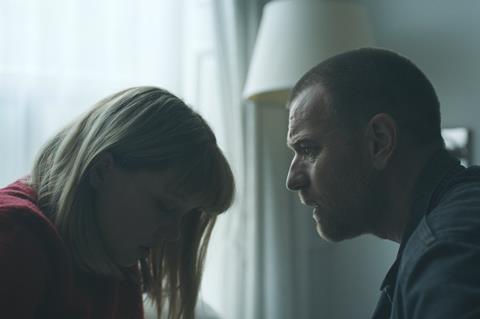 Liz Garbus' The Fourth Estate will close the 17th annual Tribeca Film Festival presented by AT&T and Drake Doremus' Zoe has been selected as the Centerpiece Gala, festival brass announced on Wednesday (March 7) as they unveiled a feature slate featuring a record 46% of films directed by women.
The Fourth Estate follows The New York Times' coverage of the Trump administration's first year, while sci-fi romance Zoe (pictured) stars Ewan McGregor, Léa Seydoux, Rashida Jones, and Theo James. The festival runs from April 18-29.
The line-up includes world premieres for Martin Freeman in zombie tale and Midnight selection Cargo from Ben Howling and Yolanda Ramke, and Saoirse Ronan in Spotlight entry The Seagull based on Michael Mayer's Chekhov adaptation.
The 2018 feature film programme includes 96 films (51 narrative, 45 documentaries) from 103 filmmakers. The line-up includes 75 world premieres, five international premieres, nine North American premieres, three US premieres, and four New York premieres from 27 countries.
The competition section features 12 documentaries, 10 US narratives and 10 international narratives. There are 14 Spotlight Narratives, 15 Spotlight documentaries; five Midnight selections, 16 Viewpoints selections; and 11 Special Screenings. Films in competition will compete for cash prizes totaling $165,000. The 6th annual Nora Ephron Award presented by Chanel will award a $25,000 prize to a woman who embodies the spirit and boldness of the late filmmaker.
The U.S. Narrative Competition includes world premieres for Ondi Timoner's Mapplethorpe starring Matt Smith as renowned photographer Robert Mapplethorpe; Kent Jones' character study Diane starring Mary Kay Place and produced by Oren Moverman; and Miguel Arteta's comedy Duck Butter, starring Alia Shawkat and Laia Costa as two disillusioned women who make an experimental romantic pact.
Among the Documentary Competition line-up are world premieres of Marco Proserpio's The Man Who Stole Banksy; Jeff Zimbalist and Michael Zimbalist's Momentum Generation; and No Greater Law by Tom Dumican.
The International Narrative Competition features the world premiere of Jamie Jones' UK drama Obey; and international premieres of Karen Gillan's The Party's Just Beginning; Che Sandoval's Dry Martina; and Ioana Uricaru's recent Berlinale Panorama entry Lemonade.
There are 46 first-time filmmakers, and 18 directors returning to the festival with their latest features. Tribeca's 2018 slate was culled from more than 8,789 submissions.
This year's Tribeca/ESPN Sports Film Festival, sponsored by Mohegan Sun includes five documentaries and one narrative feature film, as well as a shorts programme and more to be announced.
"We are proud to present a line-up that celebrates American diversity and welcomes new international voices in a time of cultural and social activism," Paula Weinstein, executive vice-president of Tribeca Enterprises, said. "Our films succeed in being both entertaining and illuminating which is what you desire from great storytellers."
"In a year that has reminded us more often of our divisions than our connections, this Festival's program embraces film's unique power to overcome differences – that connecting with stories not our own is the road into our deeply programmed human capacity for empathy and understanding," Cara Cusumano, Tribeca's director of programming, said.
"We hope that in representing a wealth of undiscovered stories and unique perspectives- including those of a record number of female directors- these 96 films offer a collective journey towards narrower divides and smaller obstacles."
"For our program this year, we have curated a selection of filmmakers whose distinct voices illuminate the world around us. Audiences can choose their cinematic journeys to faraway places or closer to home, to discover unique stories told with audacity and emotion and to get to know heroic, flawed, and lovable characters," artistic director Frédéric Boyer added.
"Our international Competition showcases bold, risky and stylish film voices. These new perspectives, with diversity of tone and approach, may inspire people to expand their opinions and offer some exciting visions of our world today."
The Tribeca Immersive lineup will be announced on March 8, the Short Films on March 13, and the Tribeca Talks, Tribeca TV and N.O.W. (New Online Work) line-ups in the coming weeks. Click here for the full announcement from Wednesday.