Dir/scr: Rona Burshtein. Israel. 2012. 90mins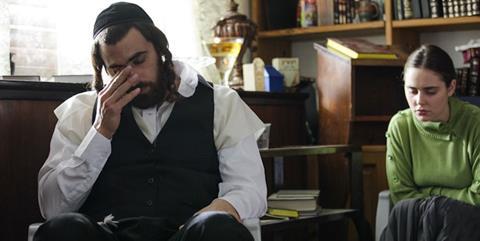 This intimate insider's look into the Jewish Orthodox community, a rarity on movie screens, comes from an unexpected source, given that Rona Burshtein who wrote and directed it is not only an upstanding member of this community but has absolutely no intention of changing her way of life after having made this film. Fill The Void (Lemale et Ha'Halal) is the story of an 18 year-old girl who is to marry against her will the husband of her late sister, it is made with the utmost care, affection and respect for its characters and will have considerable appeal to large audiences, not only for its evident ethnographic interest, but also for the moving, intense drama it deploys.
Burshtein conveys everything she needs with the utmost love, care and attention, helped by a well-chosen cast, intelligent use of camera and a meticulous choice of sets and costumes.
In the film's opening sequence, Shira Mendelman (a sparkling performance by newcomer Hadas Yaron), the exemplary daughter of a strict religious family, pretty, smart and vivacious, is about to peek at the boy she is to marry. She has never seen him, the families have arranged it all, but that doesn't matter.
She is thrilled to start a new life and looking forward for the betrothal procedures to start, when unexpectedly her gorgeous older sister Esther (Renana Raz), whom she dearly loves, dies in childbirth. The parents of the bereaved husband Yochay (Yiftach Klein), living in Belgium, are already seeking a new wife for him, for no man should be living alone and taking care of a baby.
Shira's mother Rivka (obsessively played by Irit Sheleg), desperate at the thought of having her grandson spirited away from her, organises the entire community to find a suitable match for Yochay, who seems too immersed in his own grief to care much who his next spouse will be. But no marriage candidates are found in Israel and it seems Yochay will have to leave for Belgium. Rivka, despondent at the prospect, decides the only solution is to have her younger daughter marry Yochay and thus keep the baby close to her.
Shira is devastated. All her youthful dreams of a fresh, unspoiled, marriage and a home of her own are to be shattered and she is fated now to fill in the house and the bed of her dead sibling. Her father (a surprisingly controlled Chaim Sharir, better known as one of the country's leading producers) hesitates. Rivka herself would rather persuade her than force her hand, and Yochay, surly and gruff, though he doesn't dislike the idea of getting such an attractive girl for himself, will not have her do anything against her better judgment.
With a secular person behind the camera, this could have easily turned into a tale of coercion and cruelty, a mother sacrificing her daughter to ease her own pain, but Burshtein invests far too much sympathy and understanding in her characters to stay on that level.
Probing deeper, she sees Rivka not just as a tyrannical matriarch imposing her wish on her helpless daughter, but as a tragic figure, a heartbroken woman driven to her actions by sheer despair. As for Shira, apparently a victim that has no other choice but to submit, she is strong-minded enough to turn down the proposal for a long time and when she finally considers doing it, it is only because compassion for her mother weighs as much as the vision she has had of her own future.
Deploying a kind of Jane Austen sensitivity with her characters, all of them chained to social rules and obligations that are beyond their control, using dialogue hides rather than reveals thoughts and intentions, Burshtein conveys everything she needs with the utmost love, care and attention, helped by a well-chosen cast, intelligent use of camera and a meticulous choice of sets and costumes.
While mother and daughter are evidently the two central figures here, there is a fascinatingly ambivalent rendering of the fresh widower, a kindly benign portrait of Shira's father and an image full of admiration for the world in which this story is taking place.

But Burshtein paints a perfect bubble that can last only as long as it has no contact with the world outside (no secular presence is allowed in here). Awkward questions such as the source of the Mendelmans' relative opulence, or for that matter, the entire economical system in which it exists, are avoided. Since Burshtein painstakingly underlines the background of the story, these are essential points and if, looking from inside the bubble, no one would wonder about such details, all those interested to find out more about it from outside, will no doubt like to know.
Production company: Norma Productions
International sales: The Match Factory, www.the-match-factory.com
Producer: Assaf Amir
Cinematography: Assaf Sudry
Editor: Sharon Elovic
Production designer: Ori Aminov
Music: Yitzhak Azulay
Main cast: Hadas Yaron, Yiftach Klein, Irit Sheleg, Chaim Sharir, Razia Israely, Hila Feldman, Renana Raz, Yael Tal