Dir. Carlos Carrera. Mexico. 2009. 120mins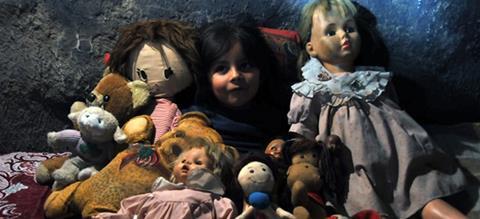 From Childhood is, technically, a masterwork - a fluid narrative with graceful steadicam shots as well as thrilling rapidly edited sequences. The content, however, might be problematic outside of Mexico, where it is sure to be a hit, though its dark themes and somewhat misanthropic tone will keep it from achieving the domestic box office that made The Crime of Padre Amaro a local record holder.
It's possible that its dynamism and generic blend will carry it to some foreign markets, most certainly in Spanish-language territories.
Arguably the most proficient Mexican filmmaker still living in his home country, Carlos Carrera has had a checkerboard career, shifting between animation, dark comedy (Benjamin's Mother), esoteric drama (Un Embrujo), and successful commercial social critique (Padre Amaro).
His new film (screened at the Guadalajara International Film Festival) is a volatile mix of crime thriller and family melodrama, its cynical edge might be its chief virtue as well as its principal defect. It boldly and astutely studies the blurred line between good and evil, but its mostly irredeemable characters will strike some as repellent. Concentrating on the subjects of death, the afterlife, contemporary violence, and the origins of sin, this film is Mexican through and through. It's possible that its dynamism and generic blend will carry it to some foreign markets, most certainly in Spanish-language territories.
Basilio (Alcazar) is a manipulative robber, abusive to his wife, Sofia (Zacarias), and three children and a traitor to his gang of lowlifes. On the lam, he has moved his family into an old warehouse in the poor Iztapalapa neighborhood of Mexico City. The film's focus is mostly on his curly-haired preadolescent son, Francisco (Emmanuel), who, like most of the children in the film, is no innocent. (He knifes a bully at school.)
The ghost of a teen criminal who is killed in a police shootout at the beginning of the film appears every so often to watch over the boy, even protecting him from a police bullet when the amoral Basilio uses him as a human shield during a robbery. (Oddly, it is never made clear what the relationship is between the guardian phantom and Francisco.) Nothing and no one are as they seem. The genteel father of a boy Francisco befriends turns out to be a child molester. The nasty godfather of Basilio's criminal crew shows heart, and even Basilio has a touching if unbelievably late moment of redemption. Even the kids' beloved pet cat drowns her kittens in the toilet.
Carrera and cinematographer Boege work wonders visually, with crane shots connecting police shootouts with the overall cityscape (these scenes are as good as anything in Hong Kong director Johnnie To's action films) and building facades and props used for effective blocking. The soundtrack is rich and diverse, with Montserrat Figueras's repeated operatic rendition of Jordi Savall's "Madre de deus" a chilling touch that adds a spiritual dimension to these rather earthy characters.
Production companies: Malayerba Producciones, Seguros BBVA, Bancomer-Eficine 226, FIDECINE / Argos Cine / EFD
International sales: Javier Patron Fox, Malayerba Producciones, javierpatron@mac.com
Producers: Oscar Patron Fox, Ignacio Ortiz Cruz, Carlos Carrera
Screenplay: Silvia Pasternac, Fernando Leon, Carlos Carrera
Cinematography: Martin Boege
Editor: Oscar Figueroa Jara
Production design: Salvador Parra
Music: Camilo Froideval, Raul Vizzi
Main cast: Damian Alcazar, Giovanna Zacarias, Benny Emmanuel, Ernesto Gomez C. , Alicia Jaziz Sapien