A string of French comedies, led by Dany Boon's Welcome To The Sticks, have scored recent hits overseas bucking the widely accepted trend that local comedies don't travel. Geoffrey MacNab reports.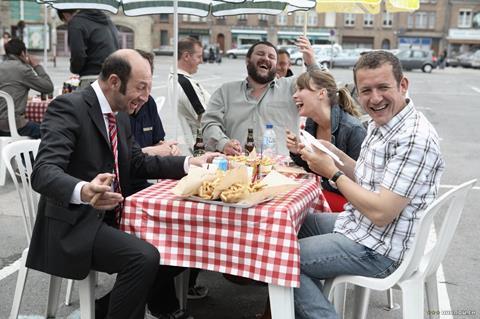 Conventional wisdom has it that local comedies don't travel. Whether it is French-Canadian farce or Bavarian slapstick or saucy British Carry On fare, regional humour doesn't often cross national borders. However, French screen comedy is now bucking that trend, both selling abroad and inspiring a rash of remakes.
Dany Boon's Welcome To The Sticks, a French box-office phenomenon in 2008/2009, is spearheading the new Gallic invasion. What was surprising was how much the Italians, Spanish and Germans were tickled by Boon's comic yarn, which is set in the backwaters of northern France. The film racked up 500,000 admissions in Italy, 570,000 admissions in Spain and around 2 million in Germany.
In Cannes this week, Pathé will be launching international sales on an Italian remake, Benvenuti Al Sud. Directed by Lucs Miniero, it is about a man from Milan whose work takes him to a little village Naples. The film, produced through Italian outfit Cattleya, will be given a sizeable Italian release by Medusa in October. An American remake is also being hatched by Will Smith's Overbrook Entertainment with Steve Carell in line to take the lead role and Warner Bros financing the development.
A US remake of Lisa Azuelos's 2008 comedy LOL (Laughing Out Loud) was also recently announced with Miley Cyrus and Demi Moore co-starring. Another French hit, Heartbreaker (L'Arnacoeur), is likewise being given an American makeover (in this case by Working Title.)
Francois Ivernel, executive vice president at Pathe, says the upsurge in the international popularity of French comedies has been helped by Boon and Kad Merad, who already traction with international audiences. He adds that Pathé has already been able to pre-sell the new Boon vehicle Nothing To Declare in several major territories, including Germany (Prokino Filmverleih).
If stars like Boon and Merad are spearheading the French comedy export drive, it helps too that movies like Welcome To The Sticks deal with themes that anyone can recognise, most notably the comedy inherent in the clash between the big city and the provinces.
By a neat irony, Benvenuti Al Sud is being co-scripted by Massimo Gaudioso, one of the writers on Matteo Garrone's Gomorra. Garrone's film portrayed southern Italy as a tough and vicious world where the influence of the Camorra is all-pervasive. In Benvenuti Al Sud, Neapolitan stereotypes will again come to the fore but this time with the emphasis on comedy. The film plays with the preconception held by many in the north of Italy that the south is a Mafia-run no-go zone.
"We all know that crime is extremely strong in Campania but some of the people there are extremely proud that in some areas, there is no Mafia," says Cattleya's Marco Chimenz, producer of the Italian remake. "When you get there, there are perfectly functioning towns and small cities that are like any other part of Italy."
Chimenz is not worried that the Italian version of Welcome To The Sticks will be eclipsed by the English-language US movie planned by Smith. Timing is everything. It is now certain that Benvenuti Al Sud will appear first. The film is already shot while the US production is still in development.
Pathé has already taken the French rights to the Italian remake. Ivernel is confident that French audiences who flocked to Boon's original will also be intrigued by the Italian remake and he has no concerns that the Italian version will be a selective edit of the original. "We rely on the know-how of Medusa, who bought the rights, and Cattleya, the executive producers of the film. They are both extremely reliable and experienced companies. For us, that was the guarantee."
It remains as true as ever that humour varies wildly from country to country. British deadpan irony in the Ricky Gervais mode is very different to the wild histrionics of an Italian comedian like Roberto Benigni. Will Ferrell comedies may be big business in the US but they have limited appeal further afield. But, as Ivernel points out, the appetite for laughter is universal.
Some film comedies will always cross national boundaries. At the moment, with Dany Boon in the vanguard, the French are managing to export their humour as never before.