While Spanish films are experiencing an upturn in popularity, international titles are finding it more difficult to make an impression in the territory. Chris Evans reports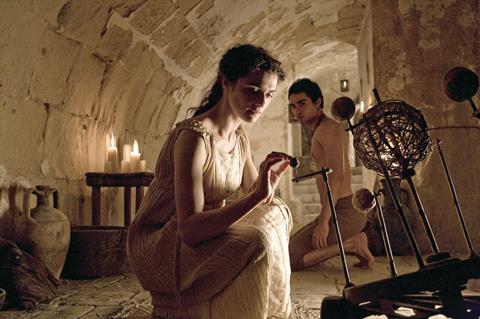 Propelled by Agora, Cell 211, Spanish Movie and [Rec] 2, the second half of 2009 saw a dramatic improvement in the quality and success of Spanish films released locally. Combined with a stunning performance from Avatar ($30m) by the end of the year, the Spanish box office ended 2009 on a high, with the total gross up on 2008, even though admissions fell slightly, probably due to the premium cost of 3D ticket prices.
"They are films you go and watch with popcorn and forget about real life. This is what the audience want and so this is what we should give them," says Adrian Guerra, head of local producer/distributor Versus Entertainment.
Backed by a heavyweight marketing campaign staged by local distributor 20th Century Fox Spain and co-producer Telecinco, the $80m Agora grossed $30m in Spain to become the second most-successful local film in the country's history, behind The Orphanage($36m).
'Swords-and-sandals' epics tend to perform well in Spain. For example, Oliver Stone's Alexander grossed $15m in the territory for TriPictures in 2005, compared with just $5m in the UK, while Wolfgang Petersen's Troy took $25m back in 2004 for Warner Bros.
However, while local films are finding increased success, international productions are experiencing tougher conditions in Spain, particularly European titles. Vertigo's Nordic thrillers The Girl With The Dragon Tattoo ($13.4m) and The Girl Who Played With Fire ($8m), both based on bestselling books, along with Wanda Films' French comedy Welcome To The Sticks($5m), were the exceptions.
Distributors are selective about the films they buy, mostly looking for US titles with key directors or cast attached. Also, the prices paid by Spanish distributors for films have dropped considerably with the shift from a sellers' to a buyers' market.
"Our approach boils down to cast-led films and genres that can be sold to TV," explains Robert Walak, buyer for Aurum and head of acquisitions at its UK sister company Momentum Pictures, which released Twilight Saga:New Moon in 2009, grossing $28.4m in Spain. "The majority of our titles are US, plus we buy two or three Spanish films a year.
"We have made a policy to pay what we think the market value is, reflecting the real decay of DVD and falling TV prices. We've reduced the 5% or 6% amount [of the project's production budget] that was being paid before to about 3%," says Walak.
"Most of the sellers have realised they can't ask $2m for a $40m project anymore," says Yolanda Del Val, head of acquisitions at DeAPlaneta. "They used to ask for 6% or 7%, to get about 5% [of the budget]. Now if we pay 3% or 3.5% we're being very generous, because normally we pay less than that."
Antonio Salas, sales executive at UK- based Bankside Films, acknowledges there has been a shift. "[The distributors] can afford to wait through the markets and come in with really low offers for films. Big films of, say, $10m are receiving offers of $100,000 from the Spanish distributors, which is nothing."
Del Val is more optimistic. "AFM proved there's light at the end of the tunnel for buying films for Spain and other territories," she says. "We don't normally pick up Spanish films but we're always open to bigger local films and to Spanish comedies. The Antena 3 productions, for instance [such as Brain Drain and Sex, Party & Lies], are all making money. A lot of these types of films have actors that have come through popular TV series. They're young and cute and are proving popular with the young audience."
Comedies tend to perform well in Spain, as do animated films, especially those in 3D. "We tend to sell comedies, dramas and horror films well to Spain," says Pamela Pickering, head of sales at US-based sales agent Inferno.
Despite close production ties between Spain and Latin America, finished films made between the two regions are not guaranteed an audience at the Spanish box office. One of 2009's few success stories was Juan Jose Campanella's classy Argentinian-Spanish thriller The Secret In Their Eyes, which grossed $8m on the back of a positive screening at San Sebastian. Others slipped through the net altogether.
"We released Tear This Heart Out (Arrancame La Vida) from Mexican director Roberto Sneider, which was a big success at the Mexican box office ($9m), and based on a bestseller, but it didn't work," says Miguel Morales, head of acquisitions at Wanda Films. The film took just $300,000 at the Spanish box office.
However, distributors are set to receive a boost from the pending film law as they will be able to include Latin American films - as well as European titles - in the potential subsidies they will receive. At present, they only receive support for qualifying Spanish films.
Furthermore, the amount of money potentially available to the distributors will increase from $86,000 (Û60,000) to $215,000 (Û150,000) per film. To receive the maximum, there are, of course, restrictions and requirements. These include the need for a p&a spend of more than $430,000 (Û300,000) and for the film to be released in more than 19 provinces in Spain. The production must also have cultural relevance to Spain.
In further good news for distributors, Spain appears finally to be tackling piracy. A new law passing through parliament will allow the government's anti-piracy commission to investigate any illegal sites and then file complaints to the federal court which can then close a site and potentially take legal action against the owner. The new legislation, under the Sustainable Economy Bill, is expected to be passed in the coming months.
IN PROFILE
Meet the distributors
Yolanda Del Val, Head of acquisitions, DeAPlaneta
Del Val has a keen eye for US indie dramas. Recent buys include Gil Junger's How To Make Love Like An Englishman, starring Pierce Brosnan, and Robert Luketic's action comedy Killers (aka Five Killers), as well as key local titles such as Planet 51.
Robert Walak, Head of acquisitions, Aurum
London-based Walak took over as head of acquisitions at Momentum Pictures, and as buyer for its sister distributor Aurum, in February 2007 having been at Momentum since 2003. Walak is on the look-out for high-profile US indie titles for release in the UK and Spain - such as Twilight Saga: New Moon and The Hungry Rabbit Jumps starring Nicolas Cage - as well as key Spanish titles. Aurum/Momentum intend to buy 20 films in 2010 for release in Spain, compared with 13 in 2009.
Jose Hueva, director, TriPictures
Bought by local media conglomerate Vocento during 2006, TriPictures is one of Spain's leading distributors of US and international titles, including the romantic comedy He's Just Not That Into You, which grossed $6.5m last year. Recent pick-ups include Paul Haggis' new crime thriller The Next Three Days, starring Russell Crowe.
Julio Fernandez, head of Filmax
Not only has Fernandez built Filmax into a formidable studio with a reputation for producing and distributing homegrown Spanish titles, but he also has a good eye for the international gems - Slumdog Millionaire grossed $14.8m for Filmax this year. New releases for 2010 include Emilio Estevez's drama The Way and Lee Daniels' Precious: Based On The Novel Push by Sapphire, set for release on February 26.
Miguel Morales, head of acquisitions, Wanda Films
Morales co-founded Wanda with his brother Jose Maria Morales to produce and distribute quality European and Latin American titles. This year's releases include Francois Ozon's Ricky and Goran Paskaljevic's drama Honeymoons.
Enrique Gonzalez Kuhn, head of acquisitions, Alta Films
Over the past decade, Gonzalez Kuhn has earned a reputation for picking up commercial and arthouse European and Latin American winners, most recently including Campanella's The Secret In Their Eyes ($8m) and Isabel Coixet's Map Of The Sounds Of Tokyo($3m). Alta also distributes Tornasol titles in Spain. Coming up are Jacques Audiard's A Prophet (February 26), Andrea Arnold's Fish Tank (March 12) and Oskar Santos' El Mal Ajeno (April 30).
Andres Martin, general manager, Vertigo Films
It was Martin who saw the potential in the Millennium film trilogy, buying the three Nordic titles for his small distribution outfit. So far, The Girl With The Dragon Tattoo has grossed $13.4m and The Girl Who Played With Fire took $8m. The third film is set for release in Spain on March 5. Vertigo's next best performance was The Duchess, which took $1.5m. This year Vertigo will release Todd Haynes' I'm Not There (February 19), and, later, Jane Campion'sBright Star and Rachid Bouchareb's London River.
Chris Evans
TELEVISION
Investment in film pays off
Spain's broadcasters make no secret of their preference for TV movies and series which obtain far greater viewing figures than feature films. But the right film does work on Spanish TV.
Telecinco, for example, may be the biggest critic of the broadcasters' requirement to invest 5% of their annual income in films, but it has enjoyed success through its film production arm Telecinco Cinema, which has invested in projects such as The Orphanage and Cell 211.
Antena 3 has helped to finance box-office hits Brain Drain, Planet 51 and Pagafantas, while public broadcaster TVE has pre-bought a number of high-profile films recently, including Alejandro Gonzalez Inarritu's Biutiful.
"Films are definitely coming back," says Gustavo Ferrada, head of film at TVE. "You don't need to get up to a 20% share of the viewing figures - 15% is really good, and with the arrival of digital TV [which will replace analogue from April], you have many more channels you need to programme. Therefore you need more content, and film is good content. It shouldn't be TV against film. The two can work together."
There has been a definite crossover between the two in recent years, with young actors from successful TV series such as Los Hombres De Paco, Sin Tetas No Hay Paraiso and El Internado moving on to successful local films such as Brain Drain, which go on to perform well on TV.
For international sales agents, action thrillers and dramas tend to prove most popular in Spain. "We've seen a lot of interest from broadcasters in Neil Marshall's historical action film Centurion, which we bought for theatrical in Spain," says Robert Walak, the London-based head of acquisitions at the UK's Momentum Pictures and buyer for Aurum. "And women-in-jeopardy movies tend to sell well."
Chris Evans
SPAIN: INDEPENDENT TOP 10, 2009 (TO DEC 31)
Title (origin) Distributor Gross ($)
1 Slumdog Millionaire (UK) Filmax, $15.1m
2 Planet 51 (Sp-UK) DeAPlaneta, $14.5m*
3 The Girl With The Dragon Tattoo (Den-Swe-Ger) Vertigo, $13.4m
4 Cell 211 (Sp-Fr) Paramount, $12.7m*
5 Brain Drain (Sp) Fo, $10m
6 Spanish Movie (Sp), Fox $9.8m*
7 The Secret In Their Eyes (Sp-Arg) Alta Films, $7.8m
8 The Girl Who Played With Fire (Den-Swe-Ger) Vertigo, $7.6m
9 [Rec] 2 (Sp) Filmax, $7.5m
10 District 9 (US-NZ) Sony, $7.1m
*Still on release Source: Nielsen EDI
SPAIN TOP 20, 2009*
Title (origin) Distributor Gross ($)
1 Up (US) WDSMPI , $36m
2 Ice Age: Dawn Of The Dinosaurs (US) 20th Century Fox, $31.3m
3 Agora (Sp-US) 20th Century Fo, $30.3m
4 Twilight Saga: New Moon (US) Aurum, $28.4m
5 Avatar (US) 20th Century Fox, $27.8m**
6 Angels & Demons (US) Sony, $22.8m
7 2012 (US) Sony, $21.5m
8 Harry Potter And The Half-Blood Prince (US-UK) Warner Bros, $20.3m
9 Gran Torino (US) Warner Bros, $18.5m
10 The Curious Case Of Benjamin Button (US) Warner Bros, $17.6m
11 Inglourious Basterds(US) UPI, $16m
12 Slumdog Millionaire (UK) Filmax, $15.2m
13 Planet 51 (Sp-UK) DeAPlanet, $14.5m**
14 Monsters Vs Aliens (US) Paramount, $14.4m
15 Seven Pounds (US) Sony, $14.3m
16 The Girl With The Dragon Tattoo (Den-Swe-Ger) Vertigo, $13.4m
17 Cell 211 (Sp-Fr) PPI, $12.7m**
18 G-Force (US) WDSMPI, $12.6m
19 X-Men Origins: Wolverine (US) 20th Century Fox, $12.2m
20 Public Enemies(US) UPI, $10.6m
*To December 31 **Still on release Source: Nielsen EDI
SPAIN: ALL-TIME BOX OFFICE TOP 10 (TO JAN 24)
Title (origin, year) Distributor Gross ($)
1 Avatar (US, 2009) 20th Century Fox, $73.9m*
2 Titanic (US, 1997) 20th Century Fox, $44.1m
3 Shrek 2 (US, 2004) UIP, $41m
4 The Lord Of The Rings: The Return Of The King (US, 2003) Aurum, $39.8m
5 Pirates Of The Caribbean: Dead Man's Chest(US, 2006) WDSMPI, $36.6m
6 The Orphanage (Sp, 2009) Warners, $36m
7 Up (US, 2009) WDSMPI, $36m
8 The Da Vinci Code(US, 2006) Sony, $34.5m
9 The Lord Of The Rings: The Two Towers (US, 2002) Aurum, $32m
10 Pirates Of The Caribbean: At World's End (US, 2007) WDSMPI, $31.5m
* Still on release
Source: Nielsen EDI