Dir/scr: Maja Borg. UK-Sweden. 2012. 93mins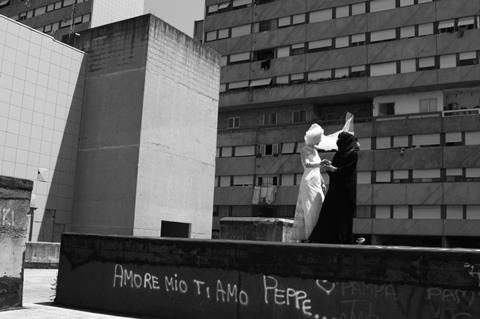 A bold and personal delve into idealistic love and the future of society, film-maker Maja Borg's bold, arresting and at times frustratingly tantalising film Future My Love is blend art and documentary that is oddly mesmeric on one hand and rather obscure on the other.
Weaving archival material, super 8 footage and formal contemporary interviews.
Unlikely to receive formal theatrical distribution on any more than a one-off basis, it could work easily as a gallery piece as well as being intriguing prospect for niche television channels. Festivals with art sections will also be a natural home. The film had its world premiere at the Edinburgh International Film Festival.
Edinburgh College of Art graduate Borg's debut feature film – the Swedish film-maker has produced a series of short films and art pieces – can be seen as a companion to her short film Ottica Zero, in which she and her then partner, Italian actress Nadya Cazan, investigated a new way of living and as part of their journey met with futurist Jacque Fresco.
Future My Love sees her mulling over love and how her relationship with Cazan (who uses the performance name of N.E.M.) has ended, and revisits 95 year-old Fresco at his Florida home where he and Roxanne Meadows founded The Venus Project, where they investigate different social models.
His debate around using science as a method applied to social concern (also one of the key tenets of the Technology Inc. movement, of which Fresco was a member for a while) is set alongside Borg's ruminations about herself and her feelings about love.
Weaving archival material, super 8 footage and formal contemporary interviews (by Borg herself, who features prominently in her own film) alongside the series of conversations with Fresco, the film aims to be a poetical meditation on the future of humanity. It succeeds occasionally, though at times cannot find right balance between Borg's debates on the end of love with scientists debating subjects such as 3D printing and Free Energy Movement.
But then Borg is not making any kind of formal documentary, and her attempt to personalise the world's issues through her issues about love and relationships works on a certain level, and her visuals can be arresting.
Production companies: Swedish Film Institute, Lisbet Gabrielsson Film, Maja Borg Filmproduktion, Sveriges Television
International sales: SDI Productions, Sonja@scotdoc.com
Producer: Sonja Henrici, Lisbet Gabrielsson, Maja Borg
Executive producer: Noe Mendelle
Cinematography: Minttu Mantynen, Maja Borg
Editor: Colin Monie, Patricia Gomes
Music: Per Storby and The New Tango Orquesta
With: Nadya Cazan, Jacque Fresco, Roxanne Meadows