ScreenDaily's weekly round-up of the local and independent openings in key European markets this week.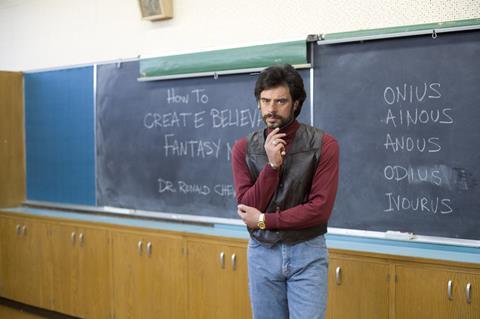 France:
In a quiet week for French releases – given that all eyes are on Cannes and with the arrival of Ridley Scott's Robin Hood and the remake of A Nightmare On Elm Street – only a handful of films are getting wide releases.
L'Enfance Du Mal will go out on 16 screens on Wednesday May 12. Olivier Coussemacq directs the thriller, which stars Anais Demoustier and Pascal Greggory. The film is released by Zelig Films Distribution and is the story of a 15-year-old runaway who takes up residence in a guest house. When she is discovered she ingratiates herself with the house's owners but ultimately they find her presence may not just be pure coincidence.
Entre Nous Deux is a comedy from Nicolas Guillou who also stars along with Alexandra Robert and Monique Le Negaret. The Vent d'Ouest Production release goes out in 22 theaters and tells the tale of a thirty-something couple desperate to have a baby but who can't conceive in spite of good health. When they try to escape from the stress of their daily lives, they end up having one of their worst vacations.
8th Wonderland will go out on 62 screens via Mad Films and Help Distribution. Directed by Nicolas Alberny and Jean Mach, the film stars Matthew Geczy, Alain Azerot and Robert William Bradford. A thriller, the film sees a virtual country created on the Internet where things do not go to plan.
UK:
American: The Bill Hicks Story, a documentary about the life of the cult outlaw comedian Bill Hicks, from directors Matt Harlock and Paul Thomas, is released by Verve Pictures in the UK from May 14. Hicks, who died from pancreatic cancer in 1994 at the age of 32, is widely considered a comedy legend, and strong word of mouth will benefit the production, which is narrated by 10 people who were close to the comic.
Veteran Italian director Marco Bellocchio's Vincere gets its UK release courtesy of Artificial Eye, also from May 14. The France-Italy co-production focuses on Ida Dalser, the mother of the only illegitimate child notorious womaniser Benito Mussolini ever acknowledged. It stars Giovanna Mezzogiorno, Filippo Timi and Fausto Russo Alesi.
Samuel Maoz's war drama Lebanon reaches the West End and key cities across the UK, from Friday May 14. Released through Metrodome Distribution, the film stars Raymond Amsalem and Oshri Cohen, is set in the First Lebanon War in 1982, and follows a lone tank dispatched to search a hostile town.
Spain:
Fox International will be releasing Jared Hess' new comedy Gentlemen Broncos nationwide. The film revolves around a young loner named Benjamin (Michael Angarano) who discovers his fantasy adventure story has been stolen by an accomplished novelist and is being turned into an awful movie. Fox will be hoping to outdo Hess' previous comedies Napoleon Dynamite and Nacho Libre, both of which failed to reach the $1m mark in Spain.
Oskar Jonasson's Icelandic thriller Reykjavik Rotterdam will hit Spanish theatres this weekend through new outfit A Contracorriente Films. The drama about a former criminal turned security guard (Baltasar Kormakur) who is forced back into illegal activities due to financial constraints, has already picked up five prizes at the Edda awards in Iceland, appeared in official selection at Rotterdam, and is now being remade in the US with Mark Wahlberg in the title role.
Local outfit DeaPlaneta will be showing James Gray's romantic drama Two Lovers on 124 prints. Set in Brooklyn, the film focuses on a depressed bachelor working in a dry cleaners, played by Joaquin Phoenix, who becomes torn between a family friend (Vinessa Shaw) and his beautiful, blonde, erratic neighbour (Gwyneth Paltrow). The film made an impressive $6m in France, but has struggled elsewhere.