Dir/scr: Corinna Belz. Germany. 2011. 97mins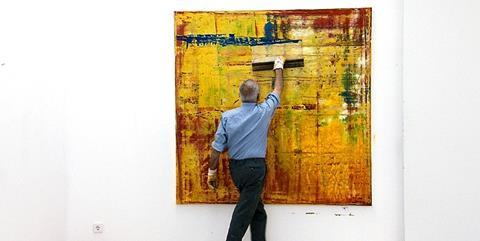 Often referred to as the most important painter in the world today, a definition that has probably as many detractors as it has supporters, Gerhard Richter (who is now 79) is certainly one of the most reclusive ones, rarely ever according interviews and usually hiding behind his famous dictum that "it's pointless to talk about art".
Whatever is said in the film, the most impressive moments in it are the silences.
Therefore, Corinna Belz's feat of managing to stay close to the artist over a period of three years, particularly through five months in 2009 while he was putting together the works he was about to exhibit later that year in New York, is something of a record that is bound to draw the attention of the art world everywhere to the film and open for it the doors to all art-oriented festivals and events without exception.
To Belz's credit, the subject of her film is not "Richter talking about art". Whenever he does, on screen, it is short, precise and to the point. If there is any extensive talking to be done, it is left to his assistants, Norbert Arns and Hubert Becker, to Marian Goldman, whose New York art gallery has been displaying Richter's works regularly for many years, or several internationally recognized authorities on modern art such as Benjamin H.D. Buchloh, to do it.
But with all due respect to all their contributions, as valuable as they are to grasp the position and importance of Richter's place in modern painting, the film's main and quite unique achievement, is entering Richter's studio, to watch the man at work, for the process which leads to the creation is, in his case, as fascinating as the finished work itself and Belz's camera allows to discover that other essential aspect of Richter's genius.
This is particularly true for his abstract paintings, in which he spreads colors mixed beforehand by his assistants over the canvas, one layer after the other, every time you have different colors impressed upon others, but just when it seems the painting is finished and no one should touch it anymore, Richter picks up again his squeegee (the long flat blade he uses to lay the colors on)and puts on it yet another layer which changes its shape entirely. Squeezing paint into the canvas, every time in a different direction, is physical work, the outcome has as much to do with creative impulses as it has to do with pure chance and Richter will not cease until he is satisfied with the result.
Without neglecting the other aspects of his creative contribution (Richter is equally known for photo-realistic and abstract painting, photographs and glass work) Belz focuses most of her attention on the large, sometimes huge abstract canvases Richter was working on at the time.
There are moments when distinct images seem to suggest themselves out of these paintings, others when Richter is having a kind of silent dialog with the canvas, before he alters or refrains to alter it and it's a stunning experience to see them radically transforming before one's eyes with one swish of that famous squeegee. Both director and painter are of course conscious that the presence of a strange person and a camera affects what is essentially a very secret, intimate and personal act of creation.
"When I know I am being filmed, I walk differently, something changes" says Richter in the film, and indeed, when Belz returned, after the film had been completed, to visit Richter again, she discovered that some of the paintings that were supposed to be finished had changed their shape again once the camera had been removed.
But whatever is said in the film, the most impressive moments in it are the silences, whether Richter is reflecting in front of a painting or withdrawing quietly into himself. After answering the only personal question Belz asks him and tells her how he had escaped from East Germany to the West in 1961, leaving his parents behind, confirming he never saw them again, he falls silent while the camera keeps staring at him insistently. There's nothing more to say. Words are no use in this instance. It's pointless to talk about it.

Production companies: Zero One
Producer: Thomas Kufus
International sales: the Match Factory, www.the-match-factory.com
Cinematography: Johann Feindt, Frank Kranstedt, Dieter Sturmer
Editor: Stefan Krumbiegel
With: Gerhard Richter, Norbert Arns, Hubert Becker, Sabine Mortiz-Richter, Konstanze Ell, Marian Goldman, Kaspar Konig, Ulrich Wilmes, Sandy Nairne, Paul Moorhouse